Is Fake Meat A Healthy Alternative?
Snack Girl is a fan of eating less meat. Meatless Mondays, anyone?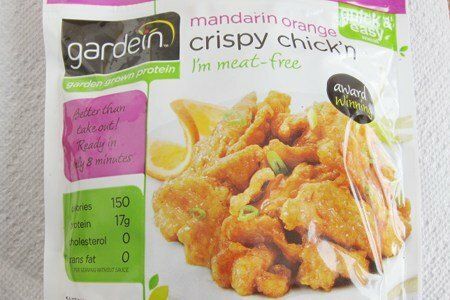 Perhaps the best way to eat less meat is to just eat more vegetables, whole grains, and beans. But, I have been asked about Gardein frozen meat fakes and I thought I would give them a try.
Disclosure: I do not like meat fakes.
Okay, so I bought this package and I must say I was impressed. While the ingredient list is long, I recognized all of them and they seem reasonable for a frozen meal. Also, the sodium at 260 mg per serving (11%) is very low for frozen food (WARNING: see below).
Did it look like the package?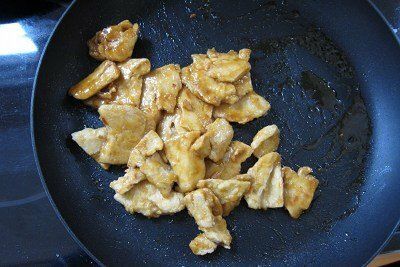 I would say this is kinda like chicken. For one serving (three in package):
150 calories, 7 g fat, 0.0 g saturated fat, 6 g carbohydrates, 1.0 g sugar, 17 g protein, 1.0 g fiber, 260 mg sodium, 4 Points+
Right now, I have a problem. I was looking hard at the label, attempting to figure out how much oil you add to cook it (they just say add oil) and I found something in small print.
1 Tablespoon sauce adds 15 calories, 0 g fat, 65 mg sodium, 3 g carbohydrate, 2 g sugar
Okayyy. How many calories and milligrams of sodium is in this? My other issue here is that one serving is mighty small. I would probably eat half the package for my meal.
Here is my new nutrition facts using 2 servings per package and including 2 tablespoons of sauce (which you are going to include, right?)
255 calories, 10.5 g fat, 0.0 g saturated fat, 15 g carbohydrates, 5.5 g sugar, 25.5 g protein, 1.5 g fiber, 520 mg sodium, 7 Points+
The sodium amount has changed quite a bit when you add in the sauce amounts. I am writing about this package, with it sitting in front of me, and I was deceived. What is the regular consumer to do?
Okay, back to square one. This would be okay with some asian stir fry vegetables and some brown rice as long as you don't add any more salt. I think it tasted fine.
What doesn't work?
The sodium is high (like all freezer meals).
It is highly processed and tastes like it.
Expensive - $4-$6 per package.
Deceptive nutrition facts that make me mad.
I say if you like mandarin orange crispy chicken then just eat that once in a while. I would use chicken breast (in moderation) any day of the year over this stuff and mix it in with my stir fry. My conclusion is that this chick'n may not be meat (zero grams of saturated fat), but it doesn't seem healthier than chicken breast (low in saturated fat and low in sodium).
If we want to talk about environmental impact, it does take a lot of energy to make a fake meat product. Does it take as much as growing a chicken? I don't know. Probably not.
What do you think of fake meat products?
---
Other posts you might like:
---

Snack Girl has a confession. She wants to like tofu, but she just can't....
---

Going vegan seems like a big trend right now as we look at our calorie intake and our environmental impact. I never thought eggs were such a big deal because nothing was slaughtered to get them....
---