Farm Fresh Produce On A Freshpedition
August 1, 2012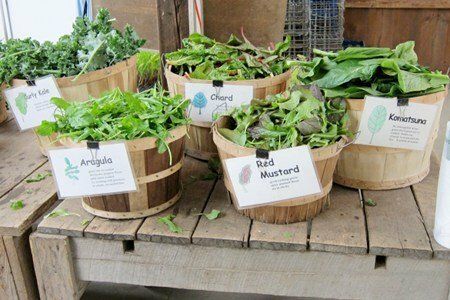 Above is a photo of all the great greens that I get in my farm share near my home.
I drive about ½ mile every week and pick up all of this lovely fresh food for my family to eat. I love it!
I am lucky to have such an abundance of produce in the summer, but I do have a problem. My farm share gives me 2 heads of lettuce and a bag of greens every week and sometimes I don't eat them fast enough (and they go bad).
Then, I try not to look at the farmer when I show up to pick up my share. How embarassing!
I don't really have that problem with tomatoes or squash - but greens tend to dissolve in my refrigerator.
Enter the GE French Door Refrigerator and its Freshpedition:
Justin and Ben, in their first episode, bought beautiful farm fresh bibb lettuce (not unlike the lettuce that I get) and they believe it will be kept fresh for a week! Their refrigerator has new technology that allows it to keep the humidity higher - so the fresh food stays fresh longer.
Ben actually took the lettuce out of the plastic bag. Which amazed me because that is the easiest way for my lettuce to turn into mush in my refrigerator.
GE is continuing this same passion for fresh food with the Freshpedition Sweepstakes. This sweepstakes uses Pinterest, which means you can actually pin for a chance to win all new GE kitchen appliances.
But wait, there's even more to win!
You can also enter each day of the sweepstakes for a chance to win a $100 VISA® Prepaid Card. Entering for this prize is fun as you're asked to pin your favorite fresh foods or your own recipes. Also, these pins when hashtagged with your state (e.g. #GEfreshTX) become part of a "Best of Fresh" map featuring freshness from around the country. Explore the map here: http://www.freshpedition.com/sweepstakes/fresh-map.htm
For official rules and to enter visit here: http://www.freshpedition.com/sweepstakes/
Disclosure: Compensation was provided by GE via Glam Media. The opinions expressed herein are those of the author and are not indicative of the opinions or positions of GE.
Sponsored by