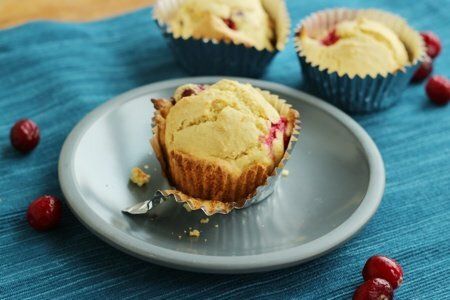 Gluten-Free Cranberry Orange Muffins

Makes 12 muffins

Ingredients
¼ cup butter
¼ cup sugar
1 egg
3/4 cup orange juice
1/2 cup milk (cow's milk, almond, or soy)
1 orange (for zest)
2 cups all-purpose gluten-free baking flour or regular wheat flour
2 teaspoons baking powder
¼ teaspoon salt
1 cup frozen or fresh cranberries

Instructions
Preheat oven to 375 F. Line a 12-cup muffin tin with foil muffin liners.
Slice orange in half and juice in a hand juicer removing any seeds or pith. With a vegetable peeler, peel a few strips of orange (just the orange part). Mince the orange peel into very small pieces – you need one teaspoon of orange peel zest.
Mix together butter, sugar, and egg until well blended. Add orange juice, zest, flour, baking powder, salt, and cranberries and mix until blended.
Fill muffin cups about ½ full and bake for 15-20 minutes until a toothpick inserted into the muffin comes out clean.
Serve warm or room temperature.
Nutrition Facts
129 calories, 4.9 g fat, 2.5 g saturated fat, 20.8 g carbohydrates, 5.6 g sugar, 2.6 g protein, 2.4 g fiber, 84 mg sodium, 3 Points+
Points values are calculated by Snack Girl and are provided for information only. See all Snack Girl Recipes