Gluten-Free Cranberry Orange Muffins for a Post Holiday Breakfast
Snack Girl hopes you have a lovely Thanksgiving and that you enjoy your food.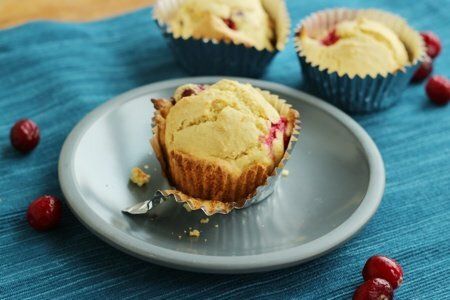 I can't stress enough that life is too short to obsess about every little forkful when you are involved in a family feast such as Thanksgiving. There is this cute song that I sing to myself when I lose perspective:
Enjoy yourself, it's later than you think.
Enjoy yourself, while you're still in the pink.

No guilt, either. Waste of time in my opinion.
After Thanksgiving, you are going to have to eat again so why not use up some of those cranberries and make some fresh muffins?
I made these gluten-free because I have been getting a lot of requests for these kinds of recipes. I figure you all might have a cousin or friend who will be staying with you and they will have decided not to eat wheat. Or maybe you have a buddy who has celiac.
I had no idea how to make a baked good gluten-free so I did what lazy people do and I bought a gluten-free flour mix. All you do is add the same amount as regular flour and Bob's your uncle. Voila! Gluten-free!
I found "Bob's Red Mill All-Purpose Gluten-Free Baking Flour" in the natural foods section of my grocery store. It isn't cheap - $4.59 for 22 ounces – but it worked and it tasted really great.
I would love to hear how any of you bake gluten-free treats.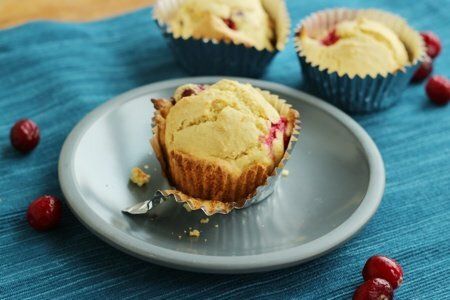 Gluten-Free Cranberry Orange Muffins

Makes 12 muffins

Ingredients
¼ cup butter
¼ cup sugar
1 egg
3/4 cup orange juice
1/2 cup milk (cow's milk, almond, or soy)
1 orange (for zest)
2 cups all-purpose gluten-free baking flour or regular wheat flour
2 teaspoons baking powder
¼ teaspoon salt
1 cup frozen or fresh cranberries

Instructions
Preheat oven to 375 F. Line a 12-cup muffin tin with foil muffin liners.
Slice orange in half and juice in a hand juicer removing any seeds or pith. With a vegetable peeler, peel a few strips of orange (just the orange part). Mince the orange peel into very small pieces – you need one teaspoon of orange peel zest.
Mix together butter, sugar, and egg until well blended. Add orange juice, zest, flour, baking powder, salt, and cranberries and mix until blended.
Fill muffin cups about ½ full and bake for 15-20 minutes until a toothpick inserted into the muffin comes out clean.
Serve warm or room temperature.
Nutrition Facts
129 calories, 4.9 g fat, 2.5 g saturated fat, 20.8 g carbohydrates, 5.6 g sugar, 2.6 g protein, 2.4 g fiber, 84 mg sodium, 3 Points+
Points values are calculated by Snack Girl and are provided for information only. See all Snack Girl Recipes
$28.71 ($0.33 / Ounce) Buy on Amazon.com
As an Amazon Associate I earn from qualifying purchases.
---
---
Other posts you might like:
---

After picking on dried cranberries last week (see: The Truth About Dried Cranberries), I decided to feature the fresh variety....
---

A few days ago, Snack Girl received a request for a recipe for cranberry sauce. Yes, I take requests....
---
---
Get Free Email Updates! Yes please!
---