Sunshine in Your Fridge: Grapefruit Made Less Sour
Do you know when citrus fruits are in season? The one bright spot of the winter growing season is that NOW is the best time for fresh oranges and grapefruits.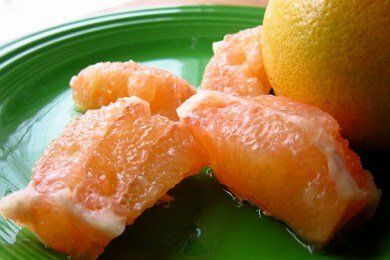 Hey, it might be dark at 7 AM, but at least you can get a fresh grapefruit for $1.
I have never been a fan of grapefruit because I couldn't figure out how to eat it. I don't like just peeling of sections because the skin is tough - and I find scooping out little pieces to be a pain.
Also, I have found it to be too face "puckeringly" sour. The pith (white part) is pretty bitter too. The problem with being a healthy eating guru (with a cape) is that you have to push yourself out of your comfort zone.
First, I had to learn how to cut a grapefruit in a lightening fast fashion. I found this great instructional video on YouTube by Produce Geek:
Why didn't I think of that? First, cut off the two ends and then cut around the grapefruit to remove the peel. Slice it into little sections and eat!
I tried this method and was cranking out slices that didn't have the bitter pith or tough skin. almost yummy. I still had the problem that I found it too sour.
My husband told me that his mother would sprinkle sugar on grapefruit and leave it in the fridge overnight. So, I sprinkled a mere TEASPOON of sugar onto my newly sliced grapefruit.
When I woke up in the next morning, I made my coffee and got out my container of grapefruit. To my amazement I found it sparkling. The dark, cold morning was greeted by a blast of Florida sunshine.
I was feeling so good, I even shared it with my husband (nice of me). Then I started singing about rainbows :)
Here are the nutritional facts for a grapefruit and a teaspoon of sugar:
90 calories, 0.1 g fat, 22.9 g carbohydrates, 0.8 g protein, 1.4 g fiber, 0 mg sodium, 0 Points+
Don't forget - you also get 73% of your daily value of vitamin C and 24% of your daily value of vitamin A with that bad boy.
The nice thing about slicing it up at night is that you can grab it while you run around trying to get out the door.
How do you serve grapefruit? Please share.
---
Other posts you might like:
---

Kill it on Turkey day with a fresh side that goes with everything, takes 10 minutes to make, and will WOW your guests....
---

How many of you out there hate Brussels Sprouts? I bet you are really looking forward to them on your Thanksgiving table....
---