Rock The House With Your Toaster Oven
Sometimes the simplest snacks are the best. I suppose the above snack isn't going to win me any awards, but I still wanted to feature it.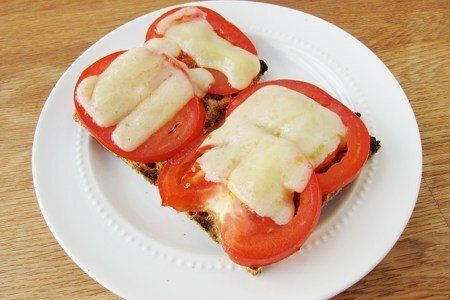 I think that the Food Network has warped our vision of cooking. Can you use a lowly toaster oven and get a great dish? I haven't seen any of those top chefs use a toaster oven, but I think toaster ovens can be very gourmet.
If you have a toaster oven or an oven with a broiler, I would attempt this recipe as a breakfast, lunch, or snack item. To keep the calories low, I weigh the cheese. I know that sounds kinda wierd - WEIGH THE CHEESE - but I can tell you that I will keep piling on cheese if I don't give myself a defined limit.
I have a kitchen scale that I use to weigh the high calorie foods (meat and cheese) to keep me in check. I use it when I write recipes for the site to be sure I have the right amounts, but I also think it is a great idea for everyone who has an issue with portion size.
If you don't have an issue with portion size, raise your hand! (eyes squinting) Out of 25,000 subscribers, I see that 4 of you are good. :)
What is so cool about getting a handle on one ounce of cheese is that you begin to see how far it will take you. Full fat cheese with a strong flavor, like sharp cheddar, is utterly unreal melted. Add it to a fresh tomato (I like the ones on the vine) and your taste buds will likely sing some upbeat pop song.
I have tried a bunch of "reduced fat" cheddars and I just hate the way they taste. Instead of using them, I just weigh the cheese.
Do you have a cheese problem? How do you deal with it?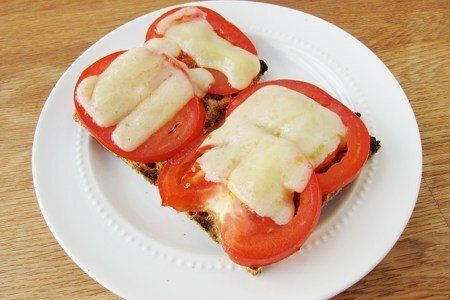 Cheese & Tomato Cracker Recipe
Ingredients
4 slices fresh tomato
2 RYVITA or WASA whole grain crackers
1 ounce cheddar cheese (or your favorite cheese)
salt to taste

Instructions
Preheat broiler or toaster oven to high. Put crackers onto cookie sheet and place tomatoes on top. Sprinkle the tomatoes with salt (optional). Add thin slices of cheese and place under broiler for one minute. Remove when cheese has melted. Enjoy!
Nutrition Facts
195 calories, 9.7 g fat, 6.0 g saturated fat, 14.0 g carbohydrates, 1.7 g sugar, 9.2 g protein, 3.8 g fiber, 179 mg sodium, 5 Points+
Points values are calculated by Snack Girl and are provided for information only. See all Snack Girl Recipes
Other posts you might like:
---

These Laughing Cow Cheese wedges are an interesting take on cheese.....
---

When you get tired of your apple and peanut butter, you need to go gourmet for your snack....
---
---
Get Free Email Updates! Yes please!
---