Grilled Peaches: The BEST Summer Dessert
I fell in love with peaches when I lived in Athens, Georgia. Georgia is a peachy place.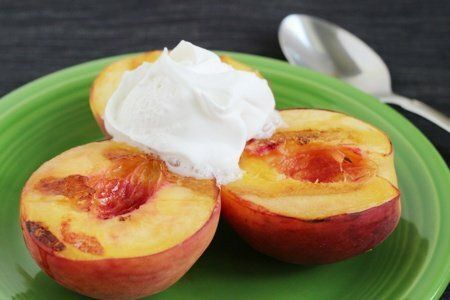 There wasn't a roadside stand I wouldn't stop at if there were buckets of peaches. I don't know how many I ate over my five years in Georgia, but I am sure they lost money when I left.
Chez Panisse, a top restaurant in Berkeley, California famously served a peach as dessert. This meant that the restaurant DIDN'T earn the highest French starred rating because the dessert was considered "too simple". I wonder if the reviewer tasted that peach.
Now I live in Massachusetts, and try as I might to like the local peaches – they don't do it for me. There is a peach orchard very close to my home and I find the peaches sour. Give me a California or Georgia peach (the best!) any day of the week. Minus five points for not eating local produce ☺
Now is your moment to buy peaches. Go get them and if you can hold off from eating them immediately, you should grill them.
I make sure my grill is clean from whatever else I have been grilling. I heat the grill for about 10 minutes on high and then I scrub it with a wire brush. I toss the peaches on and my family waits impatiently – "Peaches done yet?".
The cooked peach explodes with flavor and the texture is like pudding. I serve them with whipped cream or nothing at all.
Have you tried grilled peaches?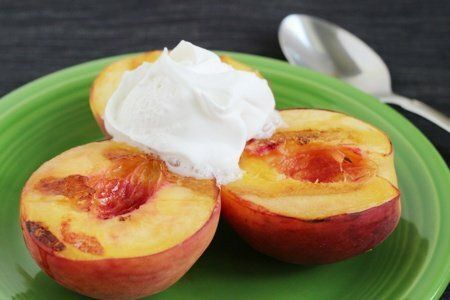 Grilled Peaches Recipe

Serves 2

Ingredients
2 peaches, almost ripe

Instructions
Heat a grill on high for 10 minutes and clean with a wire brush. Cut peaches in half and remove pits. Place peach flat side down and grill on medium high for 3 minutes. Flip over and grill for another 2-3 minutes until peach is hot. Enjoy immediately!
Nutrition Facts
61 calories, 0.3 g fat, 0.0 g saturated fat, 15.0 g carbohydrates, 13.1 g sugar, 1.4 g protein, 2.4 g fiber, 0 mg sodium, 0 Points+
Points values are calculated by Snack Girl and are provided for information only. See all Snack Girl Recipes
Other posts you might like:
---

Do I like smoothies more than milkshakes? Before yesterday, my answer would have been, "not really"....
---

Snack Girl recently attended a last day of school party and she brought slices of watermelon....
---
---
Get Free Email Updates! Yes please!
---