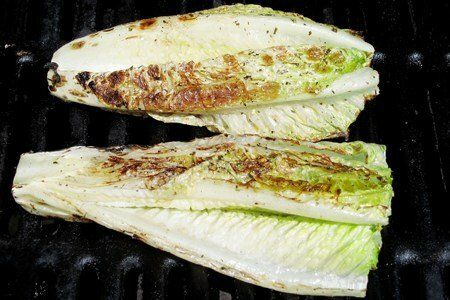 Grilled Romaine Lettuce Recipe
(serves 6)
Ingredients
3 tablespoons olive oil
1 tablespoon red wine vinegar
1 teaspoon mixed dried herbs (oregano, basil, dill, marjoram, thyme….)
1/2 teaspoon salt

3 hearts of Romaine

Instructions
Preheat your grill to high. Whisk together olive oil, vinegar, dried herbs, and salt in a small bowl.
Pull off the limp leaves of the Romaine and chop 2 inches of the green part off the heart. Slice the Romaine heart lengthwise and brush dressing on both sides with a pastry brush.
Place hearts onto hot grill and turn every one to two minutes until charred on the outside. Serve as a wedge or chop and put in a bowl.
Nutrition Facts
For one half = 70 calories, 6.8 g fat, 21.8 g carbohydrates, 1.4 g sugar, 0.7 g protein, 0.7 g fiber, 150 mg sodium, 2 Points+
Points values are calculated by Snack Girl and are provided for information only. See all Snack Girl Recipes