Romaine Lettuce Doesn't Have To Be Boring
What am I talking about? Romaine lettuce IS boring!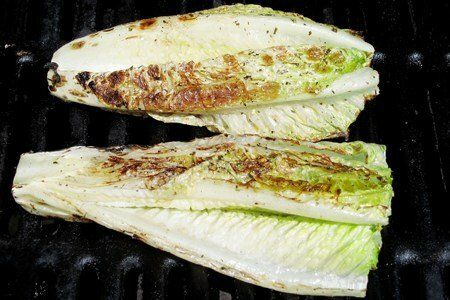 Anyone notice the paucity of salads on Snack Girl? Every time I try to write about salad no one reads it, so I have given up. Except for today!
My son, in his latest biography of me, included "salad" in the chapter "What It Eats". "What it Feels Like" included the phrase "soft as a bunny". I think it is a scintillating read from a five year old.
Yes, folks, I eat a lot of salad. It is a staple in my house and many of you have asked me to share what I eat and lettuce is in the top three foods.
How do I make it interesting? I don't. I do make my own salad dressing because it tastes so much better than anything I can find in a bottle. Also, I get my hands on the freshest lettuce that I can find.
It turns out that Romaine lettuce is more than just water. For example, Romaine pack up to ten times higher concentrations of vitamins A and K versus iceberg lettuce. One serving of this grilled salad includes 30% of your daily value of vitamin A and 3% of your daily value of Iron.
I decided to try a revolutionary approach and grill some lettuce. Boredom does get to me, sometimes. How would it taste?
I bought hearts of Romaine lettuce (3 for $3) and sliced them lengthwise keeping the core intact. Then I made my salad dressing and brushed in on both sides with a brush.
My grill was heated and I kept it on a medium high heat as I placed the lettuce on the grill. It sizzles as it hits it and I turned it every minute to two minutes. After about 6 minutes it was done.
Now, you can decide whether to chop it up and serve it or just serve it as a wedge.
The lettuce reduces in size as it steams on the grill and gains a smoky flavor. It is absolutely delicious and worth a try if you are bored with salads.
Have you ever grilled lettuce? Please share.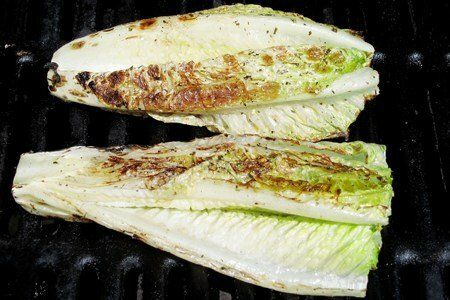 Grilled Romaine Lettuce Recipe
(serves 6)
Ingredients
3 tablespoons olive oil
1 tablespoon red wine vinegar
1 teaspoon mixed dried herbs (oregano, basil, dill, marjoram, thyme….)
1/2 teaspoon salt

3 hearts of Romaine

Instructions
Preheat your grill to high. Whisk together olive oil, vinegar, dried herbs, and salt in a small bowl.
Pull off the limp leaves of the Romaine and chop 2 inches of the green part off the heart. Slice the Romaine heart lengthwise and brush dressing on both sides with a pastry brush.
Place hearts onto hot grill and turn every one to two minutes until charred on the outside. Serve as a wedge or chop and put in a bowl.
Nutrition Facts
For one half = 70 calories, 6.8 g fat, 21.8 g carbohydrates, 1.4 g sugar, 0.7 g protein, 0.7 g fiber, 150 mg sodium, 2 Points+
Points values are calculated by Snack Girl and are provided for information only. See all Snack Girl Recipes
Other posts you might like:
---

If it would just STOP raining, Snack Girl would get excited about Memorial Day weekend. Click your heels together and repeat after me, "My children will not watch twenty hours of TV over Memorial Day weekend."....
---

Summertime is happenin' and I am SURROUNDED by ice cream stands. What is it about the middle of nowhere that leads to the proliferation of ice cream stands?....
---
---
Get Free Email Updates! Yes please!
---