Keep Your Kid Occupied While You Cook
November 19, 2009
We have featured Hard Boiled Egg before as a great snack. My pal, Damaris, over at The Little Foodie has a great idea for keeping kids quiet while you cook dinner.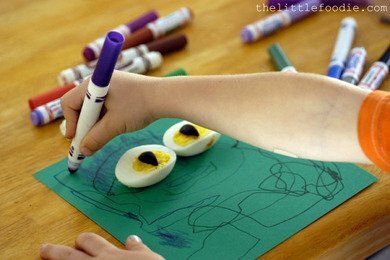 You know when you're trying to get dinner ready and they are right there needing some attention/something to do? These eggs are the perfect snack AND entertainment.
Just place the eyes on some paper and let them draw a face around it.
When your children starts complaining that they are hungry they will have these eyes, I mean eggs, to munch on.
How do you make these? Easy, just hard boil an egg and then quarter a black olive and place a piece on each egg.
Have fun.
For more ideas on easy meals and snacks for kids visit http://www.thelittlefoodie.com
Want more like this?
Fun for kids to make and eat (adults too!)
77 calories packed with nutrition
Healthy Homemade Granola