Why I Hate Shopping For Food
Snack Girl has a wonderful job. She gets to set her own schedule and do what she loves.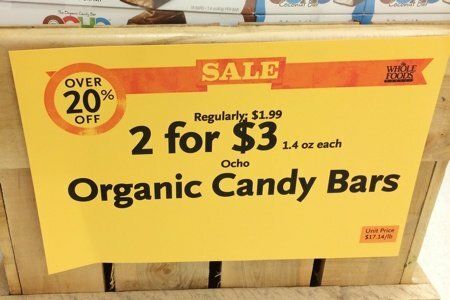 If one of my kids is sick at school, I can go pick them up without fear of reprisal. My day consists of writing, marketing my book, talking to people about healthy eating, developing recipes, and grocery shopping.
Do you remember how in the sit-com Cheers everyone shouted "Norm!" when he walked in? At my local Stop & Shop, they shout "Lisa!".
Yes, here I am AGAIN.
Before I get into the food aspect, one thing that I can't stand is the lack of windows. It's like Vegas in a grocery store -you lose all sense of time as you cruise up and down the aisles. Unfortunately, women in short-shorts don't bring you drinks as you stand there mesmerized by the food labels.
The photo above was taken at Whole Foods right before the checkout lane. Ummm….why would I spend $3 on Organic candy bars when I could get 2 for $1 Snickers? Isn't this supposed to be a healthy grocery store? I don't care if it is "organic" – it is still candy.
Here is my local Stop & Shop at the end of an aisle: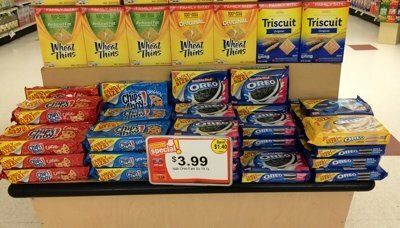 Just what I need – Oreos! I manage to not put them in my cart but later in the day – I saw them here at Target: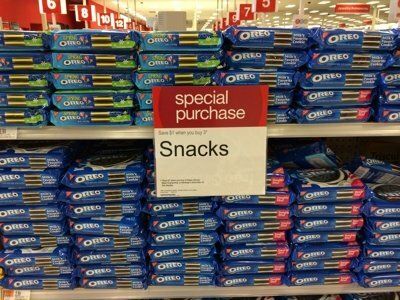 I guess there was a push for people to buy Oreos from Nabisco. Notice the "Spring" flavor – do they taste like freshly mown grass? Or lilacs?
In case you didn't know, companies pay supermarkets and big box stores for "product placement". They know that if we see a food that we like over and over again, we are more inclined to buy it. It is a form of advertising but unlike the rule for bloggers (we must disclose if we take any money from an advertiser) – supermarkets don't put a sign saying – "Oreos at the end of the aisle paid for by Nabisco".
Finally, I will share this photo from Trader Joe's: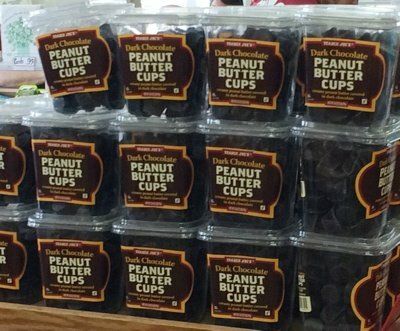 Right at the check out, where you can't miss them. Oh dear. They know my weakness!
My advice is to write down a list before you go and don't stray from it. We call the desire to buy something that you don't need the "Gimmes" in my house. I catch a serious case of the Give Me's whenever I see those dark chocolate anythings at Trader Joe's.
How do you deal with all the temptation at the supermarket?
---
Other posts you might like:
---

Snack Girl has been reticent to write about Trader Joe's because many of you can't get to one easily....
---

One of the common refrains of my buddies is "if I could just stop drinking red wine I would lose that last 10 pounds"....
---