Using Pregnancy Hormones To Lose Weight: A Queasy Strategy
When I look at the photo above, I get pangs. No, not pangs of love - pangs of sudden illness.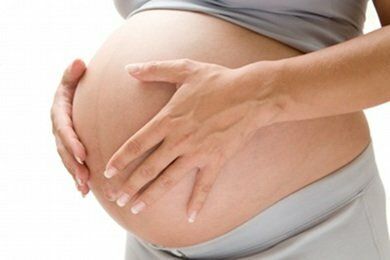 Yes, I was one of those lucky ones that had two truly sickening pregnancies that resulted in two beautiful children.
What if you could harness those vomitous impulses and help people lose weight? Doesn't that sound like fun?
One of my readers, April, sent me this question:
What are your thoughts on the latest fad diet HCG? It sounds so very extreme and unhealthy to me.
I just wonder how smart/not smart is it to pump yourself full of pregnancy hormones? (even men are doing this apparently, which seems really contrary to nature - lol)
This diet makes me want to puke all over the person who invented it.
On the HCG diet, you eat 500 calories a day and take hCG, human chorionic gonadotropin, a hormone taken from pregnant women's urine. No, I am not making this up.
You will lose weight because you are on a starvation diet, and then you get to dose yourself with a hormone that has never been proven to help anyone lose weight. Most studies have concluded that if dieters lose weight on HCG it is from the diet (reduction in calories) and the HCG is a placebo.
This gives me an idea! I will make a pill of freeze-dried broccoli and create my own weight loss pill. Take a few of these magical pills every day as you reduce your calorie input by 3/4 and you will lose weight. True, no?
The Chicago Tribune recently featured an article on a woman who had success with this diet see: The hCG diet: One woman's weight loss journey.
She has lost 100 pounds, but many of those pounds could be attributed to changes in eating and living strategies. For example, she started golf lessons, dancing, making better food choices, and seeing a therapist. The initial calorie reduction was like a "shock therapy" mode for her to get an idea of what she should be eating.
There ARE side effects to taking hCG, which include hair loss, increase potential for blood clots, headaches, irritability, and fatigue. So, you become skinny, bald, grumpy, and tired. Sound attractive?
Here on Snack Girl, I advocate for making life style changes and spending your money on better things than "magical" weight loss therapies. How about spending that $80 per month on a fancy gym membership, personal trainer, or a visit to a Registered Dietician?
I have interviewed a bunch of people who have lost significant amounts of weight, and they always talk about the lifestyle change they needed to make to get healthier.
Even if HCG was a magic bullet of weight loss, you would have to make better choices to keep the weight off after you end the hormone therapy.
You just can't get around the hard work of getting healthy.
---
Other posts you might like:
---

Today, Annabel from Feed Me I'm Cranky is posting about her weight loss process....
---
Inspiring stories of weight loss can teach us how to get healthier. Here on Snack Girl, I usually interview a Snack Girl reader about how they achieved success....
---