Make This Delicious Brownie And Eat It Every Day Guilt Free
Snack Girl's survey on Friday gave me some great information! One suggestion was a makeover for brownies.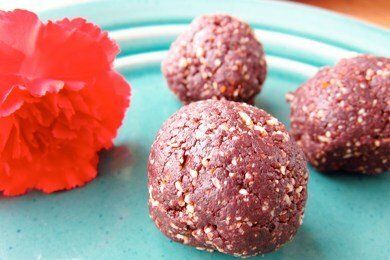 if you didn't take the reader survey yet, please check it out here: https://www.surveymonkey.com/s/CKKL8VY
Guess what, peeps? I ALREADY did that. SNAP!
A couple of years ago, I created a recipe for No Bake Brownie Balls that will rock your boat. They do not include eggs, butter, or processed sugar but taste like they do. Why? I think it is the combination of dates and almonds (sugary and buttery).
These have been a HUGE hit on Snack Girl and I am positive your friends, family, and coworkers will love them. I make these in a food processor in a flash. If you are serious about eating healthy, and have $100 to spare, a food processor is an excellent investment.
I have owned the Cuisinart below for over 8 years, and the bowl and lid fit in my dishwasher. After some practice using it, you can grate cheese, dice vegetables, and make bread dough in no time.
Here are a couple great reasons to give No Bake Brownie Balls a try. They:
Include chocolate
Take almost no time to make
Are super healthy and yummy
Kids love making these. They will love rolling them in their hands and NOT having to wait for them to come out of the oven.
To make these brownie balls vegan use maple syrup or agave syrup. These are gluten-free!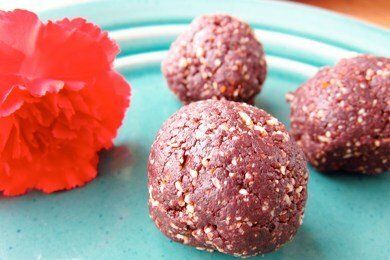 No-Bake Brownie Balls
(15 balls)
Ingredients
1 cup roasted almonds (no salt added)
15 pitted dates
2/3 cup unsweetened cocoa powder (plus extra for dusting)
1 tablespoon honey, maple syrup, or agave syrup
2 tablespoons water
confectioner's sugar (optional)
Instructions
Add almonds to food processor and pulse until ground. Add dates, cocoa powder, honey, and water. Mix until it just forms a sticky mass. Wash hands and attempt to make a ball with the dough (it may need a few drops more water to get to the perfect consistency). Put a tablespoon of cocoa or confectioner's sugar on a plate. Roll balls in your hand and then roll in sugar or cocoa (or both). Eat! These can be store in the fridge for a week.
Nutrition Facts
For one brownie bite: 109 calories, 6.8 g fat, 12.2 g carbohydrates, 3.6 g protein, 3.5 g fiber, 3 Points+
Points values are calculated by Snack Girl and are provided for information only. See all Snack Girl Recipes
$129.90 Buy on Amazon.com
As an Amazon Associate I earn from qualifying purchases.
---
Other posts you might like:
---

Snack Girl is not someone who thinks you should alter the almighty brownie treat. Why take something so indulgent and delicious and change it?....
---

Shhhh....don't tell ANYONE (except all of your friends). Chocolate cupcakes can be delicious without any.....
---
---
Get Free Email Updates! Yes please!
---