Make Kraft Macaroni & Cheese Healthier
Check out that bright orange up there. That color is indicative of a much loved processed food from everyone's childhood.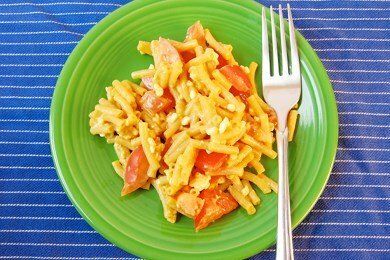 Yes, Kraft Macaroni & Cheese has produced that school bus likeness with a little help from Yellow #5 and #6. I know for a fact that many love the orange chalky dust that represents "cheese" in the box.
I was cruising around my local grocery store when I couldn't help but notice all the college students in their pajamas. Their carts will filled with ramen, frozen pizza, and boxed macaroni and cheese. Why they walk around in pajama bottoms is a mystery to me - but I KNOW why they buy boxes of mac and cheese. It is cheap, filling, and fast to make.
The only cooking skill it requires to make it is boiling water. Hey, even I could do that at the age of 20.
I decided to try and see if I could add some nutritional upside to the classic. First, Kraft made it easier for me by producing this: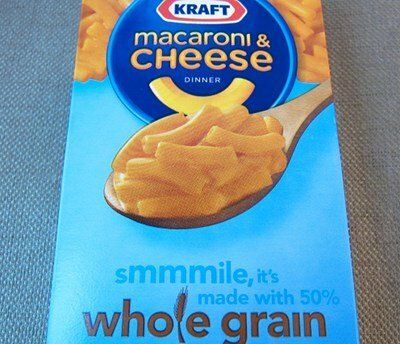 That's right, people! They added 50% whole grain to their recipe and frankly you cannot tell the difference. A wee bit of fiber is a big leap forward in the boxed food arena.
I decided to nix the butter or margarine (90 calories per tablespoon) and go with 1/2 cup of 2% milk fat cottage cheese. There are a bunch of choices when it comes to cottage cheese - 4%, 2%, 1% and "no fat" cottage cheese can be found in the dairy aisle.
It should taste like the original version so I went with 2%. Finally, I added 1/2 pound of fresh tomatoes for color and to bulk up the dish. Tomatoes are a good complement to the salty dried cheese.
Now, you cut the fat, added a fruit, and have MORE to eat per serving. Are you going to like this? Yes. Is it the healthiest recipe in the world? No.
I was just aiming for an upgrade for all those busy students taking their finals. Make your parents proud!!
Have you made over a boxed mac and cheese? What did you add?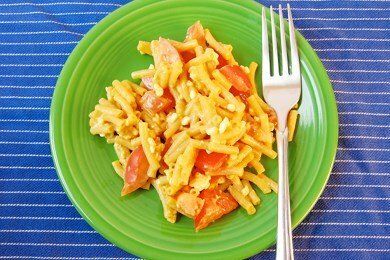 Boxed Macaroni & Cheese Makeover Recipe

(makes 3 servings)
1 box Whole Grain Kraft Macaroni & Cheese
1/2 pound fresh tomatoes
1/2 cup 2% milkfat cottage cheese

Cook pasta following package directions. While water is boiling chop fresh tomatoes. After pasta has finished cooking, put it back into the pot and mix in packaged cheese mix, cottage cheese, and tomatoes. Enjoy!
For one serving = 308 calories, 1.5 g fat, 53.3 g carbohydrates, 8.1 g sugar, 8 g protein, 6 g fiber, 747 mg sodium, 6 Points+
Points values are calculated by Snack Girl and are provided for information only. See all Snack Girl Recipes
Other posts you might like:
---

Tuna melts use to be a staple in my college dorm. One cup mayonnaise, a little tuna, and say the word "green" and you had lunch!...
---

Hey, we all want to be beautiful. How about trying some brown rice to aid your efforts?...
---
---
Get Free Email Updates! Yes please!
---