The Healthiest and Tastiest Potato Chip In The World
What if you could make FAT-FREE crispy chips in your microwave? Wouldn't that solve all of your problems?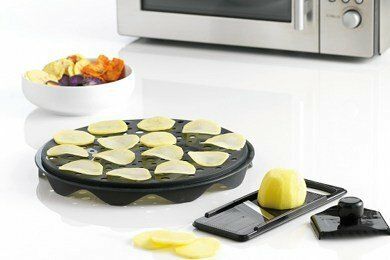 Okay, maybe not ALL of your problems - but at 120 calories for NINE chips - potato chips are a bit of an issue. Because, none of us can eat just NINE.
I have been an advocate for Cape Cod Reduced Fat chips and other baked chips because you can have around 20 chips for that 100 calories. I have bought these to replace fattier chips and have found that I enjoy them just as much.
Then I met the "Mastrad Top Chips Maker" and I fell in love. Why? Because, now I don't have to use ANY oil to get delicious chips. It is just a potato cooked in the microwave -healthy and fresh.
You get a really strong potato flavor versus a bag of chips because they go from potato to chip in four minutes (and then in your mouth).
Why have I professed love to this kitchen gadget?
You save money. (one potato costs much less than a bag of chips)
It is green. (no packaging to throw away)
Make chips other than potato - sweet potato, carrot, apple.
It is dishwasher safe - easy clean up!
The downside is that you can only make about 10 chips at a time because they have to be spread without overlapping on the cooker. You can buy extra cooker things to stack and make more chips at once.
All you do is peel the potato, slice it with the mandolin, put it on the maker, and microwave for four minutes and you have chips. Of course, that takes a lot longer than opening a bag of chips.
I had trouble getting salt to stick - but I found that I didn't need salt because the chips were so flavorful.
An ENTIRE potato worth of chips (probably around 40) will set you back:
131 calories, 0.1 g fat, 29.7 g carbohydrates, 3.4 g protein, 3.7 g fiber, 10 mg sodium, 3 Points+
And, you get 56% of your daily value of Vitamin C and 7% of your daily value of Iron. How can you lose?
My kids went bananas for these and we used them as a side dish at dinner.
You can buy one at Shop Mastrad or at Amazon.com (below).
Have you ever made chips in the microwave?
This product was received for review consideration. No other compensation was provided.
---
$17.96 Buy on Amazon.com
As an Amazon Associate I earn from qualifying purchases.
---
Other posts you might like:
---

Chips, why do we love you so? Is it the crunchiness? The saltiness? or the just plain deliciousness....
---

Snack Girl heard a rumor about Fritos that she just had to test. Fritos were recommended for starting fires!
---