Who Needs Seven When You Can Get It Done In Three?
Snack Girl was first introduced to seven layer dip in 1995.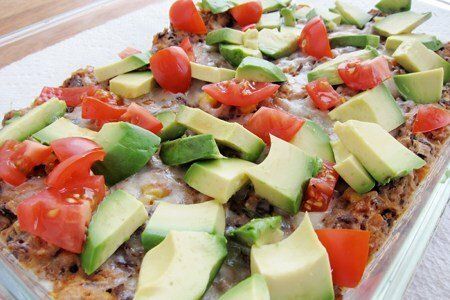 I had made friends with a Wisconsinite who made this dip for a party. Wow! It had salsa, guacamole, cheese, more cheese, beans…. I couldn't believe how yummy it was and I found myself telling people it was terrible so I could horde it for myself.
Since it is 2014, I no longer need seven layers. I don't need dip either but I still love it.
To make this dip healthier than the usual, I used much less cheese and dropped the sour cream entirely. I found it was flavorful without any sour cream, though purists will have an issue with this choice.
If you are keeping it fresh for a party, squeeze some lemon juice on the avocado so it doesn't turn brown. For a spicier version, add some sliced jalapenos to the top – yum!
Because I was feeling super lazy, I used my microwave to heat it up. The whole thing took around 10 minutes and I believe it was gone in five. ahh well.
Use this dip as a topping for rice or use chips, veggies, or pita wedges to scoop it up.
Have you tried to make layered bean dip? How do you keep it healthy?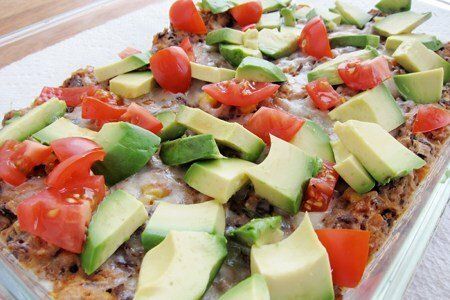 Three Layer Bean Dip Recipe
(makes 10, ½ cup servings)
Ingredients
1 15-ounce can kidney beans
1 15-ounce can black beans
½ cup prepared salsa
1 teaspoon chile powder
1 teaspoon ground cumin
2 ounces grated cheddar cheese
1 ripe avocado, chopped
1 fresh tomato, chopped
Instructions
Drain and rinse beans. Mash them in a large bowl with a potato masher. Mix in salsa, chile powder, and ground cumin. Spread into a 11x7.5 inch casserole or a similar container, sprinkle on cheese, and heat in the microwave for 3-5 minutes.
After the bean dip is hot, add the avocado and tomato. Enjoy with chips, veggie sticks, or pita bread.
Nutrition Facts
½ cup is 165 calories, 5.0 g fat, 1.6 g saturated fat, 22.2 g carbohydrates, 4.7 g sugar, 8.5 g protein, 6.5 g fiber, 220 mg sodium, 4 Points+
Points values are calculated by Snack Girl and are provided for information only. See all Snack Girl Recipes
Other posts you might like:
---

When someone shows up to your house with sour cream, French onion soup mix, and a bag of Ruffles - you know you are in heaven....
---

Last week, I posted about grilling Romaine lettuce and a bunch of you asked for recipes for making your own salad dressing.
---
---
Get Free Email Updates! Yes please!
---