Make Your Own Lighter Caramel Apple
You don't need to be a rocket scientist to get why these caramel apples are healthier.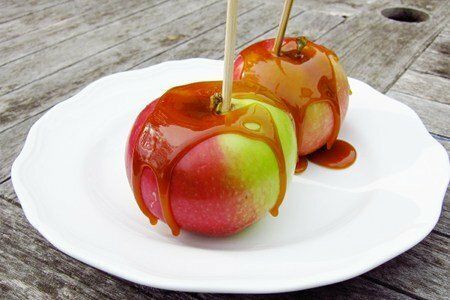 Yep, there is just less caramel than the regular kind (and I didn't add the nuts). You save quite a few calories by doing this as a regular caramel apple can run as high as 390 calories. Ouch!
This is really fun to do with kids. If you are having a party and want to serve a treat these are great to make ahead.
They also take about 10 minutes from start to finish. When I tried this recipe, I thought I wouldn't be able to handle the "candy making" aspect, but it is really simple.
Just be sure to keep stirring for two minutes after the mixture gets to a boil and you will have yummy homemade caramel for your apple. If you don't stir, you will have a burnt mess that will destroy your pan (trust me).
Agave syrup is perfect for this concoction because it gives liquid to the caramel (and so you don't have to add cream). I find agave syrup next to the honey in my regular supermarket.
If you don't have agave syrup, maple syrup will work and give added flavor of maple which would be very tasty.
I like to use a more sour apple to contrast with the caramel to get a better flavor. Store these in the fridge for a week for a fun healthier treat.
Have you ever made caramel apples? Please share.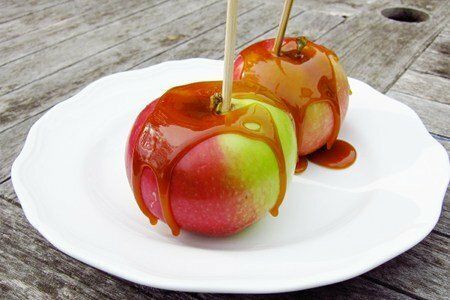 Healthy Caramel Apples Recipe
(makes 9)
Ingredients
⅓ cup packed light brown sugar
¼ cup agave nectar
2 tablespoons butter
pinch salt
9 medium apples
popsicle sticks or barbecue skewers
Instructions
Line a baking sheet with parchment paper. Wash apples and place on baking sheet.
Combine sugar, nectar, butter, and salt in a small saucepan over medium heat. As soon as the syrup starts to bubble stir constantly for 2 minutes until the mixture darkens.
Using a tablespoon measure, work quickly and drizzle caramel over the apple. After you finish all 9, stick in a skewer or popsicle stick into the top. Let cool for 5-10 minutes and enjoy!
Nutrition Facts
For one apple = 171 calories, 2.9 g fat, 39.4 g carbohydrates, 32.7 g sugar, 0.5 g protein, 4.8 g fiber, 36 mg sodium, 5 Points+
Points values are calculated by Snack Girl and are provided for information only. See all Snack Girl Recipes
Other posts you might like:
---

This healthy apple crisp recipe is THE dessert of fall. It only uses one apple!....
---

Here at Snack Girl headquarters clothing is optional (for the 4 and under set). This is also true of our pies....
---
---
Get Free Email Updates! Yes please!
---