Healthy Cool Whip
Healthy Cool Whip is an actual product category. You can find alternatives to the famous Cool Whip brand at Whole Foods!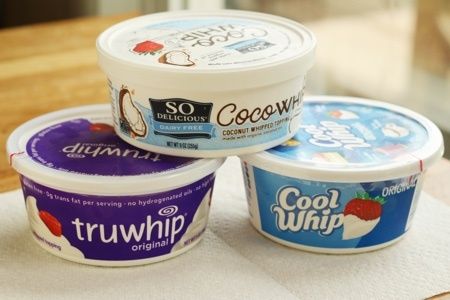 People seem to love whipped topping that comes in tubs but they don't want to buy Cool Whip. Why?
All of these options have the same amount of calories, fat, and sugar but the ones that aren't Cool Whip cost about twice as much.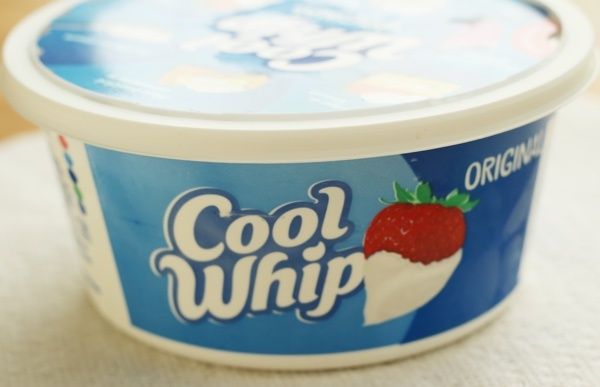 Cool Whip is simply water with corn syrup, oil, with some milk added (and a bunch of chemical sounding stuff), See ingredients here:
Water, Corn Syrup, Hydrogenated Vegetable Oil (Adds a Negligible Amount of Fat) (Coconut and Palm Kernel Oils), High Fructose Corn Syrup, Less than Two Percent of Sodium Caseinate (from Milk), Natural and Artificial Flavor, Modified Food Starch, Xanthan and Guar Gums, Polysorbate 60, Polysorbate 65, Sorbitan Monostearate, Sodium Hydroxide, Beta Carotene (Color).
As you can see there are "hydrogenated vegetable oils", but there is no trans-fat in the product. I called and asked and Heinz Foods removes the fatty acids from the oil and just uses the oil for texture.
We all want the convenience of this product (don't have to get out my mixer to make whipped cream) but is it actually comparable to whipped cream?
Cool Whip doesn't taste like much and is kinda wierd. It is like a science experiment and yet people love it.
I tried two more brands that are attempts at healthy Cool Whip. I bought them at Whole Foods. I am evaluating whether I could find a tub of non-dairy whipped topping that I could get behind.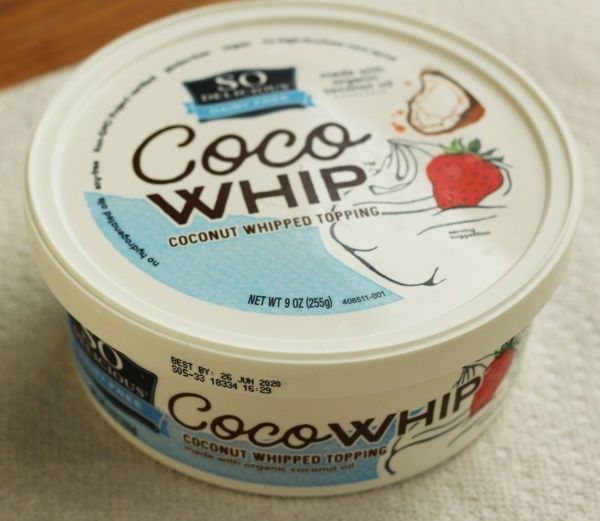 Coco-Whip is the same concept as Cool Whip except that So Delicious uses organic coconut oil as the oil in the product. Here are the ingredients:
Filtered Water, Organic Tapioca Syrup, Organic Cane Sugar, Organic Coconut Oil, Pea Protein, Sunflower Lecithin, Guar Gum, Xanthan Gum, Natural Flavor.
Coco-Whip is almost the same product as Cool Whip except they use tapioca syrup instead of corn syrup. It is water with sugar syrup and oil. It does have far fewer wierd chemicals.
I don't know if I would call this "healthy" but it did taste much better than Cool Whip. It had a lovely, light and sweet flavor of coconut and I could see adding this to my strawberries for a quick treat.
It is far lighter than ice cream (only 2 grams of fat for 2 tablespoons) so I think this a great replacement if you are looking for a quick dessert.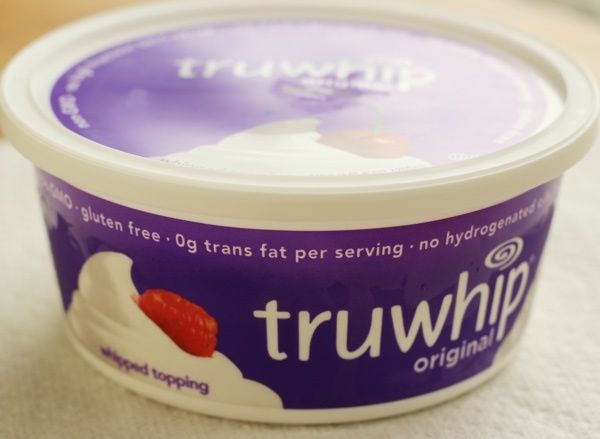 Truwhip is the original healthy Cool Whip but I don't see much of a difference from the original. They advertise that there are no hydrogenated oils - and that is true - but those oils aren't a problem (trans fat) in Cool Whip.
Water, expeller-pressed palm kernel oil, tapioca syrup, cane sugar, contains less than 2% of each of the following: organic soy protein concentrate, sodium caseinate (from milk), natural flavors, tapioca starch, soy lecithin, hydroxypropyl methyl cellulose, xanthan gum, and guar gum.
Again this is water, sugar syrup, and oil. Truwhip is vegan but I would not run out and buy a tub unless I really loved non-dairy whipped topping.
Truwhip did have more flavor than Cool Whip.
My advice is to get out your mixer, grab some cream and a little bit of sugar, and make real whipped topping! You will save the environment (no plastic tub) and the flavor and texture will be divine.
Do you like Cool Whip? Have you looked for a healthier version?