Hello Asparagus! Celebrate Spring With Cream of Asparagus Soup
The asparagus has started rolling in even though the snow is stilled piled up around town.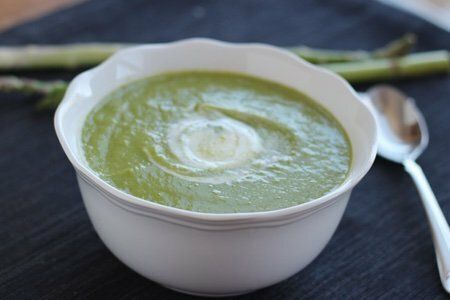 Go figure.
Spring is somewhere and that somewhere is shipping in-season asparagus to me. Hurray! Every year, I attempt a new take on asparagus and I remember how much I love it.
This year, I decided to make soup because it would make a lovely starter for an Easter meal. Soup can help you eat less of other perhaps less healthy things (think ham, mashed potatoes, deep fried chicken) by filling you up.
The cream in this soup is nonexistent but I still called it "Cream of Asparagus Soup" because I am shifty like that. I used a little butter, a potato, and some yogurt to add "cream like" properties.
If you don't have fresh thyme – don't worry about it. I used a regular blender (sorry Vitamix) and it came out great.
What do you serve as a starter for a spring celebration?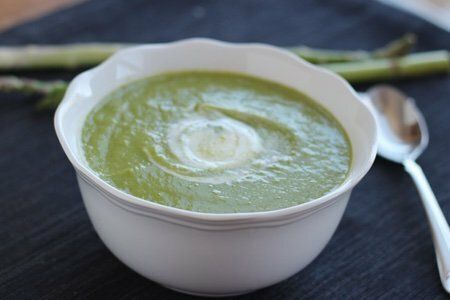 Cream of Asparagus Soup Recipe

Makes 4 cups, 1 cup per serving

Ingredients
1 onion, chopped
1 tablespoon butter
1 pound asparagus, trimmed and cut into 1 inch pieces
1 medium potato, chopped
1 teaspoon fresh thyme, minced
2 cups chicken broth, low sodium
¼ cup plain yogurt
½ lemon, juiced
salt and pepper, to taste

Instructions
In a large sauce pan, saute onion in butter over medium high heat until translucent (about 5 minutes). Add asparagus, potato, thyme, and chicken broth and bring to a boil. Reduce to a simmer and cook until the asparagus and potato are tender, 10 to 15 minutes.
Puree soup in blender and add back to pot. Mix in yogurt, lemon juice, and add salt and pepper to taste. Serve immediately or store in a tightly sealed container for up to three days.
Nutrition Facts
For one cup = 131 calories, 4.0 g fat, 2.2 g saturated fat, 18.0 g carbohydrates, 5.1 g sugar, 7.2 g protein, 4.2 g fiber, 419 mg sodium, 3 Points+
Points values are calculated by Snack Girl and are provided for information only. See all Snack Girl Recipes
Other posts you might like:
---

We go crazy using green frosting on cupcakes, donuts, and cookies when we have lovely green food surrounding us (duh)....
---

Kale is on every list for "healthiest vegetable". Many of you hate it or will never try it....
---
---
Get Free Email Updates! Yes please!
---