The Ultimate Enchilada Recipe For Healthiness
What if I told you that that casserole up there had a whopping 28% of your daily value of iron per serving? Would that amaze you?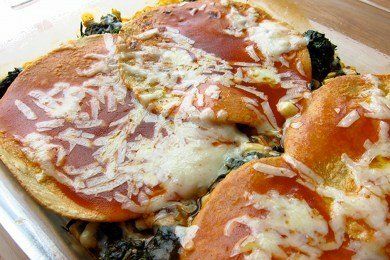 And behind curtain #3 there is a washer/dryer combination that will blow your socks off. Ha!
No, I'm not talking about iron from MEAT - this is VEGGIE iron that Popeye used to use to save Olive Oyl from disaster. That's right - spinach!
Frozen spinach is a cheap and easy way to get many nutrients with zero preparation. You just thaw it, squeeze it, and add it to anything.
Because this recipe includes spinach, it has 280% of your daily value of vitamin A, 83% of your vitamin C, and 50% of your daily value of calcium. How can you go wrong?
These are SUPER good for you AND they are enchilada-like (a new word I have come up with). They differ from the real thing because I have reduced the number of tortillas and I didn't use any meat. Sorry carnivores!
You can keep all of the ingredients in your pantry for one of those nights that you didn't have time to shop for groceries.
If you don't like chiles - leave them out. My kids find it too spicy with chiles (which is sad because I love spicy food). Also, to reduce the sodium which is primarily due to the enchilada sauce and tortillas - use low sodium salsa.
Tortillas can be packed with sodium - so look for low sodium tortillas if you can find them or make your own see: homemade whole wheat tortillas.
For the Weight Watchers crowd, this recipe could easily be 6 servings which would reduce the Points+ number to 6. When you compare these spinach corn enchiladas to the REAL ones you will be amazed at how many calories you saved by skipping the meat.
Do you have a healthy take on enchiladas? Please share.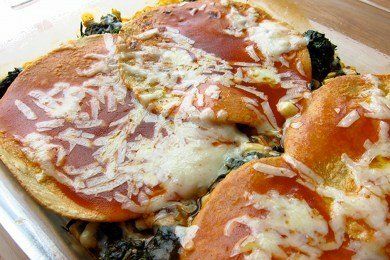 Spinach Corn Enchilada Casserole Recipe

(serves 4)

Ingredients
2-10 ounce packages frozen spinach
2 cups frozen corn kernels
1.5 cups grated cheddar cheese
1 4.5 ounce can chopped green chiles
4 corn tortillas
1/2 cup canned enchilada sauce or your favorite jarred salsa

Instructions
Heat oven to 375 F. Thaw spinach in microwave and squeeze out excess liquid. Add spinach and corn to large bowl and mix with 1 cup cheese and chiles. Spray a 9x13 casserole dish with non-stick spray and spread spinach mixture evenly in dish. Add tortillas, spread sauce on top of them, and add 1/2 cup left over cheese.
Cook for 15 minutes and enjoy!
Nutrition Facts
337 calories, 15.9 g fat, 35.4 g carbohydrates, 18.6 g protein, 7.7 g fiber, 706 mg sodium, 9 Points+ or 6 Points+ if you divide recipe into 6 servings
Points values are calculated by Snack Girl and are provided for information only. See all Snack Girl Recipes
Other posts you might like:
---

Casseroles are serious comfort food - and you know what type of comfort food: cans of cream of mushroom soup mixed with noodles and frozen peas....
---

Are you trying to eat seasonal foods? Put down those hard tomatoes and grab some cabbage....
---
---
Get Free Email Updates! Yes please!
---