Healthy Halloween Candy
Snack Girl visited her neighborhood Target this weekend and found Halloween candy stacked to the rafters. So, I decided I would beat out all the other healthy eating blogs on October's favorite topic - candy.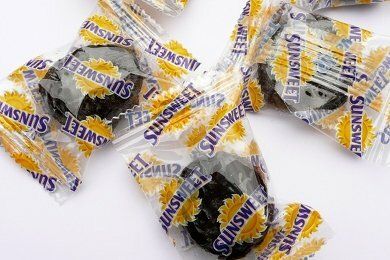 Americans are feeling guilty about giving out candy to children. With one out of three children considered overweight or obese, Halloween just isn't that fun anymore.
AND, there are the adults who have to buy candy and THEIR waistlines aren't exactly small.
Are there some great Halloween candy choices out there that will assuage our guilt so we can still have a good time?
First, you don't have to give out candy if you feel bad about it. There are little packages of play dough, stickers, plastic spider rings, etc. that kids love and are not food. (But then you will feel guilty about all that plastic going into the trash.)
Take a walk with me into the produce aisle for a choice that may get your house toilet papered! How about a dried plum? For $5 per bag, you can get about 40 individually wrapped prunes to toss into their plastic pumpkins.
At only 25 calories per prune, you are doing great for a Halloween candy and you get vitamins, fiber, protein, and potassium. They have even been implicated in cancer prevention. (Take THAT mini-Snickers bar!)
The genius here is that the people at Sunsweet wrote SUNSWEET all over the package. I have sold these to my children as "SunSweets" and they actually believed me. My kids have asked for them to be the treat in their lunch box and I now keep some in my purse for emergency snacking.
These are a fantastic way to beat that mid afternoon cookie snack because they are really sweet. I have them with a coffee to keep going when I am feeling sleepy.
If you want to learn more about prunes check out Pop-A-Prune where Sunsweet attempts to convince you that prunes are the perfect food.
I know that my Eco-Groovy readers are not going to like individually wrapped prunes, and I hear you. It seems a bit crazy to put all that packaging around a prune. My theory is that if the packaging helps my kids eat something healthy, then it is okay. They loved packaged stuff and it is REALLY difficult to convince them otherwise.
If you really don't like this idea check out: Healthy Halloween Candy: Take Two for MORE options.
Do you have any good ideas for healthy halloween candy?
---
$25.98 ($2.16 / oz) Buy on Amazon.com
As an Amazon Associate I earn from qualifying purchases.
---