Healthy Jelly: There Are Better Choices
Healthy jelly or jam isn't that hard to find. Many brands have made lower sugar alternatives for those of us looking to decrease our sugar consumption.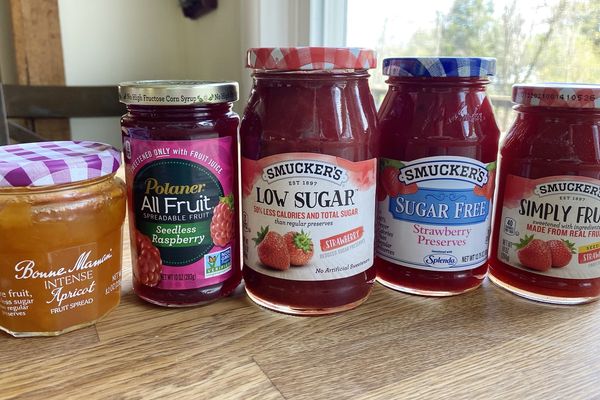 I looked at this years ago see How to Pick a Healthy Jam or Jelly and it amazes me how the choices have increased. YES!
I am a fan of healthy jelly and jam because I love peanut butter. Is there anything more comforting than a PB&J? I like my peanut butter to be all natural and I like my jelly to taste like fruit.
The wonderful thing about the focus on added sugar is that food manufacturers are making products with less of it. Jam and jelly is an easy product to fix because (guess what?) you don't need any sugar to make it.
I have two recipes - sugar free strawberry jam and sugar free blueberry jam recipe that don't use any sugar to make jam. They are both easy and delicious.
Here are five brands that I found in Target so I hope they are nationwide. The serving size for jam is 1 tablespoon. I find that if I spread it thinly -I can get by with much less.
The best jam (for my purposes) is the one that tastes strongly of fruit and not sugar.
I am listing them from most sugar to least sugar per serving.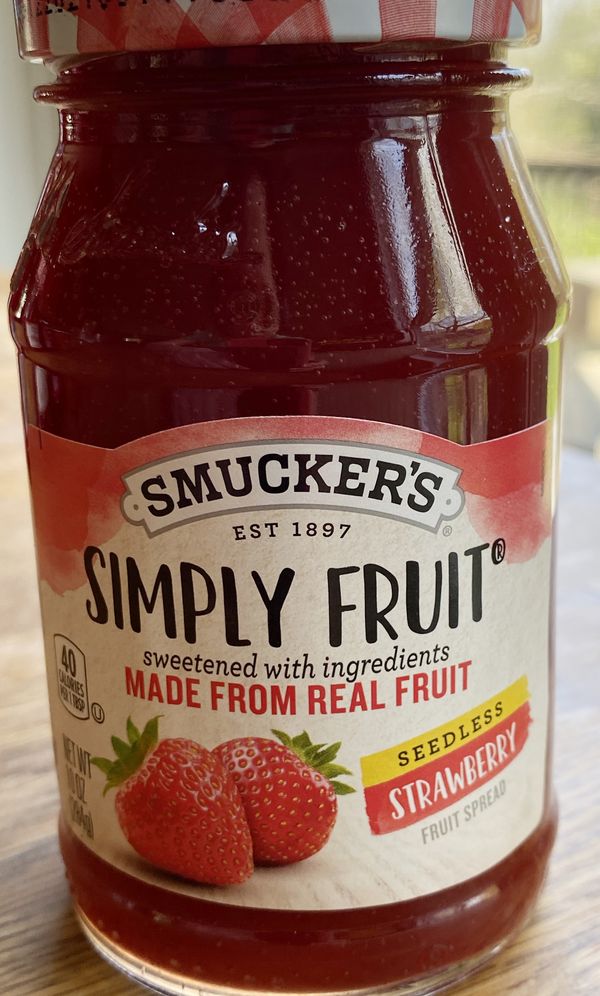 Smucker's Simply Fruit is Smucker's answer to Polaner All Fruit (see below). The strawberry one I bought is seedless so it is (to me) more like jelly than jam. It has 10 grams of sugar (2 WW SmartPts) and is 40 calories.
I think this is too sweet but the texture is great (if you love jelly).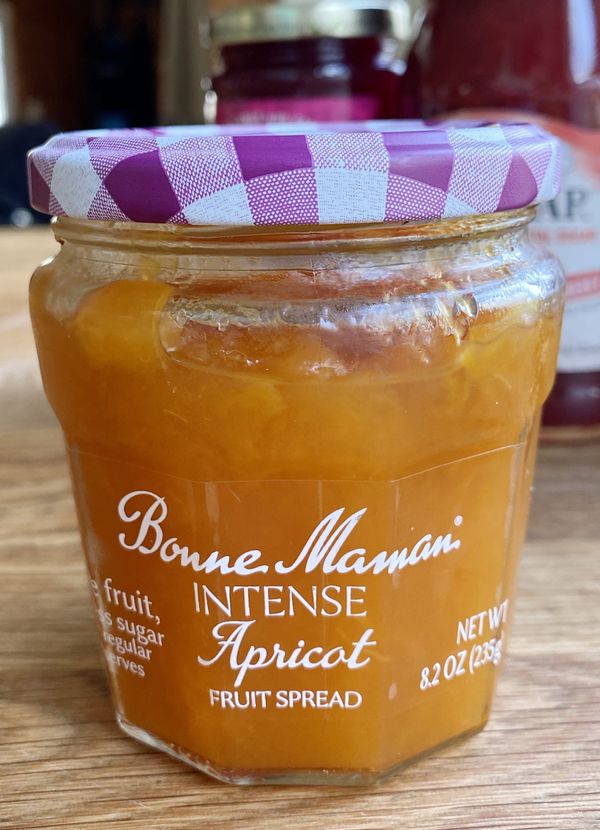 Bonne Maman Intense is a great name for a product. I love the idea of "intense" when it comes to food. It boasts "More fruit, 39% less sugar than regular preserves). It has 35 calories and 8 grams (2 WW SmartPts) of sugar per serving.
It is a bit tart and it has a ton of apricots. This is the most expensive of the bunch but if you use sparingly - it is worth it. Thumbs up!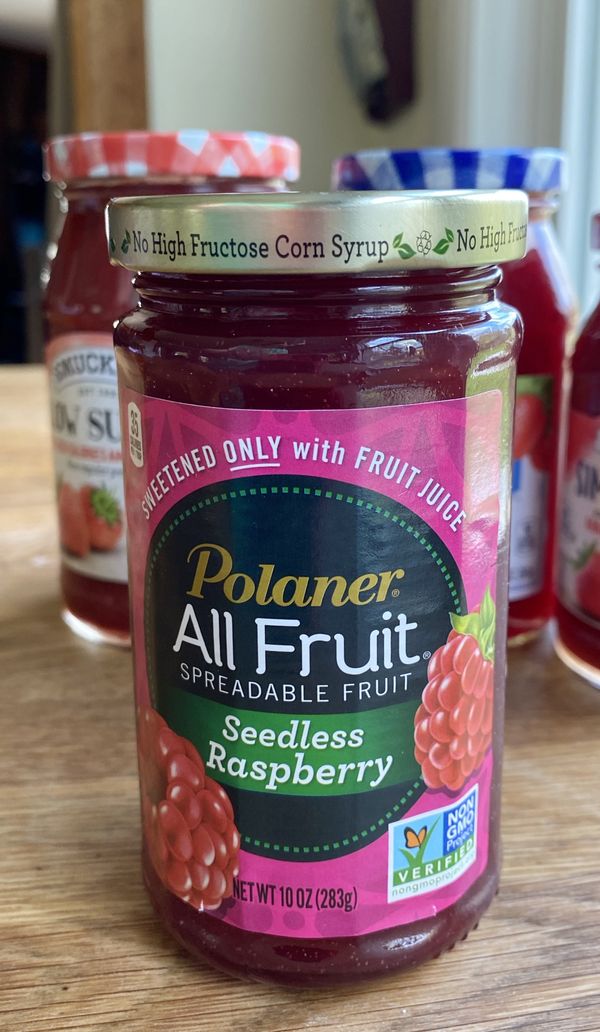 Polaner All Fruit is the OG (original gangster) of this category. I bought seedless raspberry which again is just like jelly. It has 35 calories and 8 grams (2 WW SmartPts) of sugar per serving.
I think Polaner All Fruit is really a healthy choice when compared to regular jelly. It tastes like fruit and has a nice balance of sweet and tart. Thumbs up!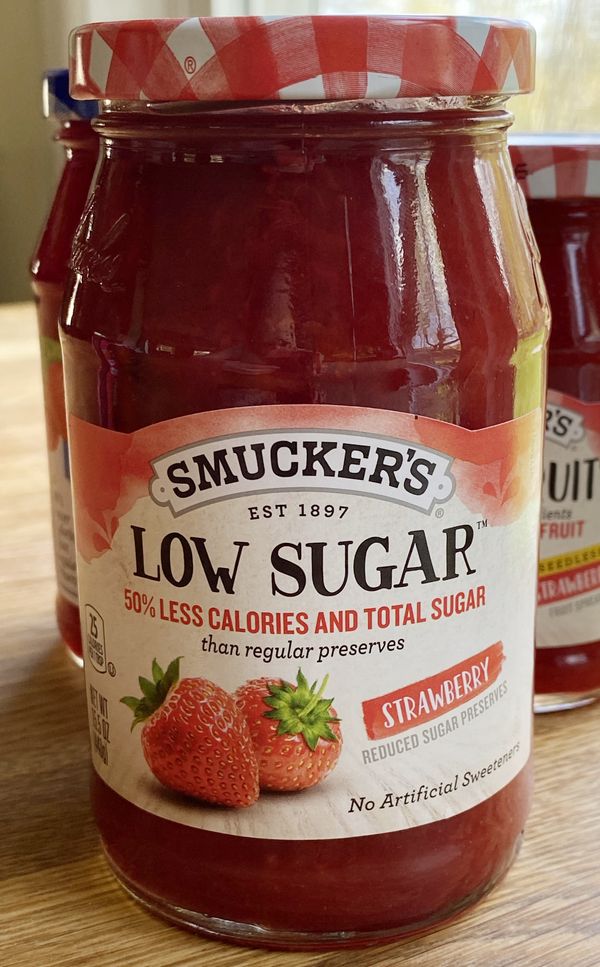 Smucker's Low Sugar is using fruit pectin (just like my recipes) to keep the sugar down. This has 25 calories and 5 grams of sugar per serving (1 WW SmartPt).
I love it because it has no artificial sweeteners and has a perfect jam texture. You taste the fruit in this product. They added locust bean gum - probably as a thickener - which doesn't bother me.
It is less intense in flavor than the Polaner and Bonne Maman Intense - but it is still really good.
Thumbs way up!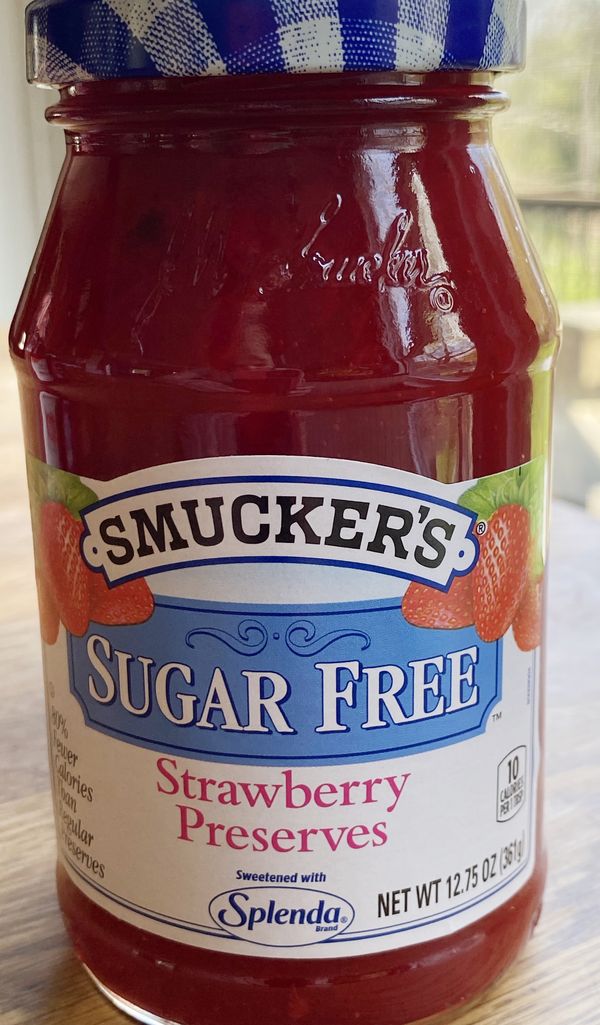 Smucker's Sugar Free uses Splenda to make it only 10 calories per serving, 0 grams of sugar, and 0 WW SmartPts. My question here is what about the sugar that is naturally in strawberries? Do they remove it?
The first ingredient is water - so maybe they dilute the strawberry sugar enough so it is is minuscule.
I was ready to hate this product but it isn't bad. It doesn't taste too sweet which can happen when companies start to add artificial sweeteners.
I think this is an excellent option for those cutting way back on sugar or those who are pre-diabetic (or diabetic). I would mix this in plain yogurt for a treat.
Thumbs up!
Have you found healthy jelly in the stores? What do you buy?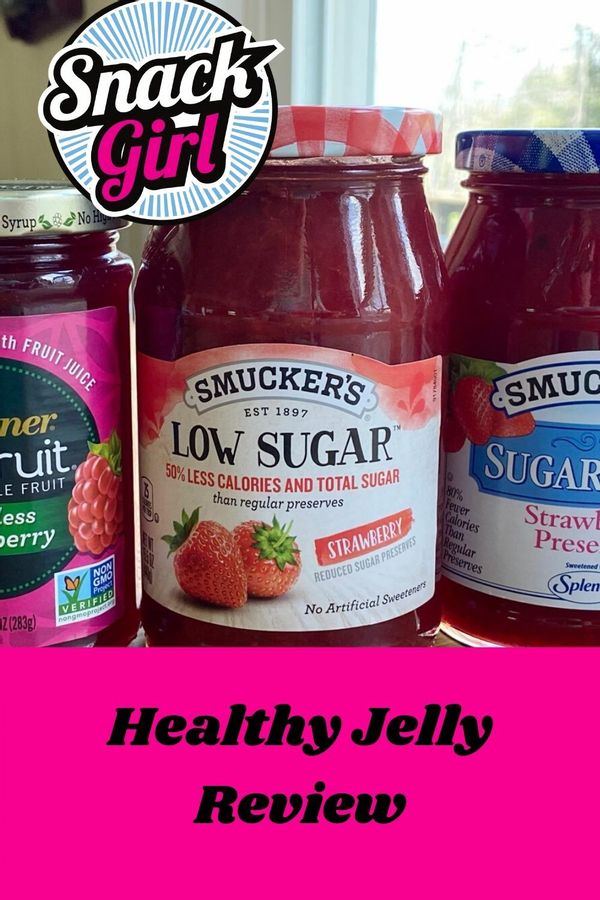 Other posts you might like:
---

It isn't that hard to find a healthy jam or jelly if you know what to look for....
---

It took me about 10 minutes to make low sugar blueberry jam and my kids even less time to eat it.....
---