Healthy Layered Bean Dip with Quinoa
Are you doing any tailgating or football watching? Then, you have to try my healthy layered bean dip with quinoa.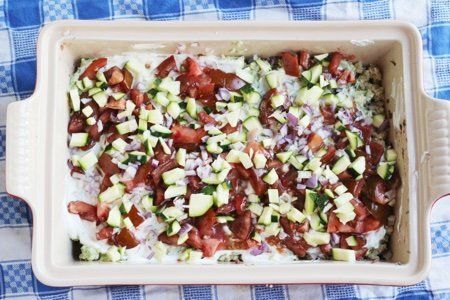 I have been working with quinoa for years now – check out my slow cooker vegetarian quinoa chili - and I love it as a replacement for something starchy like rice. It fills you up with protein instead of carbohydrates which you gotta love and it is easy to cook.
I will admit that this takes many more steps than my three layer dip (without quinoa).
You cook quinoa like rice except it is a lot less fussy. First, YOU MUST RINSE IT. I skipped this step once and it was a disaster. The quinoa was bitter and I had to throw it away.
Rinse it, bring it to a boil (with twice as much water as quinoa), and then cook, covered for 10-15 minutes until it softens and plumps. Then, you fluff it with a fork. It is VERY hard to screw up.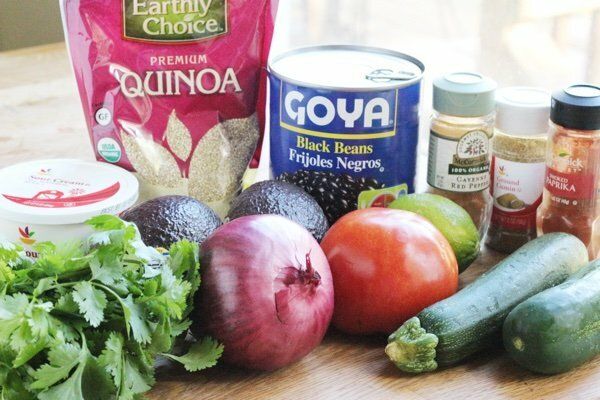 This dip is made with layers of great stuff – beans, zucchini, tomatoes, etc. and sour cream which is essential to give it a pop of decadence.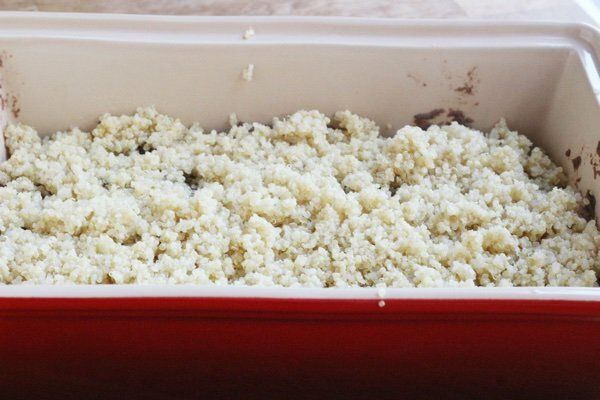 The cooked quinoa goes on top of the beans and turns a veggie dip into comfort food. Serve it with chips, carrot sticks, celery, or spread it on pita bread.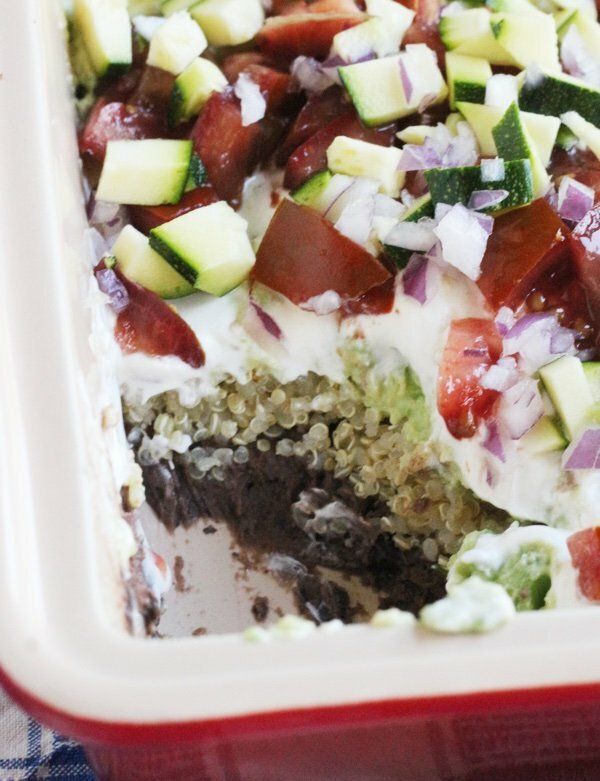 I love bringing something like this to a potluck because everyone is surprised that they actually like it. I get a sense of satisfaction knowing that I got it together enough not to bring a jar of salsa and chips – I MADE something delicious.
Of course, if you call yourself "Snack Girl", people expect you to bring the best snacks. It is a tough road but someone has to do it.
Have you tried putting quinoa in your food? How do you serve it?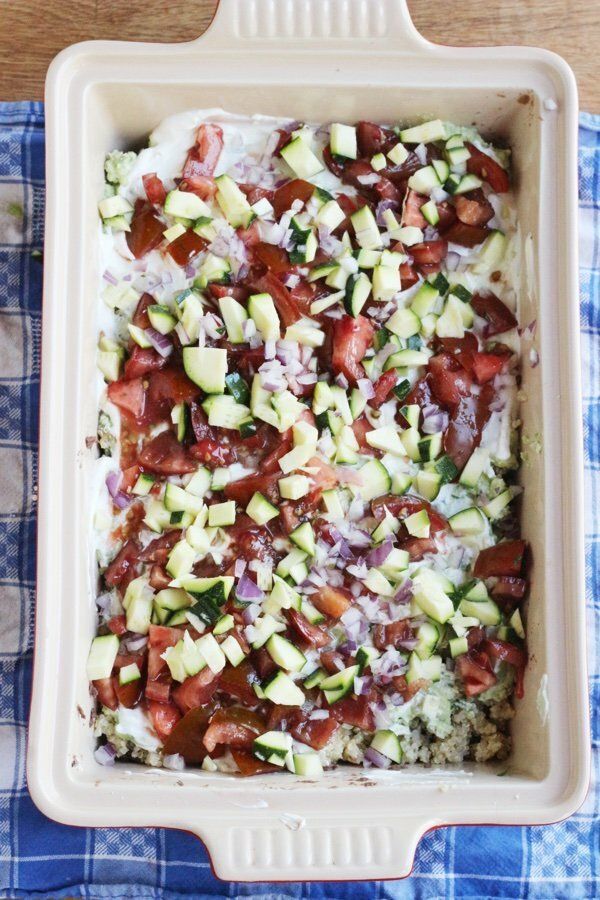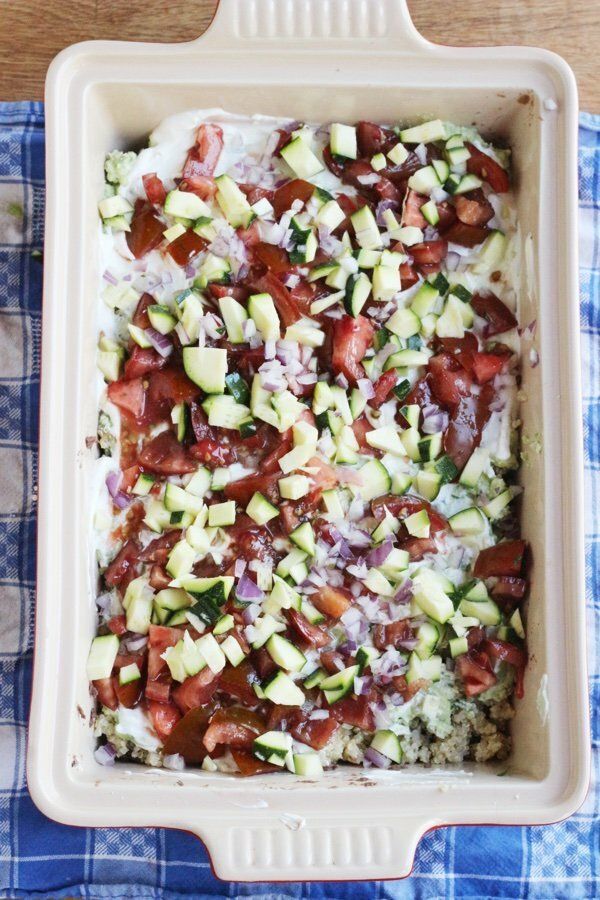 Healthy Layered Bean Dip with Quinoa

Makes 8 cups

Ingredients
1 30-ounce can black beans, drained and rinsed
2 teaspoons ground cumin
½ teaspoon cayenne pepper
2/3 cup quinoa, rinsed
1 lime, juiced
2 ripe avocados, peeled and coarsely chopped
2 tablespoons plus ¾ cup sour cream
¼ cup fresh cilantro, minced
1 large tomato, chopped
¾ cup zucchini, finely chopped
¼ cup red onion, finely chopped\
Instructions
Pulse beans, cumin, cayenne pepper, and 1/3 cup water in a food processor or high powered blender until it becomes like refried beans (paste like). Add salt and pepper to taste,. Spread into a 9x13 inch casserole dish.
Put quinoa in a small saucepan with 1 1/3 cup water and bring to a boil. When it begins to boil, put a lid on it, and simmer for 10-15 minutes until the water has been soaked up by the quinoa. Fluff it with a fork and pour ½ of the lime juice in it and mix. Spread onto the top of the bean mixture.
Mash the avocados, 2 tablespoons sour cream, fresh cilantro, and the rest of the lime juice in a small bowl. Add salt and pepper to taste. Spread on top of the quinoa. Spread the rest of the sour cream on top of the avocado mixture.
Layer chopped tomatoes, then zucchini, and finally the onion on the top of the dip. Serve immediately or refrigerate until later. I would eat this within a day.
Nutrition Facts
For ¼ cup serving = 65 calories, 3 g fat, 1 g saturated fat, 8 g carbohydrates, 1 g sugar, 2 g protein, 2 g fiber, 150 mg sodium, 2 SmartPts
Points values are calculated by Snack Girl and are provided for information only. See all Snack Girl Recipes
---
Other posts you might like:
---

I was first introduced to "Seven Layer Dip" in 1995 and I immediately fell in love...
---

This slow cooker quinoa chili is for right now. Can't afford meat? No problemo.....
---
---
Get Free Email Updates! Yes please!
---