Healthy Pumpkin Soup: You Can't Miss
This healthy pumpkin soup recipe is for those of you still getting into the fall spirit. Have you seen the pumpkins everywhere?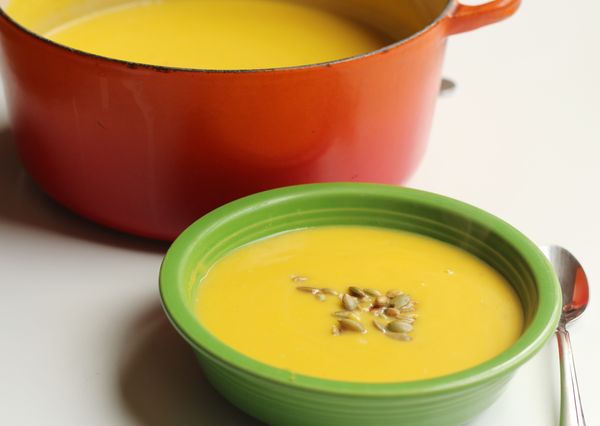 Every house on my block has one sitting on the stoop. These pumpkins, - carving, decorative pumpkins - are sitting outside in front of garden centers and grocery stores. I bought mine at Trader Joe's.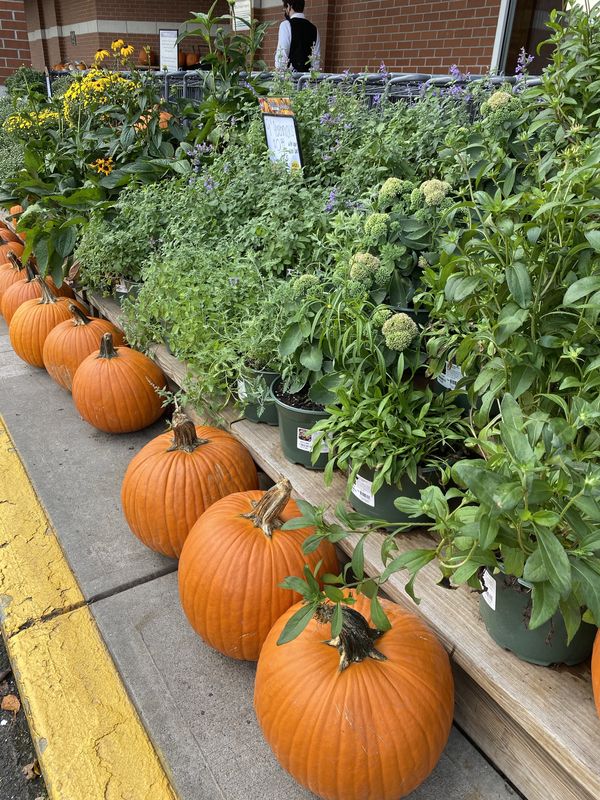 For those of you who don't know - this is not the one you use for making pumpkin pie or pumpkin soup. The big carving pumpkins don't taste very good as they are more water than pumpkin. What you want to buy is a small pumpkin called a "sugar pumpkin".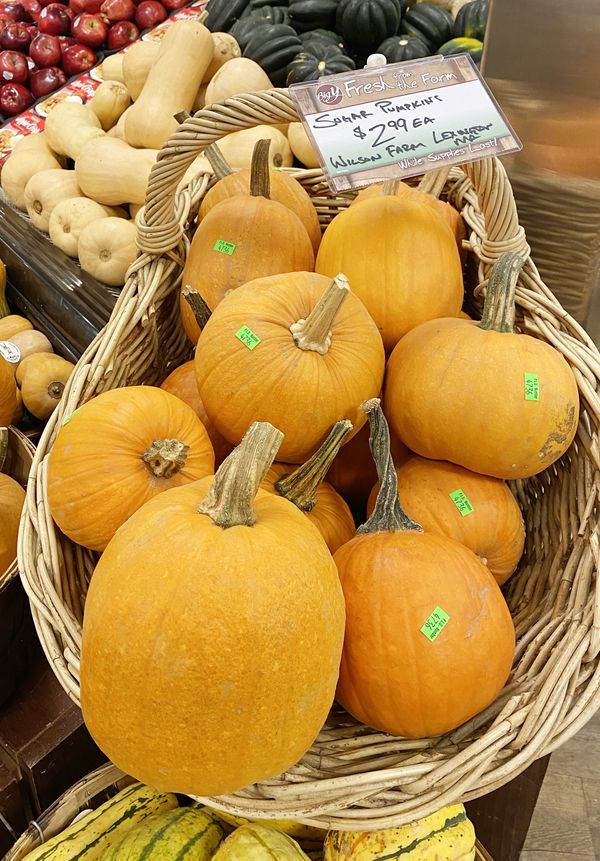 I found this adorable 4 pound pumpkin next to the acorn and butternut squashes inside my grocery store. They range from 2-4 pounds and mine cost a whopping $2.50 (sale price).
Once you buy this baby, you are on your way!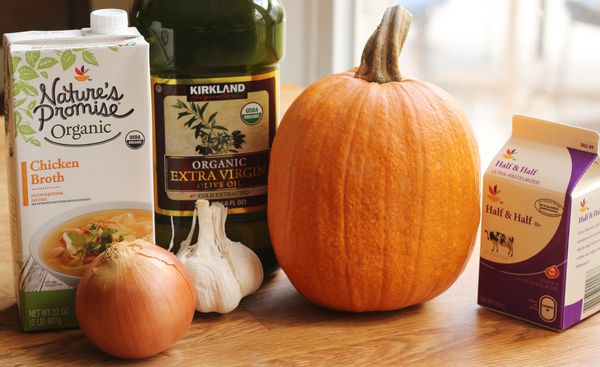 Cut up your pumpkin and don't forget to roast the pumpkin seeds.
The only glitch with this recipe is that you need to peel the pumpkin which is a bit tricky. I cut it up and then use a big knife to cut off the peel. Yes, I lose some edible pumpkin this way - but I find it faster than peeling.
For those who don't want to peel - check out my roasted sugar pumpkin recipe.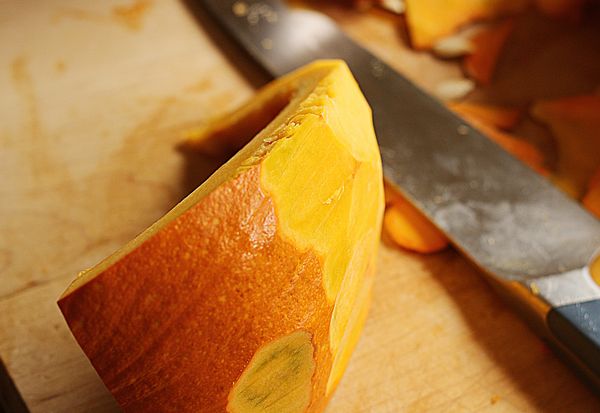 You can also microwave the pumpkin for about 15 minutes on high and the peel will fall right off. I am not sure which takes longer - you do get a work-out if you cut it off with a knife as an added bonus.
But, don't be afraid of the peel and the work because it is worth it! This soup is divine and so good for you.
Have you made healthy pumpkin soup? What did you put in it?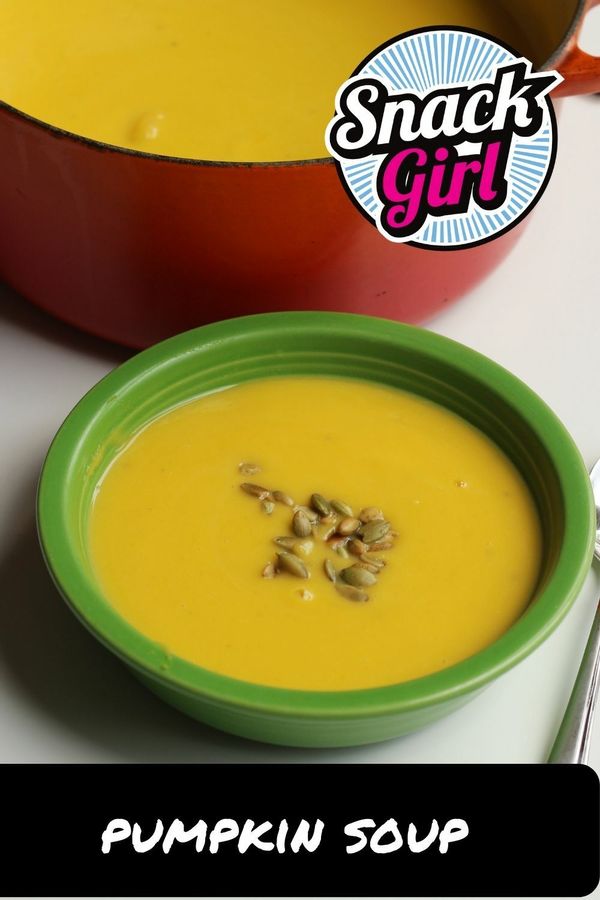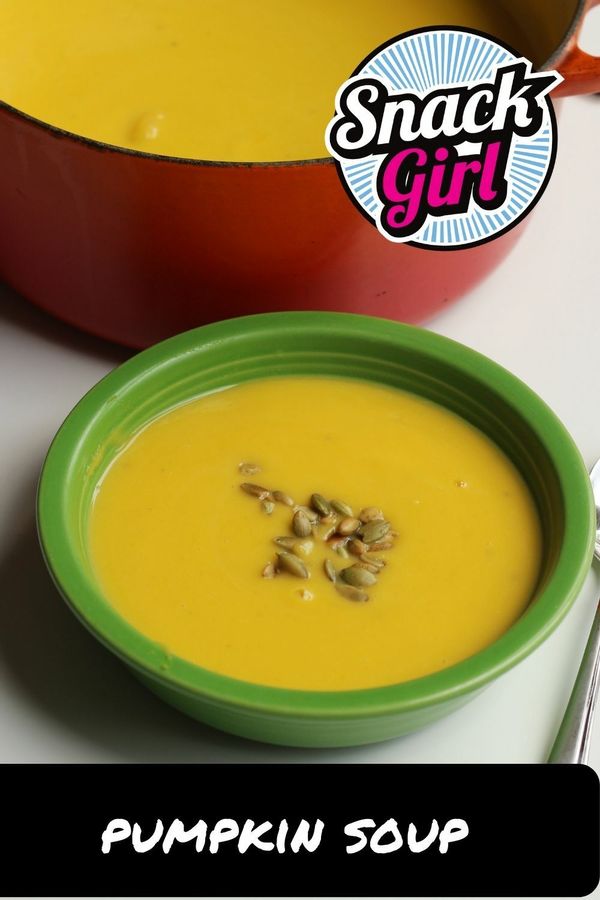 Healthy Pumpkin Soup Recipe

Makes 10 cups
Prep time: 15 min
Cook time: 30 min

Ingredients
4 pounds sugar pumpkin (one large or two small pumpkins)
1 tablespoon extra-virgin olive oil
1 large onion, chopped
4 cloves garlic, peeled and minced
4 cups low sodium chicken or vegetable broth
1 cup half and half
salt and pepper to taste

Instructions
Half the pumpkin and scrape out the seeds and strings. Cut into quarters and slice off skin then cut the pumpkin into chunks.
Heat a soup pot or dutch oven to medium high and add olive oil, onion, and garlic and saute until onion is translucent (about five minutes). Add broth and pumpkin to the pot and season with salt and pepper. Bring the pot up to a boil and then reduce it to a simmer. Simmer for 30 minutes or until the pumpkin is easily pierced with a fork. Puree either in a blender or with a hand-held immersion blender. Add half and half and adjust seasonings. Serve hot with pepitas, pumpkin seeds, croutons, or anything crunchy.
This soup stores well in the freezer before you add the half and half.
Nutrition Facts
One 1 cup: 91 calories, 4.9 g fat, 2.1 g saturated fat, 9.2 g carbohydrates, 2.2 g sugar, 3.8 g protein, 0.8 g fiber, 300 mg sodium, 2 Green, 2 Blue, 2 Purple WW SmartPts
Points values are calculated by Snack Girl and are provided for information only. See all Snack Girl Recipes
Other posts you might like:
---

These roasted pumpkin seeds are brought to you by fall. We need to enjoy the simple things like pumpkins.....
---

This roasted sugar pumpkin recipe is not sweet. Instead it is salty, sour, sweet, and fun to make.....
---
---
Get Free Email Updates! Yes please!
---