Try This: Vegan Toast
Guess what I didn't use on my toast this morning?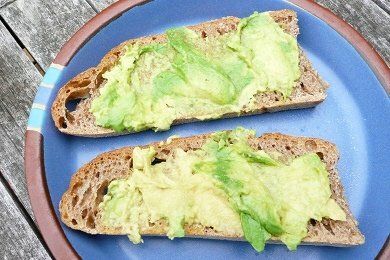 Butter! Yes, I left the butter in the fridge and grabbed a ripe avocado off my counter and spread some of this luscious fruit on my toast.
Toast with butter is heavenly (I agree) but so is avocado toast. You can avoid that "animal fat" which isn't good for your heart and you will use ZERO animal products with this snack.
And, avocados have been shown to REDUCE cholesterol levels and they have a lot of fiber. Your heart will thank you - and you are making a "green choice".
I know dieters are concerned about the amount of fat in an avocado, but once you hold the chips, nacho cheese, and sour cream, avocados are low in calorie :)
Actually, the nutritional bang for your calorie consumption is worth it for avocados and if you combine it with a 100% whole grain toast - you have a killer snack.
See this article on toast: How To Pick Healthy Bread - A Toast to Toast
It can be difficult to find an inexpensive and delicious avocado. I buy them when they are about $1 each because I have found if I pay $3 for an avocado it tastes terrible. I believe the $1 price indicates that they are in season and here that season starts in February.
To keep an avocado from turning brown, just leave the pit in the avocado when you store it.
I like to add a little salt or a squirt of lemon (if I have it) to my avocado toast. You can also layer a tomato or other sandwich stuff for a truly luxurious snack.
Kids also seem to really love avocado on their toast. Call it "green" toast and you have an instant hit (green eggs, green ham, green toast...).
What is your favorite use for avocados?
---
Avocado Toast Recipe

(serves 1)
1/4 ripe avocado
1 slice 100% whole grain toast
salt to taste

Spread avocado on toast. Salt to taste and enjoy!
150 calories, 8.3 g fat, 15.9 g carbohydrates, 2.5 g protein, 6.3 g fiber, 136 mg sodium, 4 Points+