Give the Gift of A Healthy Snack (Your Friends Won't Even Know Its Healthy!)
Looking for that perfect gift for that special someone? Put down your credit card and rev up your food processor.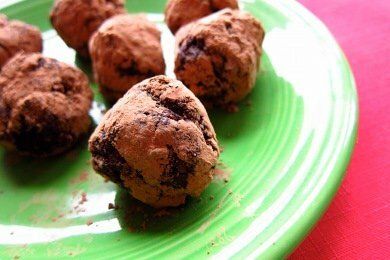 What do your friends and family REALLY need this holiday? Statistically speaking, one out of every three Americans is either overweight or obese. So, do they need a diet?
No!
They need to know that they can eat something healthy, delicious, AND nutritious.
They need you to make them some No Bake Brownie Balls, wrap them in some lovely tissue paper, and include the recipe. (Make sure they read the recipe AFTER they taste them.)
The recipe for No Bake Brownie Balls does not include eggs, butter, or processed sugar but they taste like they do. Why? I think it is the combination of the dates and almonds (sugary and buttery).
These have been a HUGE hit on Snack Girl and I am positive your friends, family, and coworkers will love them.
There are a couple great reasons to give No Bake Brownie Balls as a special holiday treat. They:

1. Include chocolate.
2. Take almost no time to make.
3. Are super healthy and yummy.

And, your gift is original, homemade, and filled with love :)
Kids love making these as well and are a fun addition to the regular holiday cookie route. They will love rolling them in their hands and not having to wait for them to come out of the oven.
To make these brownie balls vegan - use maple syrup or agave syrup.
(or you could give your special someone a food processor -see below- and get him or her to make them for you :)
What food gifts do you give during the holiday season?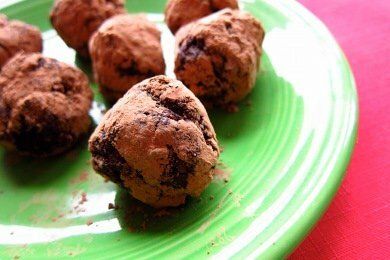 No-Bake Brownie Balls
(20 balls)
Ingredients
15 pitted dates
2/3 cup unsweetened cocoa powder (plus extra for dusting)
1 cup roasted almonds (no salt added)
1 tablespoon honey
2 tablespoons water
confectioner's sugar (optional)
Instructions
Add almonds to food processor and pulse until ground. Add dates, cocoa powder, honey, and water. Mix until it just forms a sticky mass. Wash hands and attempt to make a ball with the dough (it may need more water to get to the perfect consistency). Put a tablespoon of cocoa or confectioner's sugar on a plate. Roll balls in your hand and then roll in sugar or cocoa (or both). Eat! These can be store in the fridge for a week.
Nutrition Facts
For one bite = 55 calories, 2.8 g fat, 0.0 g saturated fat, 8.1 g carbohydrates, 5.1 g sugar, 1.7 g protein, 2.0 g fiber, 4 mg sodium, 2 SmartPts
Points values are calculated by Snack Girl and are provided for information only. See all Snack Girl Recipes
$129.95 $99.99 Buy on Amazon.com
As an Amazon Associate, I earn from qualifying purchases.
---
Other posts you might like:
---

Do you love cookies but hate the work that goes into making them? My least favorite part is the clean up of the kitchen. argh....
---

No one is ever going to accuse Snack Girl of not loving a WEE bit of chocolate. But, my taste bud credentials have been called into question....
---
---
Get Free Email Updates! Yes please!
---