Is This A Healthy Snack Food?
There is an entire portion of an aisle in your supermarket devoted to "fruit snacks". If you don't have kids, you might have missed it.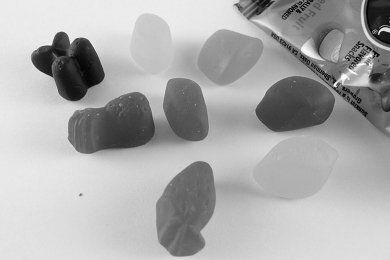 The packages on the shelves feature Sponge Bob, Scooby Doo, and beautiful photos of fruit. My kids leap out of the cart trying to get me to buy them these snacks.
Are packaged fruit snacks a healthy snack food?
The key here is that molded, shaped, colored food indicates that these are candy. Here is an example ingredient list:
Corn Syrup, Sugar, Fruit Juice from Concentrate (Pear, Apple), Gelatin, Sorbitol, Malic Acid, Natural and Artificial Flavors, Sodium Citrate, Ascorbic Acid (Vitamin C), Mineral Oil (Adds a Dietarily Insignificant Amount of Fat), Corn Oil (Adds a Dietarily Insignificant Amount of Fat), Tocopherol Acetate (Vitamin E), Carnauba Wax (Adds a Dietarily Insignificant Amount of Fat), Vitamin A Palmitate, Red 40, Blue 1, Yellow 6, Yellow 5
Parents desperately want these to be a healthy choice (yep, me too!) but they are just candy masquerading as healthy snack food.
The packaging will say things like "All Natural" and "100% daily allowance of Vitamin C" - but do not be fooled! These fruit snacks are essentially Gummy Bears with added Vitamin C.
AND, you have to think about your kids' teeth. I recently spoke to a pediatric dentist about these snacks. She says that the sugar in these tends to stick to the teeth and cause tooth decay.
Kids are not the most efficient at brushing their teeth, so this type of food (sticky and sweet) can cause many cavities.
My advice is to hand these out at Halloween with the other candy, serve them as a treat, and stick to REAL fruit as a healthy snack.
There are fruit snacks that are comprised of only fruit and fruit juice concentrate. These are better than some, but still are a sticky sweet product. They can't compare to fruit as a healthy snack food.