Healthy And Delicious Snack Finds
Snack Girl receives a bunch of snacks from companies that would like to be featured on this website.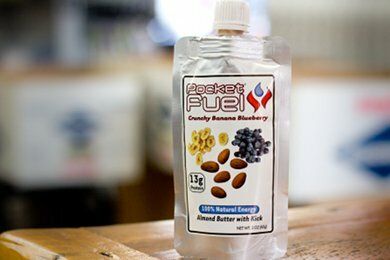 My favorite ones are the ones that taste really good and pack a nutritional punch. Snack food aisles are littered with food that lacks both flavor and nutrition so it is fun to find products that are packaged, healthy, and yummy.
Pocket Fuel was created by an innovating athlete, Mark Ribkoff who didn't like energy bars (those aren't yummy). Mark created a tube of almond butter with added dried fruit and sugar that is satisfying and delicious.
While his product is not low in calorie, it is a good one for putting in your backpack for those times that you forget to pack a fresh snack. I LOVED the "Crunchy Banana Blueberry". This almond butter would be great spread on an apple.
Packages sell for $4 each on his website here: Pocket Fuel (click on product links - you must buy 6 to ship). AND, he has a refill JUG so that you don't just toss the packaging. This guy is seriously green.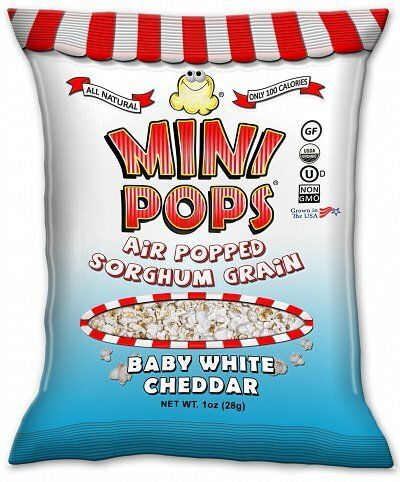 This little guys Mini Pops were featured in Oprah magazine and I think they are a great alternative for people who buy bags of prepopped popcorn. This isn't popped corn - it is popped sorghum and it is GMO free, organic, and lacks those hulls that get caught in your teeth.
One ounce of the Baby White Cheddar has:
90 calories, 1.0 g fat, 19 g carbohydrates, 3 g protein, 3 g fiber, 35 mg sodium, 2 Points+
AND, 8% of your daily value of iron. So, they have less calories and more nutritional punch than popcorn. They are a smaller grain than popcorn so they can be a little messy (get out your dust buster after your children attempt to eat them).
You can find them at stores - Store Locator or on their website My Minipops and they cost $17.49 for a 6 pack of 3 ounce bags.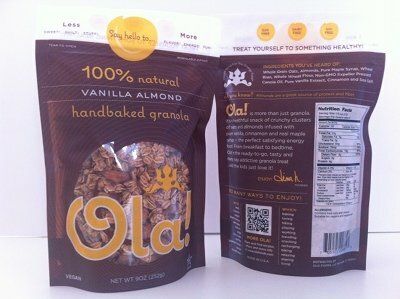 Many granolas in the store start with a form of SUGAR to begin the ingredient list. Ola! Granola is made with:
Whole Grain Oats, Almonds, Whole Wheat Flour, Wheat Bran, Pure Maple Syrup, Canola Oil, Pure Vanilla Extract, Cinnamon, Sea Salt
This is the granola you would make if you had the time. This is a tasty and nutritious cereal option. It is low in sugar (just 4 grams per serving) and fresh tasting.
For 1/3 cup = 120 calories, 3.5 g fat, 19 g carbohydrates, 4 g protein, 3 g fiber, 10 mg sodium, 3 Points+
There are two flavors: vanilla almond and cranberry orange pecan and they can be found here Store Locator or online Ola Store for $6 for a 9 ounce bag.
These products were received for review consideration. No other compensation was provided.
---
Other posts you might like:
---

Last week, Snack Girl bumped this post with beef jerky to celebrate being put on a list of GREATEST. I received many e-mails from upset readers....
---

Looking for a way to drink hot chocolate without a bunch of calories? The stores are filled with artificially sweetened hot cocoa mix that tastes...well...okay....
---