Chicken Fajita Stuffed Peppers: Delicious and Beautiful
Sometimes you get lucky and the food you make is both healthy and beautiful.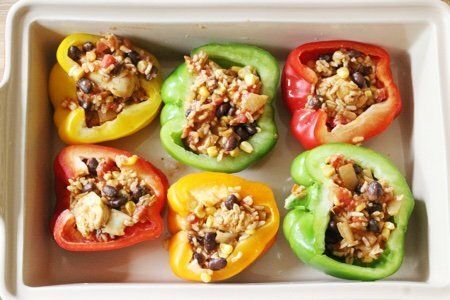 This stuffed pepper dish uses chicken breast instead of sausage and a lot of color to induce reluctant people to eat it. When I say "people", I mean two children who complain that their mother tries to feed them vegetables all the time.
I like this because it is portion controlled and super tasty. A dash of hot sauce, you could melt some cheese, slice some avocado for the top, toss in your lunch box – whatever you want!
This is off the charts good for you as well. It is high in niacin, viamin A, B6, and C. How can you lose?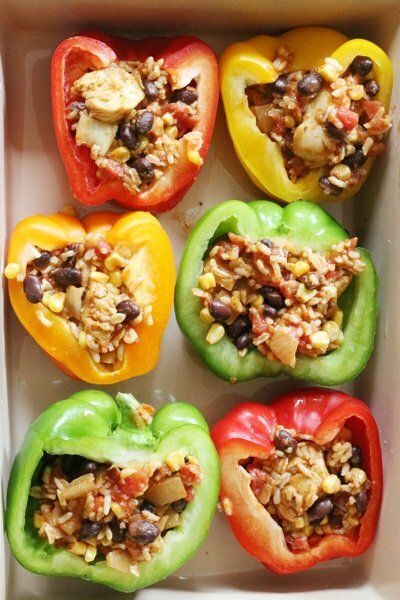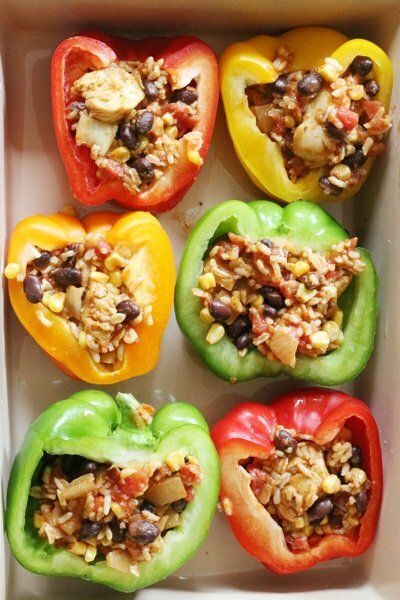 Chicken Fajita Stuffed Peppers Recipe
Makes 14 pepper halves
Ingredients
1 tablespoon vegetable oil or olive oil
1 onion, chopped
2 cloves garlic, minced
1 pound chicken breast, cut into ¾ inch pieces
1 tablespoon chili powder
1 teaspoon cumin
½ teaspoon paprika
2 cups cooked brown or white rice
1-15.5 ounce can diced tomatoes with green chiles (with juice)
1-15.5 ounce can black beans, rinsed
2 cups frozen corn
7 bell peppers of different colors
Instructions
Preheat oven to 375 degrees. Heat vegetable oil in a large sauté pan and cook onion and garlic until onions are softened. Add chicken, chili powder, cumin, and paprika, and sauté until chicken is cooked through about 5 minutes. Take pan off the heat and mix in rice, tomatoes with juice, black beans, and frozen corn.
Slice bell peppers in half and core them. Stand them in a 13x9 casserole dish and fill with chicken mixture. Add ¼ inch of water to the casserole and cover. Bake for 45 minutes or until peppers are softened.
Nutrition Facts
One half pepper is 235 calories, 2.9 g fat, 0.0 g saturated fat, 36.9 g carbohydrates, 4.5 g sugar, 15.6 g protein, 4.2 g fiber, 214 mg sodium, 1 SmartPt
Points values are calculated by Snack Girl and are provided for information only. See all Snack Girl Recipes
Other posts you might like:
---

Tuna melts use to be a staple in my college dorm. One cup mayonnaise, a little tuna, and say the word "green" and you had lunch!...
---

I had to shoot a photo of this casserole while it was still in the oven....
---
---
Get Free Email Updates! Yes please!
---