A Fun Breakfast Casserole for Blinner
I had to shoot a photo of this casserole while it was still in the oven.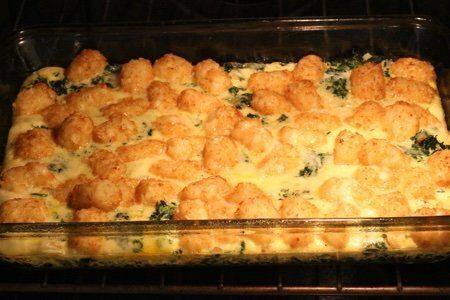 The sharks were swimming around the kitchen saying things like, "When is dinner ready? Why is it taking so long? That looks SO good. Is it done yet?"
I decided that if I brought it out and starting shooting photos someone might bite my arm.
This is a casserole for those people who adore Tater Tots, are short on time, and want to eat breakfast all day long (blinner is breakfast, lunch, and dinner combined into one short word). One of my favorite diners serves breakfast all day long and I love it!
I made it a bit healthier by dropping the sausage or bacon that usually makes its way into breakfast casserole and by adding chopped spinach. I also cut the amount of cheese as much as I could without losing the deliciousness.
My kids went bananas (though they did complain about the green stuff) for this casserole.
This recipe does not freeze well but it does keep in the fridge for a while.
Do you have a favorite breakfast casserole? Please share.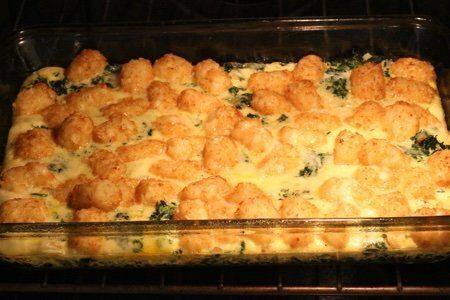 Tater Tot and Spinach Breakfast Casserole Recipe
Makes 10 servings
Ingredients
1 medium onion, chopped
1 package (15 ounces) frozen chopped spinach, thawed and squeezed of excess liquid
16 ounces frozen Tater Tots
6 eggs
1 cup milk
1 cup grated cheddar cheese
Instructions
Preheat oven to 350 degrees. Spray a 13x9 baking dish with non-stick spray. Heat a frying pan to medium high and spray with non-stick spray. Saute onion until translucent and mix in spinach. Put into the bottom of the casserole dish and toss Tater Tots on top.
In a medium bowl, whisk eggs and milk together and pour over Tater Tots. Top with grated cheese. Bake for 30 minutes or until the eggs set.
Nutrition Facts
One serving is 193 calories, 11.3 g fat, 4.6 g saturated fat, 14.4 g carbohydrates, 2.2 g sugar, 8.9 g protein, 1.9 g fiber, 320 mg sodium, 5 Points+
Points values are calculated by Snack Girl and are provided for information only. See all Snack Girl Recipes
Other posts you might like:
---

How many of you need to be saved from the Egg Mcmuffin? Or a huge muffin? Do I have a recipe for you!...
---

Are you bored with hard boiled eggs? Yeah, they are dull. Let me introduce you to an old friend....
---
---
Get Free Email Updates! Yes please!
---