Bring Out The Hellman's And Bring Out The Olive Oil?
Snack Girl has been holding out on one of her own favorite snack recipes. I like to think of it as a BLT without the B or L.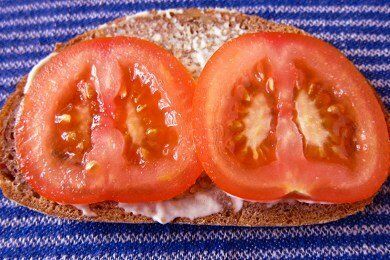 I slap a little mayonnaise on a slice of whole grain bread, slice up some 'mato, and shake some salt on the concoction. So yummy and very good for you as you are eating fruit, whole grain, and just a wee bit of mayo.
The key is to use about 1/2 teaspoon of mayonnaise which allows the tomato to shine. I love tomatoes.
Recently, I was at a cook-out and I saw this: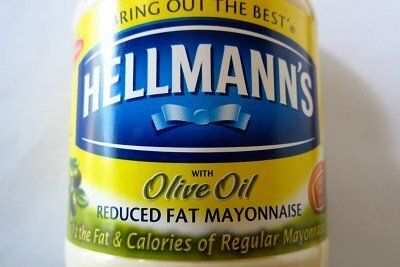 Yes, that is Hellmann's mayonnaise made with olive oil and cage free eggs! Where am I living? Spain?
Mayonnaise is traditionally made with oil, egg yolk, and maybe some lemon juice or mustard depending on what you like. It is a pretty simple recipe really and one that I have never attempted. I just buy my mayo at the store - and I usually buy Hellmann's.
So what is in this Hellmann's reduced fat mayonnaise with olive oil?
Ingredients:
water, soybean oil, modified starch , extra virgin olive oil, eggs, salt, vinegar, sugar, lemon juice, sorbic acid and calcium disodium EDTA, natural flavor, paprika oleoresin, beta carotene (color)
For one tablespoon = 40 calories, 4 g fat, <1g carbohydrates, 0 g protein, 0 g fiber, 130 mg sodium, 1 Points+
Regular Hellmann's Ingredients:
soybean oil, water, whole eggs and egg yolks, vinegar, salt, sugar, lemon juice, calcium disodium EDTA, natural flavors
For one tablespoon = 90 calories, 10 g fat, 0 g carbohydrates, 0 g protein, 0 g fiber, 90 mg sodium, 3 Points+
My assumption was that Hellmann's was using olive oil as THE oil in the mayo and that sounded awesome. But, alas, they are still using soybean oil in the mayonnaise. The bolded ingredients are INGREDIENTS NOT IN REGULAR MAYONNAISE - this statement is on the side of the jar.
So, what Hellmann's (or Unilever since they are the parent company) did was add water and starch to reduce calories, and a little more salt to add flavor.
How did it taste? I found myself spooning mayonnaise into my mouth this morning (the things I do for this website!) and I noticed that the lower fat version tasted sweeter and less flavorful.
Then, I used both of them to make my favorite snack and I found myself slathering more of the low fat version to make it taste better. You see, if you water down mayonnaise it will lack what mayo is supposed to have - awesome flavor!
You know, the problem isn't that full fat mayo is calorific. The problem is that Americans take baths in the stuff.
Anyone remember the Arby's "healthy" Chicken Salad sandwich with 44 GRAMS of fat? That was mayonnaise doing the dirty work.
A few mayonnaise tricks:
Ask for light mayonnaise when you order a sandwich (you won't notice the difference)
mix your mayonnaise with much lower calorie mustard for a spread
measure out how much you are using on your food
Remember one teaspoon of regular mayonnaise is only 30 calories.
If you can get the serving size of mayonnaise down to a reasonable amount, then you don't have to give up the good stuff! And, you won't be spending $4.80 on watered down, starched filled, pseudo mayo.
How do you deal with mayonnaise?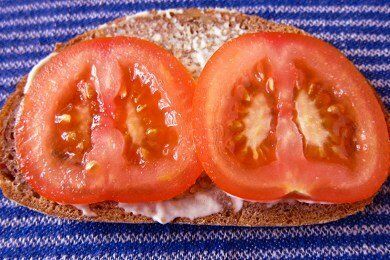 Tomato Mayonnaise Snack Recipe
(makes 2 slices)
Ingredients
1/2 fresh tomato
2 slices 100% Whole Grain bread
1 teaspoon mayonnaise
salt
Instructions
Slice tomato with serrated knife into four slices. Toast bread in toaster and slather mayonnaise on both slices. Add slice of tomato, sprinkle with salt, and enjoy!
Nutrition Facts
For 2 slices: 163 calories, 3.6 g fat, 25.5 g carbohydrates, 7.6 g protein, 4.2 g fiber, 301 mg sodium, 4 Points+
Points values are calculated by Snack Girl and are provided for information only. See all Snack Girl Recipes
Want to read about snacks?
A Tomato Salad For Tomato Lovers
A Cherry Tomato Salad For Summer
Skinny Italian Tomato Snack Recipe
Declare Victory With A Garden
---
Get Free Email Updates! Yes please!
---