Stores That Should Not Sell Food
Snack Girl loves to shop for certain things. I enjoy looking at power tools, women's fashion, and swim goggles.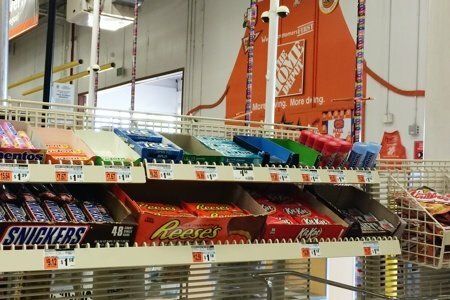 I don't actually buy power tools very often but when I look at them, I go to the Home Depot or other home store that carries stuff like lumber, paint, lawnmowers, appliances, window treatments, nails, and junk food. What?
Yes, you read it right. When I hit Home Depot for my latest home improvement project, I picked up a Snickers and some Combos because looking at all the stuff makes me hungry.
After shopping at Home Depot yesterday, I dropped by JC Penney because I needed some new shorts, I found this: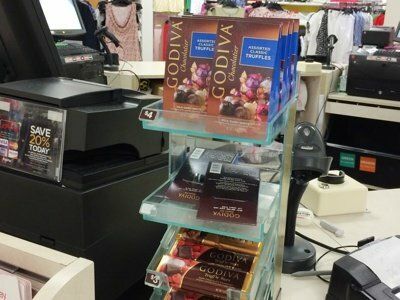 I bought some chocolate because shopping for shorts is SO stressful. I got a good deal on the shorts so the chocolate was almost free!
Finally, I needed some swim goggles as summer is coming up and I don't like to get chlorine in my eyes. And I needed a kick board and some running shoes, which I purchased at Dick's Sporting Goods.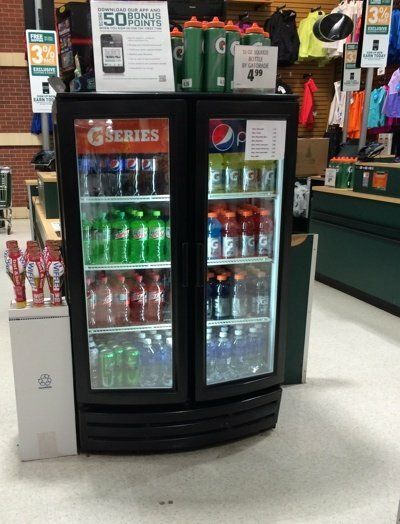 All that sports stuff made me thirsty, so I picked up a 20 ounce Pepsi at the check out counter.
I only spent $300 and ate 1000 calories – look at me go!
I can't tell you how frustrated I am by all this high calorie, low nutrition JUNK absolutely everywhere that I look. Here I am, trying to be healthy and it seems that all of the retailers (even ones that don't typically sell food) are attempting to trip me up.
We are not a nation of people walking around hungry all the time. A recent study says that we have increased our calorie intake by 500 calories per day since the 1970's. Most of us need less food - not more.
Dear readers, I am taking a stand. I found the e-mail for the CEO of Home Depot, Frank Blake and the CEO of JC Penney, Myron Ullman. I found the snail mail address for Edward Stack (billionaire and CEO of Dick's). I have decided to write a letter of protest to these company heads and ask them to remove the junk food.
Frank_Blake@homedepot.com
myron.ullman@jcpenney.com
Edward Stack
CEO, Dick's Sporting Goods
345 Court St.
Coraopolis, PA 15108
Shouldn't the impulse items in these stores be tape measurers, nail polish, or pedometers?
How much could this crappy food be contributing to their bottom line? I am doubtful that I will get a response but it is worth a try.
Have you noticed food in stores that shouldn't be selling it?
---
Other posts you might like:
---

Snack Girl has a wonderful job. She gets to set her own schedule and do what she loves....
---

Are Naked juices healthy? They sure look like they would be.......
---