DIY Microwave Popcorn: Healthy, Yummy, and CHEAP
Popcorn is a whole grain snack that is really low in calories and has that great crunch we crave. But, the packaged stuff in the supermarket is expensive and can be high in sodium.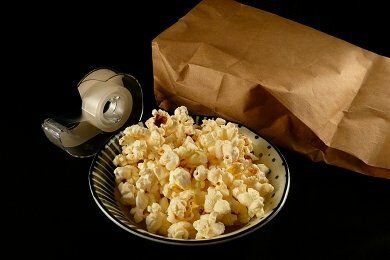 How you can makeover packaged popcorn?
You can make popcorn in the microwave without the prepackaged products from the supermarket. All you need is popcorn, lunch bags, tape, and some flavorings.
A box of microwave popcorn sells for at least $3 and you will get 4 servings (I am using Trader Joe's Low Fat popcorn as a comparison.)
Ordinary popcorn is about $1 a pound and you will get about 8 servings. ($6 as versus $1 - you save $5!). You will save a ton of money for just a little work.
But, even if it costs more to pop your own, there is concern about a chemical that is released when microwave popcorn is popped. So, since you didn't add ANYTHING but popcorn, your microwave popcorn is anxiety free!
Here is how you do it:
Put 1/4 cup popcorn in a brown paper bag. Fold top over a few times and tape it.
Place in microwave folded side upfor 2 to 3 minutes or until there is 5 seconds between pops.
Eat plain or add flavors (such as salt, butter, sugar, etc.)
One cup of popcorn without flavoring:
31 calories, 0.4 g fat, 6.2 g carbohydrates, 1.0 g protein, 1.2 g fiber, 1 mg sodium, 0 Points+
What about flavorings? Well, the great thing here is now you aren't stuck with the choices in the packaged microwave popcorn.
In the book, "Popcorn", Patrick Evans-Hylton, writes about all sorts of things you can add including sugar (to make a carmel-corn taste), ginger and wasabi, and even BBQ sauce. His ideas are fantastic and enough to inspire any popcorn aficionado.
Check it out:
---
$15.95 $14.40 Buy on Amazon.com
As an Amazon Associate, I earn from qualifying purchases.
---
Other posts you might like:
---

Kettle corn has that perfect combination of crunchy, salty, and sweet that keeps you eating it long after you should stop....
---

At $2 per bar, products like PowerBar can really take a bite out of your wallet. Of course they are incredibly convenient to buy and eat. Can you really make these at home?...
---