Make Your Own Sherbet With A Blender
Who doesn't love blenders? Whhhhhhirrrrrr, and voila, a frothy beverage.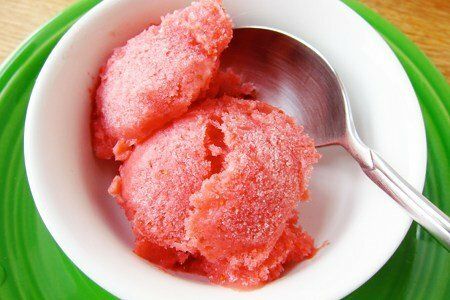 I'm sure I would have millions more readers if I just started writing about blender drinks. But, today I'm going to talk about "Blender Sherbet".
I was challenged by a reader to find a sorbet recipe for her blender. From JoyAnn:

I have a blender and have been trying a number of recipes to make fruit sorbets and almond milk ice cream, but no real success. I'm not sure if I'm using the wrong blender settings or my proportions are off.
I've seen YouTube videos that use food processor successfully but I don't want to buy another appliance nor do I have the space for it. Any suggestions?!?!
Well, how about sherbet? Sherbet is really similar to sorbet - I just added yogurt to give an extra creaminess to the recipe and it worked.
It is kinda crazy how easy this is. Just cut up some strawberries, add lime juice, and one yogurt and blend. Add honey or whatever sweetener you want to taste and freeze it.
Apologies to those who are tired of strawberries. Last week, I did a low sugar strawberry jam. This recipe also features very little added sugar when you compare it to commercial sherbets. My sherbet does taste more sour, but it tastes of fresh strawberries.
I tried to make this in my ice cream maker but I didn't follow the manufacturer's instructions (whoops!) so mine came out a bit grainy. The taste was so gooooood. The freshness of your own sherbet puts packaged sherbets to shame.
I think this recipe would be perfect for popsicle molds and then you don't have to worry about an ice cream maker.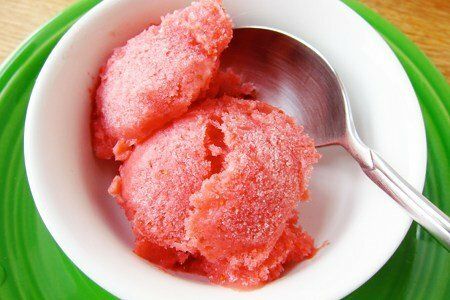 Strawberry Blender Sherbet Recipe
(makes 8 servings)
Ingredients
4 cups sliced strawberries
3/4 cup (6 oz.) strawberry yogurt
Juice of 1 lime
3 tablespoons honey (to taste)
Instructions
Place all of the ingredients (except the honey) into the blender and blend until smooth. Add honey and sweeten to taste.
If you own an ice cream maker, follow the manufacturer's directions and make the sherbert. If you do not have an ice cream maker, pour the sherbet mixture from the blender into a freezer safe container and take it out of the freezer to mix it every half hour until the desired consistency is achieved. Or pour mixture into popsicle molds for "sherbert pops".
Nutrition Facts
One serving is 70 calories, 0.5 g fat, 16.3 g carbohydrates, 14.3 g sugar, 1.4 g protein, 1.5 g fiber, 13 mg sodium, 2 Points+
Points values are calculated by Snack Girl and are provided for information only. See all Snack Girl Recipes
$99.95 $83.99 Buy on Amazon.com
As an Amazon Associate, I earn from qualifying purchases.
---
Other posts you might like:
---

See those jars of jam up there? I made them - before you click off in disgust - there is a GIVEAWAY at the end of today's post...
---

Have you ever made a traditional Strawberry Shortcake? Well, I have and the "shortcake" part calls for cream AND butter. Wowza!
---
---
Get Free Email Updates! Yes please!
---