Hot "Wings" From The Skinny Chef: Recipe and Book Giveaway
Buffalo chicken wings are an amazing bar snack. Truly, the people who came up with these were geniuses like the person who opened the first oyster.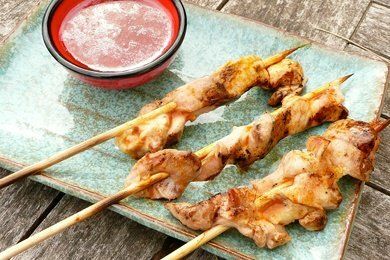 BUT, an order of Chili's boneless Buffalo wings will set you back 1,250 calories. YIKES!
Why? Chicken wings are already fatty (all that skin). And Chili's probably deep frys them and THEN pours the sauce on. What is a chicken wing lover to do?
Jennifer Iserloh has written a wonderful cookbook, "Secrets of a Skinny Chef: 100 Decadent, Guilt-Free Recipes (Rodale 2010)" that includes a hot wing recipe. She was gracious enough to share it with Snack-Girl readers and she is giving away a copy of her book.
I made the recipe from the book (photographed above) and it was fantastic. What I love about Jennifer's book is that she uses REAL ingredients and still cuts calories. You will not find any artificial sweeteners in her recipes.
She focuses on the foods that are hard for us to give up - but are hurting our waist-lines (such as the buffalo wings). There are recipes for sloppy joes, pancakes, pigs in a blanket, and chocolate pudding pops.
She adds carrot juice to the pudding pops to make them sweet. Hey, I don't know if that will work, but I am willing to give it a try!
The wing recipe requires two steps. First, you have to make the sauce and then you have to grill the chicken. The sauce is super easy to make and, honestly, I can't see why you would add cayenne pepper. I found it really spicy.
Also, you can make it ahead and put in the fridge if you don't want to cook 3 pounds of chicken. I kept it in my fridge for over a week and it was fine (what is going to grow in all that Tabasco?)
I grilled chicken thighs, not chicken breasts (sorry, Jennifer) because my family hates chicken breasts. It wasn't exactly like a chicken wing - but it was close enough!
Please comment below about your favorite way to makeover fatty snacks to enter to win a copy of the book.
This book was received for review consideration. No other compensation was provided.
---
Hot "Wings" with Spicy Sauce from Secrets of a Skinny Chef: 100 Decadent, Guilt-Free Recipes (Rodale 2010)

(serves 6)
1 15-ounce can reduced-sodium, fat-free beef broth
1/4 cup hot sauce, like Tabasco
2 tablespoons no-salt-added tomato paste
2 tablespoons butter
1 teaspoon ground cayenne pepper (optional)
3 pounds skinless, boneless chicken breast, cut into 1-inch thick tenders
24 12-inch-long wooden skewers
6 celery stalks, trimmed and cut into thirds

First, prepare the dipping sauce: In a small saucepan, stir together the beef broth, hot sauce, tomato paste, butter, and cayenne, if using. Bring to a slow simmer and cook 20 to 25 minutes, until the mixture reduces to about 1 cup.
Thread the chicken onto the skewers. Heat a grill over high heat and cook the skewers 8 to 10 minutes, turning once, until the chicken is cooked through. Drizzle sauce over the skewers and serve the extra sauce on the side with the Celery Sticks.
---
$19.99 $15.17 Buy on Amazon.com
As an Amazon Associate, I earn from qualifying purchases.
---
What will I win?
A copy of "Secrets of a Skinny Chef" by Jennifer Iserloh
How do I enter?
Comment in the box below about your favorite way to makeover fatty treats.
Additional Ways To Enter:

Follow Snack-Girl on FaceBook.

Comment on our wall about about your favorite way to makeover fatty treats.

Follow Snack-Girl on Twitter

Tweet this post (use the Tweet Button in the Share Box at the top of this post).

Snack-Girl can follow and count all the additional entries using magical website tools.
Am I eligible to enter?
Anyone with a valid e-mail and a U.S. mailing address is eligible.
When do I find out if I am the winner?
The winner will be announced on April 27th, 2010. You will have 2 weeks to e-mail us back with your home address so we can mail the prize.
---
Want to read about snacks?
Change Your Deviled Eggs into Angeled Eggs (Low Cal Recipe)
Better and Faster than A Bowl of Cold Cereal
3 Reasons to Avoid Ritz Crackers
How To Find Great Fruit and Veggies