How To Get The Perfect Body
Look at that woman up there! She has a flat belly, glossy hair, and legs that go for miles.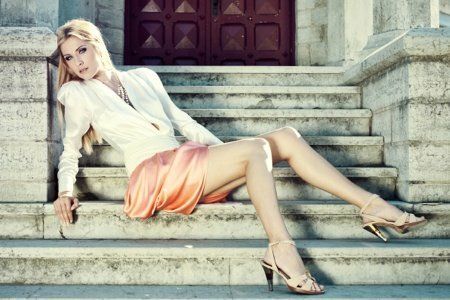 She stares at us from the pages of magazines and we wonder — how did she get that way?
Today, Snack Girl is going to reveal the secret to perfection. I realize it is hard to believe that I would know this secret because I am anything but perfect — but I have learned through thorough research the KEY to this image.
Adobe Photoshop
Where do you get this "Adobe Photoshop"? Does it come in bottles? (that would be great, no?) Alas, it is software that allows people to alter images to match what we want to see — not the reality of what a woman looks like.
Up in the corner of this website, there is a photo of a woman (me). The photographer used Photoshop to remove fly away hairs. She left me intact (wrinkles, teeth not shiny white, freckles, and one eye squintier than the other). I am a real person – not a celebrity.
But, what if I wanted it altered? What could we have done?
If you haven't seen the below video about changing a woman with Photoshop — take 37 seconds and check it out:
Longer legs? You got 'em? Less droopy breasts? No problem? Eyes too small? We can make them bigger.
Honestly, why even use humans as a basis of the photo?
A few celebrities have been speaking out about Photoshop when they find that they can't recognize themselves on the cover of a magazine. Kate Winslet went bananas when GQ decided to alter her legs and again when Vogue had their way with her face. Check it out here: Kate Winslet's Vogue Cover Is Unbelievable.
She stated:
"The retouching is excessive. I do not look like that and more importantly I don't desire to look like that... I actually have a Polaroid that the photographer gave me on the day of the shoot... I can tell you they've reduced the size of my legs by about a third. For my money it looks pretty good the way it was taken."
I don't doubt that her real legs were great. I wonder why they felt the need to change them. Don't you think her real thighs could sell magazines?
One magazine has struck back. Verily says it is a new kind of women's magazine: "one that celebrates the best of who you are".
Verily's Photoshop Policy:
Whereas other magazines photoshop to achieve the "ideal" body type or leave a maximum of three wrinkles, we never alter the body or face structure of our models with Photoshop. We firmly believe that the unique features of women — be it crows feet, freckles, or a less-than-rock-hard body — contribute to their beauty and therefore don't need to be removed or changed.
You go, Sisters! I'm going to check this magazine out at my local Barnes and Noble and see if I like the writing. This may be my new favorite publication.
---
Other posts you might like:
---

Here is John and his lovely family. He has made some big changes as a result of a scary diagnosis....
---

Julie is one of those success stories you want to share with all of your friends
---