How Healthy Is Frozen Yogurt?
Frozen yogurt places have sprouted up like weeds in these parts. How healthy is frozen yogurt or froyo?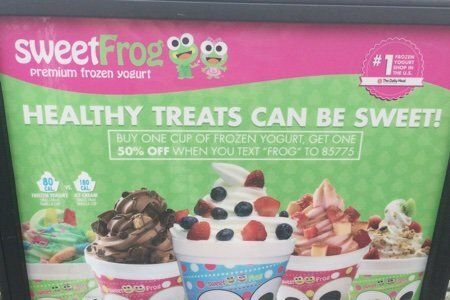 The advertisement above for our nearest chain "Sweet Frog" states "Healthy Treats can Be Sweet!" and I believe most people believe that froyo is a healthy choice when compared to ice cream.
What is true is that it has far less fat per serving than ice cream.
Here is the nutritional information from ½ cup of tart apple frozen yogurt at Sweet Frog:
100 calories, 0 g fat, 0 g saturated fat, 22 g carbohydrates, 18 g sugar, 2 g protein, 0 g fiber, 5 mg sodium, 5 SmartPts
Here is the nutritional information from ½ cup of Breyer's vanilla ice cream:
130 calories, 7 g fat, 4 g saturated fat, 14 g carbohydrates, 14 g sugar, 2 g protein, 0 g fiber, 35 mg sodium, 7 SmartPts
Froyo has 7 grams less fat than ice cream but it has 4 grams more sugar!
Some would say it is healthier because it has active yogurt cultures – which I think is nice – but I don't think it makes froyo WAY more healthy than ice cream.
What about the fat in the ice cream? Fat can slow the body's digestion of sugar, meaning you'll feel more satisfied and won't experience a blood sugar spike like you might with a swirl of sweetened yogurt.
You know what? I think it comes down to portion control. If you can eat only 4 ounces (1/2 cup) of either product, I think that is a reasonable dessert. Neither is as healthy as a piece of fruit but as long as you eat it in moderation - why not?
But, take a look at what my child did when I took her for a treat.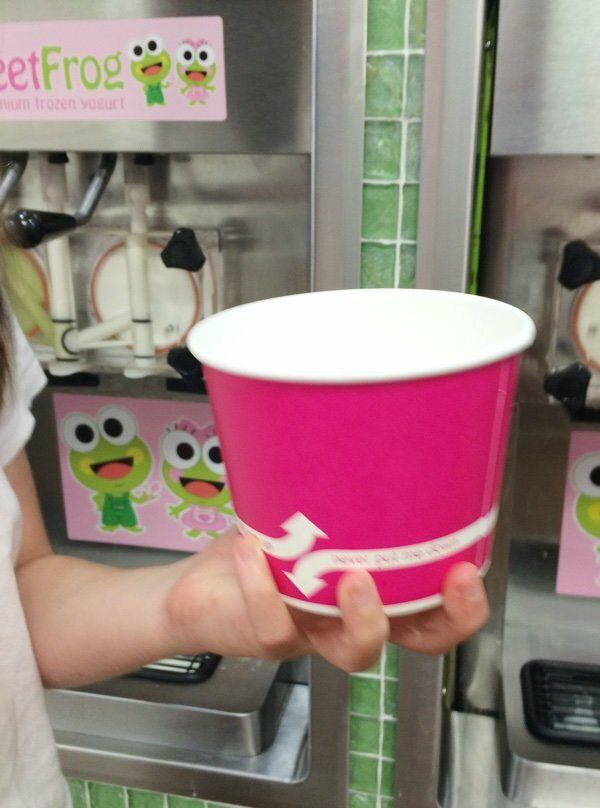 The cup at Sweet Frog is 16 ounces. You can walk around the store and put as much (or as little) as you want in the cup. I trust my child (not sure what I was thinking) so I let her add the Froyo to her cup.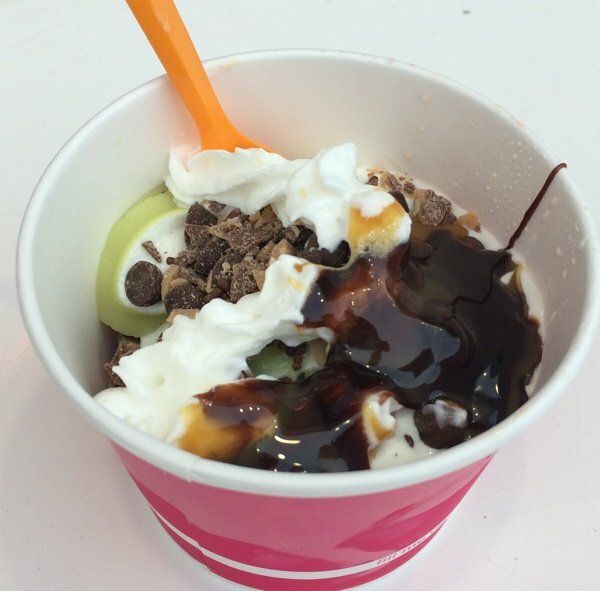 Then, I decided to read the New York Times on my phone and when I looked at back at her cup, I saw the above chocolate sauce, chocolate chips, and whipped cream added to the top.
Guess how much she had in the cup? 12 ounces!!!
The froyo cost me $7.83 (not kidding) and then she proceeded to inhale it on the 7 minute ride home in the car.
I think it is much faster to eat because it is so soft. I am sure that dessert was about 500 calories and so I can deem it "NOT HEALTHY".
My conclusion (if you are going to skip the far superior ice cream) is to make your own healthy frozen treats. My two ingredient ice cream or my DIY strawberry frozen yogurt are healthy, simple and will cost you far less. You will have to clean up (bummer).
What do you think of Froyo? Do you like it?
---
Other posts you might like:
---

What if there was something that resembled ice cream and you could make it yourself?...
---

I am SO proud of myself. I made this beautiful bowl of strawberry frozen yogurt (and then I ate it)....
---