How Jason Lost 39 Pounds
The people who inspire you the most are usually your friends or family. You can relate to their challenges because you know them.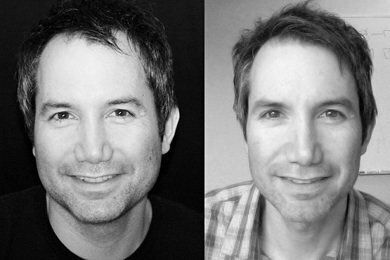 My friend, Jason, has lost A LOT of weight and he has 2 kids that are the same age as mine - and I find him inspiring! He took some time out and answered these questions about his healthy eating/weight loss success:
Snack Girl: What would you say is the biggest factor in your weight loss success?
Jason: My wife and I look for opportunities to teach our kids - ages 3 and 7 - healthy habits. I was not a good example at 222 pounds, so I decided to make an effort to change my habits in 2011.
Plus, I wasn't about to replace my entire work wardrobe for the love of chocolate.
Snack Girl: How long did it take you to lose the 39 pounds?
Jason: It's taken eight months of daily work - not painful or difficult work - just a little bit of restraint and a dedication to making healthier choices. In total, I've shaved 6 inches from my waist and a total of 39 pounds.
I don't workout often - see two kids - but I do make an effort to be active for 5 minutes of every hour. I try to exercise in earnest for one hour, 1 - 2 times per week.
Snack Girl: You mentioned that Snack Girl has helped you lose weight (hurray!) and MyFitnessPal. How did you use these resources?
Jason: Information is power. Resources such as Snack Girl and My Fitness Pal gave me the data needed to make dietary tradeoffs.
For example, I can have two slices of pizza, or alternately, a Chinese Chicken Salad and a small cookie (as well as save a few calories for the next meal, or not). I like being able to make these choices and still enjoy most of the foods that I love.
I still eat pizza, nuts, granola, dessert, etc., but I eat less of them or different brands that feature better ingredients (thanks to Snack Girl). My Fitness Pal helps me plan/calculate my daily diet, and Snack Girl helps me shape a wider or macro game plan.
As a side note, more evolved websites, applications, and programs like Weight Watchers include a peer component, but I didn't use these resources. I think group and peer resources are helpful for some, but I'm a dude/dad and my spouse was a great support. A good digital scale also helped.
Snack Girl: What would you say to your "39 pound heavier" self?
Jason: My 39 pound heavier self should know that the long view is important in weight loss. It took me two kids and many years to gain the weight, and it only took a fraction of that time to lose it.
The heavier me should not be discouraged by the occasional lapse in regimen or the random pound-plus (or three) here and there. It's okay to have a few beers, eat a nice slice of cake on your birthday, etc.
Snack Girl: What is your favorite snack?
Jason: Pizza is one of the food groups, right? My favorite snack right now is Newman's Pop's Corn (300 calories per bag/100 per serving) and Trader Joe's Kettle Corn (110 calories per bag). Almonds aways satisfy, and Hershey's mini candy bars are only 40 calories each; I tend to have three as a snack.
Another side note: I ended up replacing my slacks and jeans due to the weight loss, but I sold all of my larger pants and jeans on eBay and at a local clothes exchange for more than $175 - a small, nice downpayment on my new clothes. :-)
Thanks, Jason!! - you gotta love EBay and consignment stores. I also think it is awesome that you recycled instead of tossing your old clothes out. You are healthy and GREEN.
---
Other posts you might like:
---

Above is a photo of Frani now, she has lost over 74 pounds in 16 months and graciously submitted to an interview with Snack Girl....
---

Snack Girl gets to meet many awesome people as part of her job. Courtney is the latest....
---