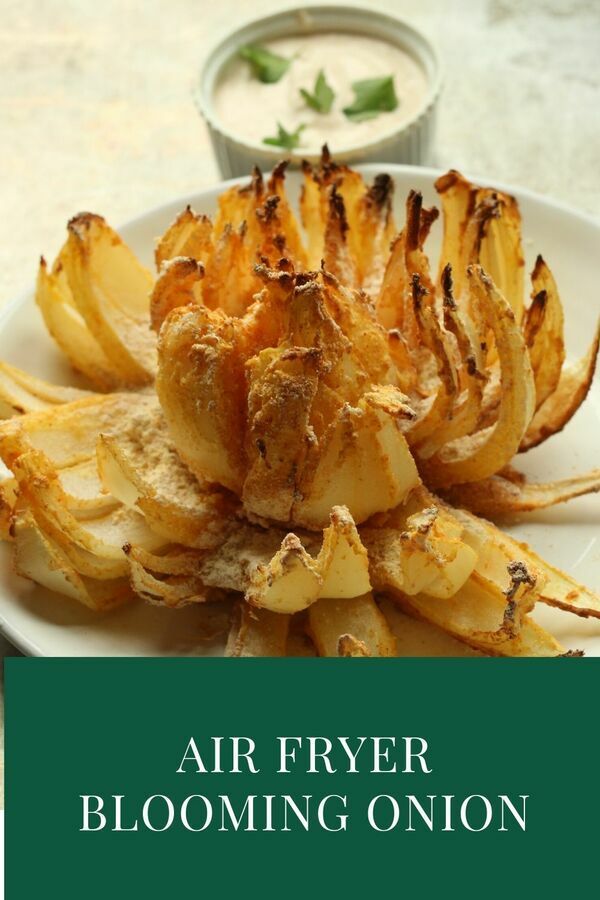 How to Make a Blooming Onion in an Air Fryer Recipe
Makes 6 Servings
Ingredients
1 large onion
1/4 cup all-purpose flour
1 teaspoon garlic powder
1/2 teaspoon salt
1/4 teaspoon smoked paprika
2 large eggs
1/4 cup yellow cornmeal
Sauce:
3 tablespoons plain fat-free Greek yogurt
1 tablespoon mayonnaise
1 tablespoon horseradish sauce
1 tablespoon ketchup
Instructions
Heat air fryer to 400 F.
Cut off the top of the onion so you can place the knob end on top (so the onion will not roll away). Peel the onion. With the root side up (knob end), cut into quarters cutting to about 1/2 inch from stem. Cut each quarter into thirds so you make thin strips of onion (being careful to continue to cut 1/2 inch from the stem so the onion stays together).
Combine flour, garlic powder, salt, and paprika in a small bowl. Place onion in a small bowl and sprinkle with flour mixture as you pull apart the wedges. You want to try to coat all the petals of the "flower". Dump excess flour out of onion bowl and mix in cornmeal.
Beat eggs with 2 tablespoons water and brush all over the onion. Sprinkle with the flour-cornmeal mixture trying to cover all of the onion and its petals.
Spray the air fryer basket with non-stick spray and cook for 10 minutes or until onion is crispy.
For the sauce:
Mix yogurt, mayonnaise, horseradish, and ketchup in a small bowl. Serve alongside the cooked onion.
Nutrition Facts
1/4 onion and 1 tablespoon sauce is 107 calories, 3.3 g fat, 1 g saturated fat, 63 g carbohydrates, 3.3 g sugar, 6.5 g protein, 1.1 g fiber, 278 mg sodium, 3 Green, 2 Purple, 2 Blue SmartPts
Points values are calculated by Snack Girl and are provided for information only. See all Snack Girl Recipes