How To Make a Blooming Onion in an Air Fryer
How do you make a blooming onion in an air fryer? It is not that hard and serves an important purpose.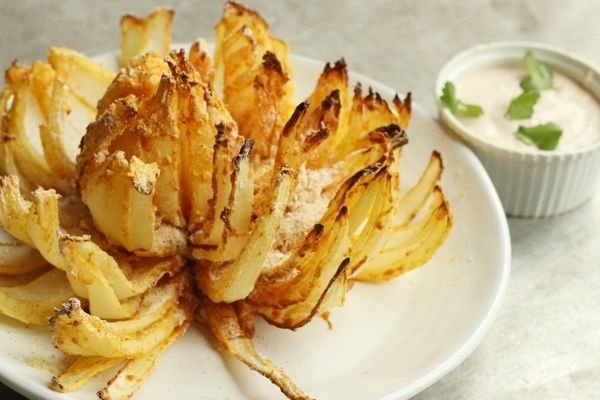 A Blooming Onion is an appetizer at the Outback Steakhouse. You can also find it at Texas Roadhouse called a "Cactus Blossom". Have you noticed how Texas Roadhouse and Outback Steakhouse overlap?
If you see the Blooming Onion Cactus Blossom - you should run in the opposite direction.
From Outback Steakhouse:
One Blooming Onion is 1950 calories, 155 g fat, 56 g saturated fat, 123 g carbohydrates, 18 g sugar, 18 g protein, 14 g fiber, 3840 mg sodium, 75 Green, 75 Purple, 75 Blue SmartPts
Of course, you aren't going to eat the entire thing yourself but even if you shared it with 6 people you are consuming 325 calories, 640 mg of sodium, and 9 grams of saturated fat before you even start your actual meal.
How can you destroy the health benefits of an onion? Deep fry it and serve it with mayonnaise!
After you make your escape - you can buy a Cosori Air Fryer and make a version that makes much more sense. Will it be the same? No, but it will be good.
I made air fryer french fries in my Cosori Air Fryer review and they were delicious so I thought the Blooming Onion would be a great appetizer to try.
My version is just over 100 calories (including sauce) and delicious. You will not miss all the oil and the heart burn that you get with the actual Blooming Onion Cactus Blossom - trust me.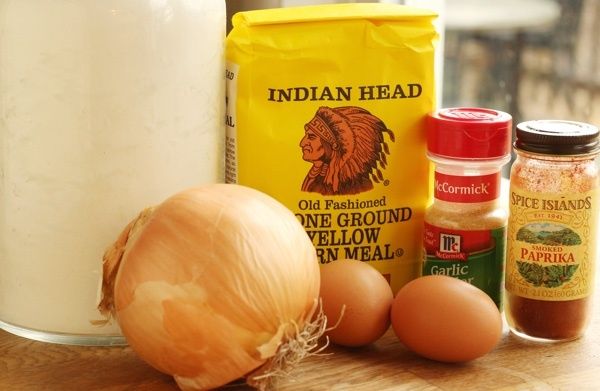 This recipe has a few steps. For the air fried onion part of the recipe you may have all the ingredients.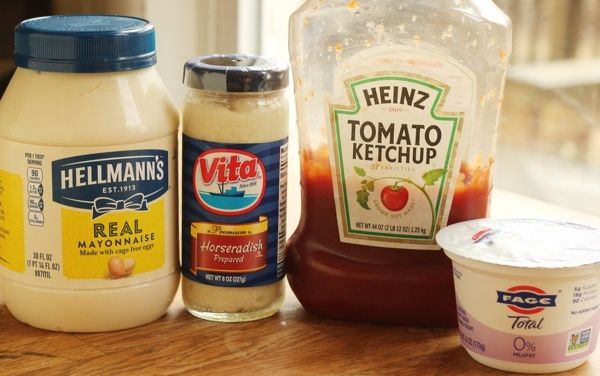 I had to pick up horseradish sauce because I didn't have it. It was in the seafood section of all places in my supermarket (perhaps to go with oysters?). At any rate, the sauce is simple and sort of makes the whole dish.
You have to cut the onion into slivers without it detaching from the stem. How do you do that? You cut it from the stem side down into the cutting board into quarters (and then those quarters into thirds).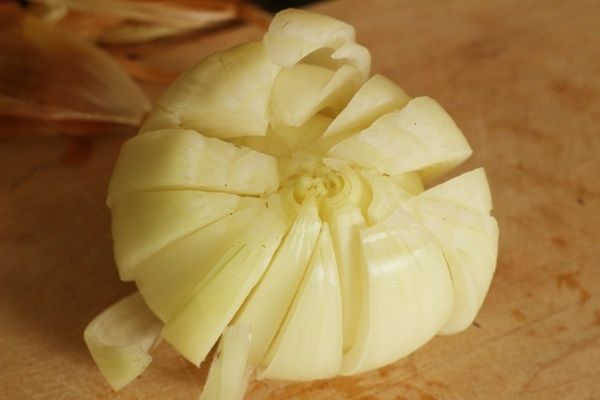 You end up with a lovely onion flower that you could use as a bouquet if you were part of the Addams family.
First step is to coat the flower with a flour mixture.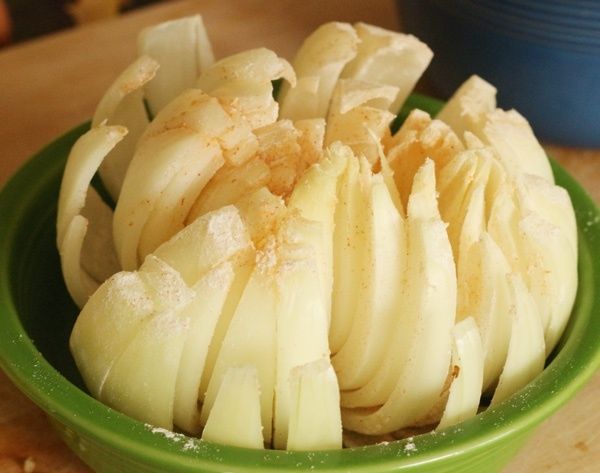 Then you coat it with egg and more flour (mixed cornmeal). The idea is that you create a crunchy coating.
I was not that successful with the coating probably because I am impatient and it seems to take forever to pull apart the onion. But, it was still delicious and SO FUN TO MAKE!!
Do you know how make a Blooming Onion in an air fryer? What is your favorite use or recipe for the air fryer?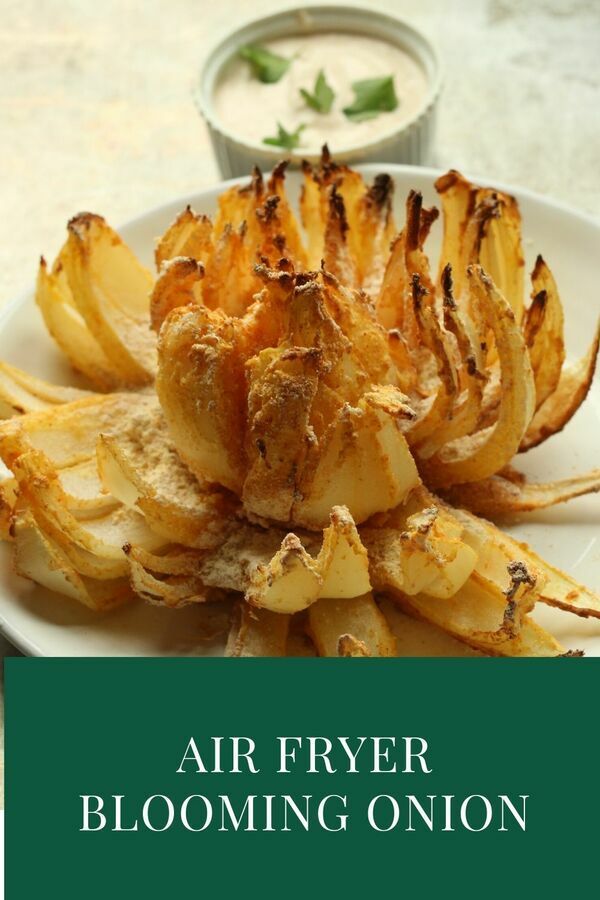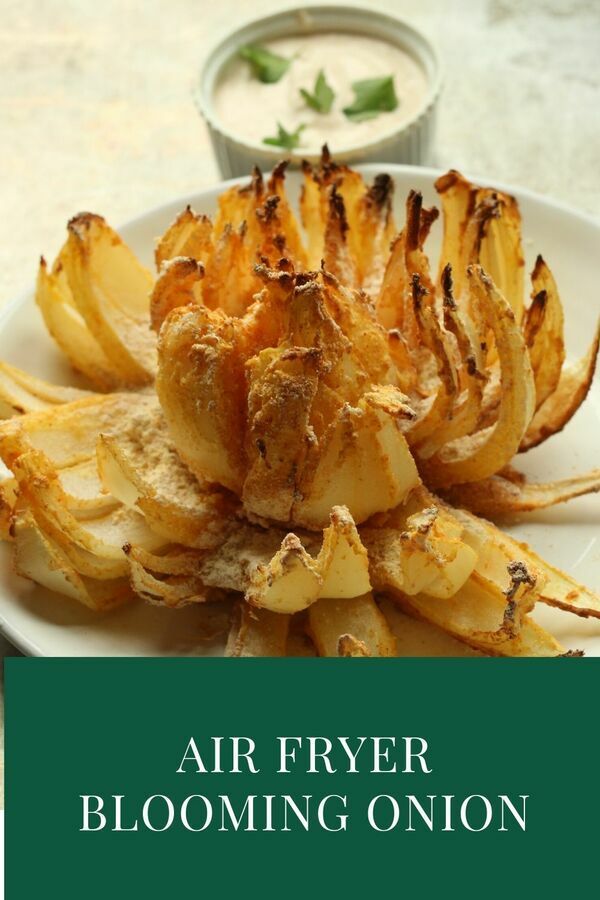 How to Make a Blooming Onion in an Air Fryer Recipe
Makes 6 Servings
Ingredients
1 large onion
1/4 cup all-purpose flour
1 teaspoon garlic powder
1/2 teaspoon salt
1/4 teaspoon smoked paprika
2 large eggs
1/4 cup yellow cornmeal
Sauce:
3 tablespoons plain fat-free Greek yogurt
1 tablespoon mayonnaise
1 tablespoon horseradish sauce
1 tablespoon ketchup
Instructions
Heat air fryer to 400 F.
Cut off the top of the onion so you can place the knob end on top (so the onion will not roll away). Peel the onion. With the root side up (knob end), cut into quarters cutting to about 1/2 inch from stem. Cut each quarter into thirds so you make thin strips of onion (being careful to continue to cut 1/2 inch from the stem so the onion stays together).
Combine flour, garlic powder, salt, and paprika in a small bowl. Place onion in a small bowl and sprinkle with flour mixture as you pull apart the wedges. You want to try to coat all the petals of the "flower". Dump excess flour out of onion bowl and mix in cornmeal.
Beat eggs with 2 tablespoons water and brush all over the onion. Sprinkle with the flour-cornmeal mixture trying to cover all of the onion and its petals.
Spray the air fryer basket with non-stick spray and cook for 10 minutes or until onion is crispy.
For the sauce:
Mix yogurt, mayonnaise, horseradish, and ketchup in a small bowl. Serve alongside the cooked onion.
Nutrition Facts
1/4 onion and 1 tablespoon sauce is 107 calories, 3.3 g fat, 1 g saturated fat, 63 g carbohydrates, 3.3 g sugar, 6.5 g protein, 1.1 g fiber, 278 mg sodium, 3 Green, 2 Purple, 2 Blue SmartPts
Points values are calculated by Snack Girl and are provided for information only. See all Snack Girl Recipes
Other posts you might like:
---

I bought this COSORI Air Fryer to review it for the holidays. People seem to love how these units air fry instead of deep fry.....
---
$129.99 Buy on Amazon.com
As an Amazon Associate I earn from qualifying purchases.
---
---
Get Free Email Updates! Yes please!
---