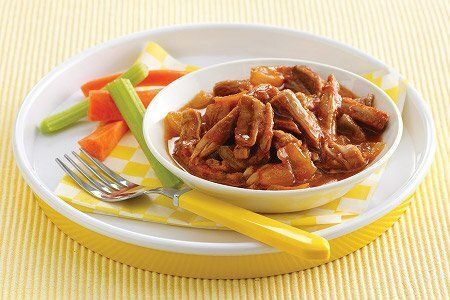 'Cue The Pulled Pork Recipe
reprinted with permission from "Hungry Girl To The Max" by Lisa Lillien
(makes 6 servings)

Ingredients
1 cup canned tomato sauce
½ cup ketchup
2 tablespoons plus 2 teaspoons cider vinegar
2 tablespoons plus 2 teaspoons brown sugar (not packed)
2 teaspoons garlic powder
12 ounces raw lean boneless pork tenderloin, trimmed of excess fat
12 ounces raw boneless pork shoulder (the leanest piece you can find), trimmed of excess fat
¼ teaspoon salt
⅛ teaspoon black pepper
2 cups roughly chopped onion

Instructions
Optional seasoning: red pepper flakes
In a crock pot, mix tomato sauce, ketchup, vinegar, sugar, and garlic powder. Season both types of pork with salt and pepper and add to the pot. Top with onion and lightly stir.
Cover and cook on high for 3 to 4 hours or on low for 7 to 8 hours, until pork is cooked through.
Transfer pork to a large bowl. Shred with two forks -one to hold the meat in place and one to scrape across and shred it. Return shredded pork to the crock pot and mix well.
Nutrition Facts
220 calories, 6 g fat, 16 g carbohydrates, 12 g sugar, 24 g protein, 1 g fiber, 637 mg sodium, 5 Points+
Points values are calculated by Snack Girl and are provided for information only. See all Snack Girl Recipes