Lighter Pulled Pork In Your Slow Cooker From Hungry Girl's New Book
Ohhh, yeahhh...pulled pork, baby. If you ever spent time eating CUE this may be a favorite indulgence of yours.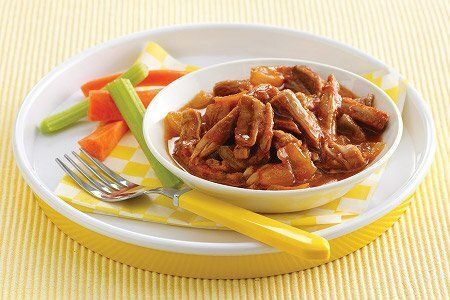 The city with the best pulled pork is a discussion between Raleigh, Memphis, Atlanta, and Houston. Personally, I am a North Carolina BBQ gal. Since I live in Massachusetts, it is a wee bit difficult to get my hands on any.
Hungry Girl, AKA Lisa Lillen, has put out a new book "Hungry Girl to The Max: The Ultimate Guilt-Free Cookbook" and she came up with a brilliant idea for pulled pork. Instead of using all of the fattiest cuts (like pork shoulder), she used ½ pork tenderloin (a very lean cut) in combination with a fattier cut.
This is such a great idea because you are able to cut the fat, but not ALL of the fat. I was really excited to see this because I have been dreaming of a way to make a healthier version of pulled pork. Hurray!
There are 650 recipes in Hungry Girl's new book and many of them aim to help you make over many of your favorite comfort foods. She includes "Not-Your-Mom's Tater Tot Casserole" where she uses spinach and mushrooms and there are all sorts of makeovers for egg nog.
If you are into fries, she has 10 different recipes to make them over (Grin 'n Carrot Fries, anyone?). All the nutritional facts for the recipes are included so you can see how many calories you are saving by using her makeovers.
Check out this pulled pork recipe and let me know if it hits that BBQ spot in your heart.
Have you checked out the new HG book? What do you think?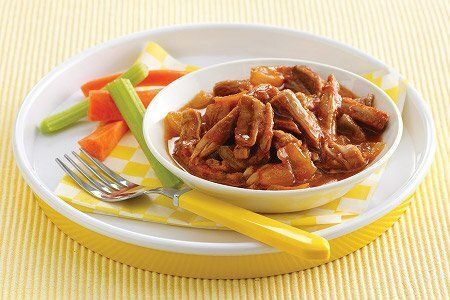 'Cue The Pulled Pork Recipe
reprinted with permission from "Hungry Girl To The Max" by Lisa Lillien
(makes 6 servings)

Ingredients
1 cup canned tomato sauce
½ cup ketchup
2 tablespoons plus 2 teaspoons cider vinegar
2 tablespoons plus 2 teaspoons brown sugar (not packed)
2 teaspoons garlic powder
12 ounces raw lean boneless pork tenderloin, trimmed of excess fat
12 ounces raw boneless pork shoulder (the leanest piece you can find), trimmed of excess fat
¼ teaspoon salt
⅛ teaspoon black pepper
2 cups roughly chopped onion

Instructions
Optional seasoning: red pepper flakes
In a crock pot, mix tomato sauce, ketchup, vinegar, sugar, and garlic powder. Season both types of pork with salt and pepper and add to the pot. Top with onion and lightly stir.
Cover and cook on high for 3 to 4 hours or on low for 7 to 8 hours, until pork is cooked through.
Transfer pork to a large bowl. Shred with two forks -one to hold the meat in place and one to scrape across and shred it. Return shredded pork to the crock pot and mix well.
Nutrition Facts
220 calories, 6 g fat, 16 g carbohydrates, 12 g sugar, 24 g protein, 1 g fiber, 637 mg sodium, 5 Points+
Points values are calculated by Snack Girl and are provided for information only. See all Snack Girl Recipes
---
$36.99 $14.80 Buy on Amazon.com
As an Amazon Associate, I earn from qualifying purchases.
---
Other posts you might like:
---

Snack Girl hasn't sucked on a hockey puck lately, but she has grilled skinless chicken breast past the point of edible....
---

Today, Snack Girl is happy to host a guest post from Everyday Maven with a recipe for slow cooker chicken curry. Yum!
---
---
Get Free Email Updates! Yes please!
---