Got High Cholesterol? So Do I
Before Christmas I took a blood test. It revealed that I had high cholesterol and not the good kind.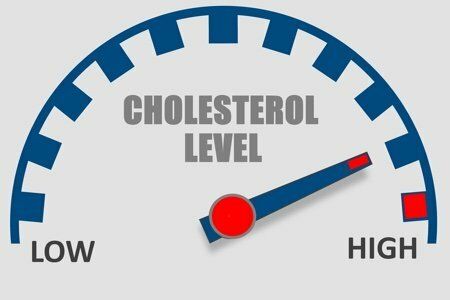 My doctor asked me to go see a registered dietitian nutritionist for a consultation on my diet. To say that I was embarrassed, given that I write this blog is an understatement. I was mortified!! But, I know that I don't know it all and I decided to go see her after Christmas.
Notice how I did not go before the holidays.
My LDL (Low-Density Lipoproteins) number is too high. When your LDL level is high, it can start to form a plaque-like substance on the walls of your cardiovascular system, blocking the natural flow of blood and leaving you at severe risk for heart attack and stroke. My family has a history of heart disease so I knew it was important to take this number seriously.
I was not looking forward to the visit (kinda like going to the dentist) but I knew I had to listen to what she had to say. My doctor threatened to put me on a statin (drug) if I couldn't control my LDL with diet and I don't want to take a drug if I can help it.
The RDN was very kind and asked me what I ate the day before. That day had included a visit to an Indian buffet where I ate a ton of rich food.
You see, I do eat a healthy diet and I exercise (currently training for a triathlon) but I also enjoy gourmet food and eating out. My diet includes butter, whole milk, gourmet cheeses, artisan bread, pizza and beer as well as kale salads, beans, and roasted vegetables. I eat dessert every once in a while and put butter on my popcorn. I am far from a saint when it comes to my diet.
I don't eat junk food but I do eat foods that are rich in saturated fat. oh dear.
What does she want me to do? For THREE weeks, I have quite a challenge.
Eat all whole grains
No added sugar
Lean meat and protein and more beans
Low fat dairy – only 1 ounce of cheese per day
Eat more fruits and vegetables
Eat healthy fats (olive oil, fish, avocadoes, nuts)
Four ounces of red wine per day
At least she didn't limit my coffee intake. She can take my coffee from my cold, dead hands.
But it does mean no pizza (white bread and cheese) or beer – and no pizza and beer! Beer is high in carbohydrates which convert into sugar – and is bad for cholesterol levels. Argh!!
The first thing I did when I came home was announce that I was taking the beer out of the fridge. I asked my partner how many he wanted to keep in the fridge as I started to pull out the cans. He said, "Oh, if you aren't going to drink it, neither will I." Wasn't that sweet?
Then I reviewed my bread options. I usually eat one slice of Dave's Killer Bread in the morning with either butter, peanut butter, or avocado. Guess what? Dave's bread has added sugar!! Nooooooooooo.
I had not noticed "organic molasses" on the fine print of the ingredients list. Dave's bread is whole wheat, organic, and full of seeds but it has added sugar. Bummer.
I have decided to share my challenge with all of you because I know that there are others who are struggling with the same thing. The funny thing is that this diet looks a lot like the one Weight Watchers is promoting with Freestyle. I don't NEED to lose weight but that 10 pounds that hangs on would be nice to take off.
The RDN credited my high cholesterol to menopause (wasn't that nice?) and said as we get older we need to do a better job with our diet.
Since I have high cholesterol, I want to do a better job with my diet. Wish me luck! I want to be here for my kids and grandkids so I am going to give it a shot for three weeks.
After the three weeks, we'll assess how I did and talk further.