Instant Pot Indian Recipes and More!
Instant Pot Indian recipes are so much better than going out for Indian food.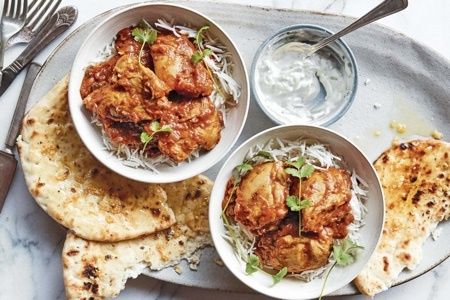 You don't have to leave your house and you can control the amount of oil, salt, and spices to make the perfect dish!
Why is the Instant Pot and Indian cuisine such a good pairing? Indian food is notorious for taking a long time to cook. You need to allow the spices to meld, the meat (or beans) to soften, and the flavors to become infused.
The curries of Indian cuisine are like the French stews. They cook on a low simmer all day. But, not any more!! The Instant Pot fuses the flavors in a fraction of the time on high pressure and the results are divine.
As you know, I have fallen in love with the Instant Pot and have recently featured an Instant Pot refried beans and a light Instant Pot chicken recipe. I am on a roll.
The Instant Pot really shines when it comes to food that you usually don't have time to cook.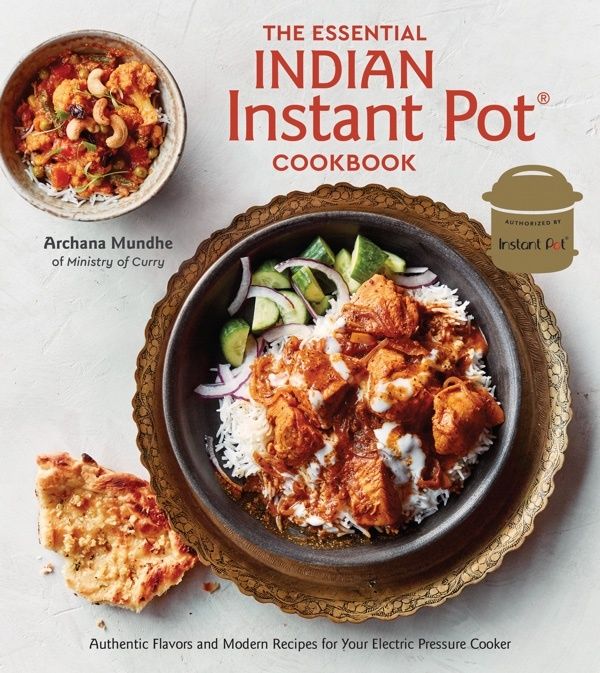 The Essential Indian Instant Pot Cookbook by Archana Mundhe is a game changer for home cooks who love Indian food and want an easy and approachable way to cook it.
I have shared (with permission) one of the many recipes that I have made from this book. Near me, I have an Indian food store with many of the spices you may not have heard of before. Do not let the newness of these ingredients stop you from making the recipes.
You may not be able to find these spices in your regular grocery store, but Whole Foods has them and if you are lucky enough to have an Indian food store - these will be stocked and they are not expensive.
Below the butter chicken recipe, Archana includes her recipe for Garam Masala (which is an Indian spice blend). I have found Garam Masala at my local Stop & Shop in the spice section. You don't have to make your own if you don't want to - but it is nice to have the option.
What makes this book so good is that the food incorporates the authentic spices and so the food tastes like bona fide Indian food. I have been thrilled with the results as I am a big fan of Indian cuisine and not a fan of eating out.
There are plenty of vegetarian and bean recipes in the book as well if you are not a meat eater. The recipes are pretty healthy in the book and can be modified to include fewer tablespoons of oil if you need to drop the calorie content.
Another slow simmer cuisine? French!! You can picture a little, French grandma slow stirring the stew as she goes about her day. Alas, I don't have a French grandma but I do have an Instant Pot.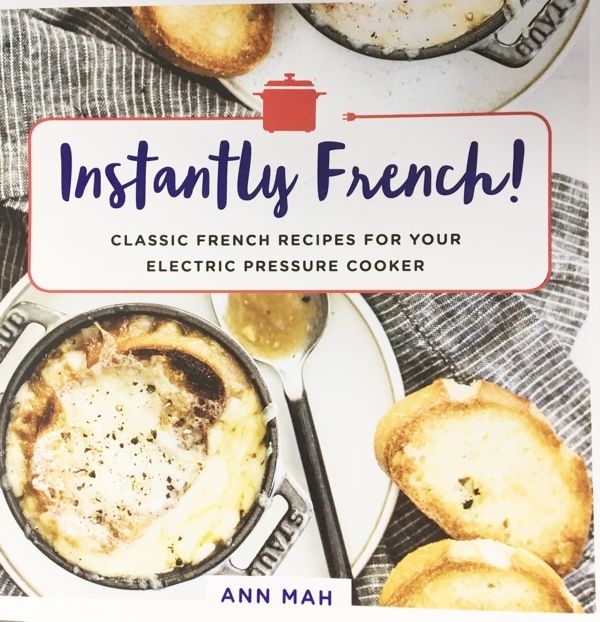 This book is called Instantly French! and it has some classics - Coq au Vin, Country Pate, and Creme Brulee. But the author, Ann Mah, also includes some Moroccan inspired dishes - Morrocan Chickpea soup (for example) and an Indian soup.
Like the Essential Indian book, it takes a complex, gourmet cuisine and makes it accessible to home cooks with no time and beginner skills. I have to tell you that I have loved making the recipes in this book as well. I made a recipe called "Seven Hour" Lamb with white beans for a Sunday dinner and my family cheered when I served it.
I love getting rave reviews!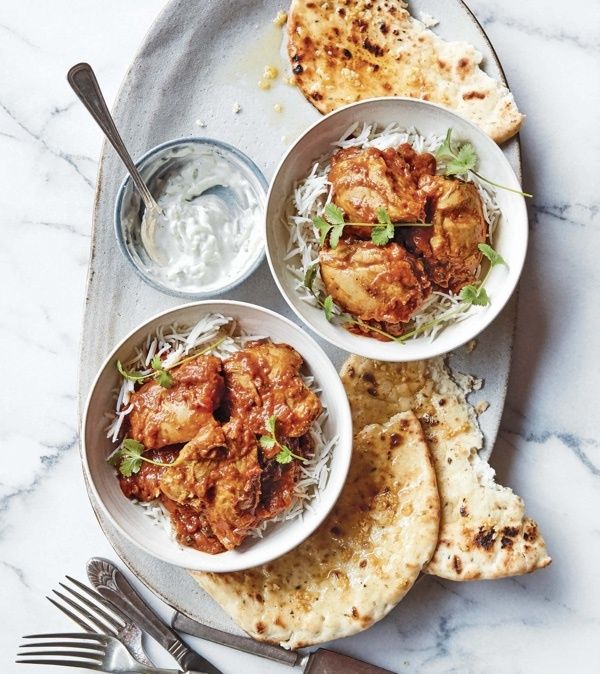 images of Butter Chicken reprinted with permission from from The Essential Indian Instant Pot Cookbook by Archana Mundhe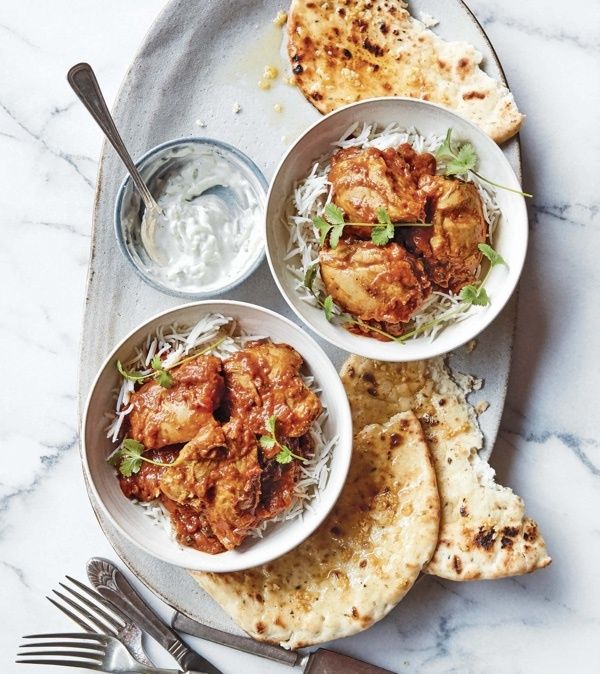 BUTTER CHICKEN RECIPE
published with permission from The Essential Indian Instant Pot Cookbook by Archana Mundhe
Serves 4 to 6
Prep time: 10 minutes
Cook time: 25 minutes
Total time: 35 minutes
Butter chicken, also known as chicken makhani, is more like a treat than an entrée—and quite possibly the most popular dish at any Indian restaurant. This heavenly, creamy curry highlights the robust flavors of Kashmiri chile, dried fenugreek leaves, and garam masala. Served with classic basmati rice and naan, this dish evokes excitement on any menu.
Ingredients
2 tablespoons ghee
1 large yellow onion, finely diced
2 pounds boneless, skinless chicken thighs, halved and patted dry
1 cup canned tomato puree
1/2 cup water
1 tablespoon grated fresh ginger
1 tablespoon minced garlic
2 teaspoons Kashmiri red chile powder or another mild red chile powder
2 teaspoons kosher salt
1 teaspoon garam masala (recipe below)
1/2 teaspoon ground turmeric
1/2 cup canned coconut cream (see Note)
2 tablespoons tomato paste
2 tablespoons dried fenugreek leaves
2 teaspoons sugar (optional)
1/2 cup chopped fresh cilantro
For Rice:
1 cup basmati rice
1 1/2 cups water
1 teaspoon kosher salt
Instructions
Select the high Sauté setting on the Instant Pot and heat the ghee. Add the onion and cook until translucent, 4 to 5 minutes. Press the Cancel button to turn off the Instant Pot. Add the chicken, tomato puree, water, ginger, garlic, chile powder, salt, garam masala, and turmeric and stir to combine. To make the rice: In a 1 1/2-quart stainless-steel bowl that will fit in the Instant Pot, stir together the rice, water, and salt. Place a tall steam rack in the pot, making sure its legs are resting on the bottom. Place the bowl of rice on the rack. Secure the lid and set the Pressure Release to Sealing. Select the Pressure Cook or Manual setting and set the cooking time for 5 minutes at high pressure. Let the pressure release naturally for 5 minutes, then move the Pressure Release to Venting to release any remaining steam. Open the pot. Using heat-resistant mitts, place the bowl of rice on a trivet and remove the tall steam rack. Add to the pot the coconut cream, tomato paste, fenugreek, and sugar and stir to combine. Select the high Sauté setting and cook until the curry comes to a boil and is heated through, about 2 minutes. Press the Cancel button to turn off the Instant Pot. Spoon the rice onto plates and ladle the curry over the top. Sprinkle with the cilantro and serve.
NOTE The unsweetened coconut cream used in the recipe (not to be confused with the sweetened coconut cream used primarily in cocktails) can be found canned in grocery stores. It can be replaced with the cream from a can of regular full-fat coconut milk. Put the can of coconut milk in the refrigerator for 4 to 5 hours or in the freezer for 5 minutes to separate the cream from the water, then open the can and scoop off the cream from the top of the coconut water.
GARAM MASALA
MAKES 1/4 CUP PREP: 5 minutes COOK: 5 minutes TOTAL: 10 minutes
2 tablespoons black peppercorns 
2 tablespoons cloves 
1 tablespoon crushed cinnamon stick 
2 5 green cardamom pods (about 2 teaspoons) 
1 tablespoon black cumin seeds (shah jeera) or cumin seeds 

Garam masala literally translates to "warm spice mix," and it is the quintessential Indian spice blend. It gives warmth and depth to dishes and pairs perfectly with red or green chile for a hearty, aromatic flavor. Every region (and family) across India has its own version. My mom's recipe calls for twenty-one whole roasted spices, some of which are hard to find, and it takes days to make. Here is a simplified version with a similar authentic flavor.
Select the normal Sauté setting on the Instant Pot. Lightly toast each spice, one at a time, by adding it to the pot and stirring continuously until aromatic, about 1 minute each. Make sure not to burn them. The goal is to remove any residual moisture so they are easy to grind. As the spices are toasted, transfer them to a plate and let cool completely. Grind the spices in a spice grinder to make a fine powder. Store in an airtight container in a cool, dry place away from direct sunlight for up to 6 months.
Points values are calculated by Snack Girl and are provided for information only. See all Snack Girl Recipes
---
$19.99 $17.99 Buy on Amazon.com
As an Amazon Associate I earn from qualifying purchases.
---
---
Get Free Email Updates! Yes please!
---