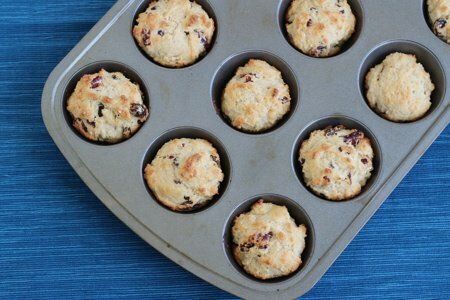 Irish Soda Bread Muffins Recipe
Makes 16 muffins, 1 per serving
Ingredients
1 ½ cups all-purpose flour
3/4 cup white whole wheat flour (such as King Arthur brand)
2 teaspoons baking powder
¼ teaspoon baking soda
1/2 teaspoon salt 1/3 cup sugar
1 ½ cups raisins or currants
½ teaspoon caraway seeds (optional)
1 large egg
1 ¼ cups buttermilk
2 tablespoons butter, melted
Instructions
Preheat oven to 400F. Get out a 12 muffin pan and a 6 muffin pan and lightly grease them (put water in the extra cups so that they don't warp).
In a large mixing bowl, mix all-purpose flour, wheat flour, baking powder, baking soda, salt, sugar, raisins and caraway seeds (if using). Mix in egg, buttermilk, and butter until blended.
Spoon the batter into the muffin cups filling the cups ¾ full. Bake the muffins for 15-20 minutes until a butter knife inserted into center of muffin comes out clean.
Enjoy warm or at room temperature.
Nutrition Facts
For one muffin = 143 calories, 2.2 g fat, 1.1 g saturated fat, 29.1 g carbohydrates, 13.4 g sugar, 3.4 g protein, 1.4 g fiber, 200 mg sodium, 4 Points+
Points values are calculated by Snack Girl and are provided for information only. See all Snack Girl Recipes