Muffinize Your Irish Soda Bread
The St. Patrick's Day posts keep coming here on Snack Girl. I'm not Irish but I like to celebrate.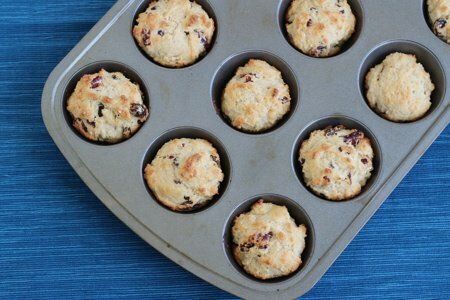 St. Patrick's Day gives me a reason to make something different for my family instead of the same old same old. We wear green, put on Celtic music, pretend we can clog dance, and eat kale chips.
March is one of those months when you have to make your own excitement.
I happen to love Irish soda bread. I see the loaves in the supermarket and want to buy them but I stop myself because I have a rule about sweet baked goods: If I don't bake it myself, I don't eat it.
"Muffinize "is a new word that all the kids will soon be using. You take a BIG bake good and turn it into muffins. This works with Irish soda bread because it is already a bit scone like.
This recipe calls for caraway seeds. These are used in rye bread for the spice and have an anise-like flavor. I happen to love them in this bread but if you don't want that tangy flavor, simply don't add them.
My recipe is a riff on one that I found on King Arthur Flour's website. I cut the amount of butter in the recipe by 2/3 and increased the amount of buttermilk. It works and if you want them to be more buttery – spread some on the outside when they are warm – yum!
These are a wonderful St. Patrick's Day treat.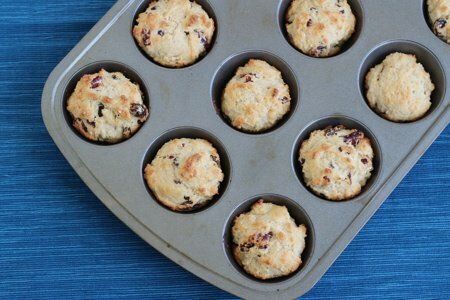 Irish Soda Bread Muffins Recipe
Makes 16 muffins, 1 per serving
Ingredients
1 ½ cups all-purpose flour
3/4 cup white whole wheat flour (such as King Arthur brand)
2 teaspoons baking powder
¼ teaspoon baking soda
1/2 teaspoon salt 1/3 cup sugar
1 ½ cups raisins or currants
½ teaspoon caraway seeds (optional)
1 large egg
1 ¼ cups buttermilk
2 tablespoons butter, melted
Instructions
Preheat oven to 400F. Get out a 12 muffin pan and a 6 muffin pan and lightly grease them (put water in the extra cups so that they don't warp).
In a large mixing bowl, mix all-purpose flour, wheat flour, baking powder, baking soda, salt, sugar, raisins and caraway seeds (if using). Mix in egg, buttermilk, and butter until blended.
Spoon the batter into the muffin cups filling the cups ¾ full. Bake the muffins for 15-20 minutes until a butter knife inserted into center of muffin comes out clean.
Enjoy warm or at room temperature.
Nutrition Facts
For one muffin = 143 calories, 2.2 g fat, 1.1 g saturated fat, 29.1 g carbohydrates, 13.4 g sugar, 3.4 g protein, 1.4 g fiber, 200 mg sodium, 4 Points+
Points values are calculated by Snack Girl and are provided for information only. See all Snack Girl Recipes
Other posts you might like:
---

Every once in a while, Snack Girl can't get enough of a certain food or idea....
---

Sometimes you hear a crazy idea and you simply must try it....
---
---
Get Free Email Updates! Yes please!
---