Is Rotisserie Chicken Healthy?
Is rotisserie chicken healthy? You would think the answer would be easy but nothing in processed food is simple.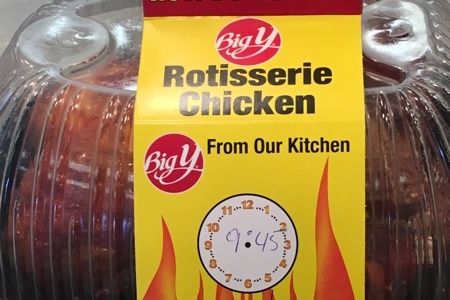 The first time I encountered rotisserie chicken was when I was lucky enough to visit France during a semester abroad in college. I was walking down a Parisian street when I smelled something heavenly. Inside of a butcher, there was this beautiful case of chickens spinning and roasting behind a glass barrier. Yum!
I would purchase a chicken, a baguette, and some fruit and call it a meal. For a college student away from home this was comfort food at its best.
I don't remember buying rotisserie chickens in the USA until much later in my life. They showed up in supermarkets and they seem like a great way to eat a chicken. Hey, you don't have to cook it and it is simply chicken, right?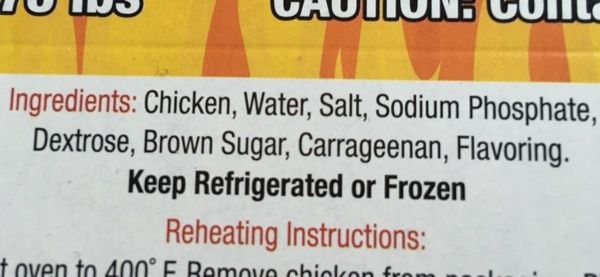 No, it usually isn't just a chicken with salt and pepper rubbed on. As you can see, this Big Y chicken has sugar and sodium phosphate added. How much? They don't tell you! When I asked at the counter, they did not have any nutrition facts for this chicken.
It is your best guess how much salt is added but usually it is too much for me to define this chicken as an unequivocal healthy choice.
Is it better than deep fried chicken? Absolutely. Is it better than your at home roasted chicken? Probably not. You aren't going to add sugar or "flavoring" (whatever that may be).
Here are some short summaries of the rotisserie chickens that I have reviewed over the years.
Walmart Rotisserie Chicken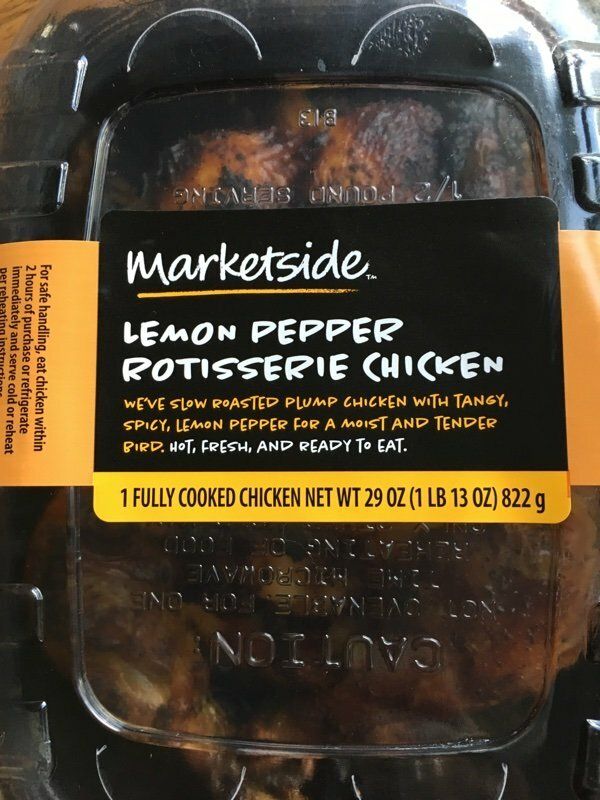 One thing that I like about Walmart's chickens is that they put the nutrition facts on the bird. Check out my Walmart Rotisserie Chicken Review for all the gory details.
But, that means that we can rule it out as a truly healthy choice as it has 690 milligrams of sodium for just 3 ounces of chickens. That is about 1/2 your daily allowance of sodium!!
I'm not sure why they add so much salt unless they are trying to preserve it for longer before they cook it. My guess is that these would show up frozen to the store so you wouldn't have to use salt as a preservative but what do I know?
I wouldn't choose Walmart's chicken unless they come out with a low sodium option - which they might.
Costco Rotisserie Chicken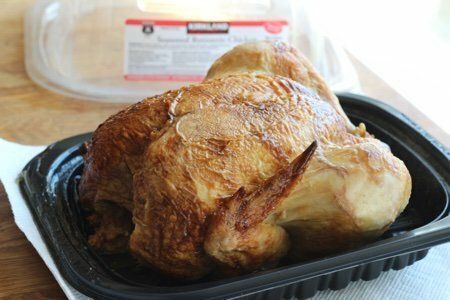 This is really the best known rotisserie chicken because Costco sells these babies for $4.99. Supposedly they lose a ton of money on them but make it up by all the other things you buy when you come to pick up your chicken.
In my post about Costco Rotisserie Chicken, I reveal that this chicken has 460 mg of sodium for 3 ounces which is much better than Walmart's chicken.
You never, ever find a bird on the hot table that has been there for very long so I like the Costco bird from a freshness perspective.
I do buy these whenever I go to Costco and eat the breast meat without the skin. It is pretty good for a quick meal.
Whole Foods Rotisserie Chicken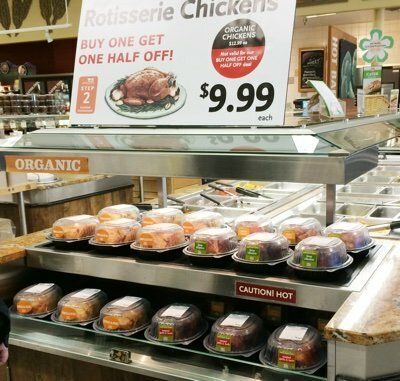 I love to hate Whole Foods because I find it to be so expensive and somehow snobbish. BUT, they have organic rotisserie chickens WITHOUT SALT ADDED. See my Whole Foods rotisserie chicken post.
Yes, Whole Foods wins for healthiest rotisserie chickens if you can find the "no salt added version". Unfortunately Whole Foods - American's Healthiest Grocery Store doesn't have nutritional information on their birds. But, I am trusting that the "no salt or flavorings added" bird is just a chicken on a stick.
Do you think rotisserie chicken is healthy? Which ones do you buy and eat? Thanks for sharing!!
Other posts you might like:
---

Costco rotisserie chicken is a huge hit. It seems that no one leaves the store without it....
---

This is my mug shot of a rotisserie chicken. As you can see, I didn't shoot its best side.
---