Kale Pesto Because You Can
Pesto is typically made with fresh basil as the main ingredient (and you need a lot of it).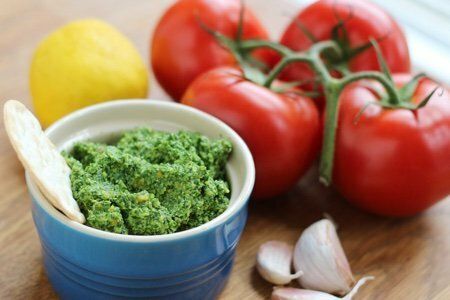 I find buying the amount of basil that I need to be cost prohibitive. If I get it together and plant a garden, I will make basil pesto until the cows come home, but without a cheap source my pocket book starts screaming.
Kale, on the other hand, is inexpensive and plentiful. Also, it is far less delicate than basil and very green. Is this the same as basil pesto? No, but it is a pretty delicious substitute. The kale is grassy and not as pungent as the basil.
You can serve this over pasta, as a dip, as a spread for your sandwich and no one has to know you used a superfood as an ingredient. The green color is a dead giveaway, though.
I haven't figured out a way to make pesto without a food processor and every few months I beg all of you to buy yourself one. It makes chopping vegetables and all sorts of food preparation go by in a flash. Julia Child loved hers!
If you don't have pistachios you can use ½ cup of pine nuts and vice versa. You can use any nut that you have on hand (walnuts, almonds, peanuts) – it will simply taste different. I like the buttery flavor of the pistachios in this dish.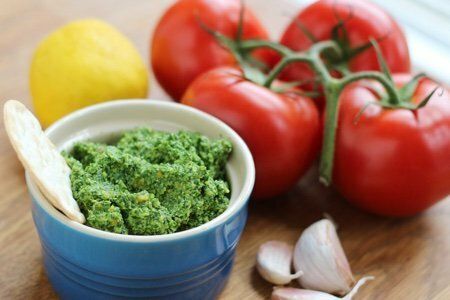 Kale Pesto Recipe
Makes ½ cup
Ingredients
1 clove garlic
2 cups kale, packed
¼ pistachios, shelled
¼ cup pine nuts
1 tablespoon olive oil
2 tablespoons fresh lemon juice
½ teaspoon salt
½ teaspoon ground black pepper
Instructions
In a food processor, mince garlic. Wash and rip kale from the stem and add to garlic along with the pistachios and pine nuts. Run machine for about 1 minute until well chopped. Add olive oil, lemon juice, salt, and black pepper. Process until mixture turns into a paste. Pesto will keep fresh in the refrigerator for one week.
Nutrition Facts
One tablespoon of pesto is 76 calories, 6.5 g fat, 0.7 g saturated fat, 3.7 g carbohydrates, 0.5 g sugar, 2.0 g protein, 0.9 g fiber, 156 mg sodium, 2 Points+
Points values are calculated by Snack Girl and are provided for information only. See all Snack Girl Recipes
---
$129.95 $99.99 Buy on Amazon.com
As an Amazon Associate, I earn from qualifying purchases.
---
---
Get Free Email Updates! Yes please!
---