Looking For Red and Green? Try This!
Snack Girl will not apologize for her continued healthy holiday search. Today's entry: The Christmas Salad.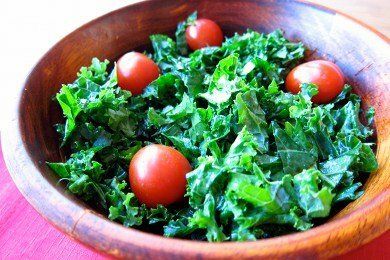 With its colors of red and green, and its sparkling dewiness, it will rival your Christmas tree for beauty and smell. Better yet, you get to EAT it, while the tree ends up on your curb.
Before you click off of here and go look at the latest cookie recipes, hear me out!
This salad is made with kale, which is one of the healthiest foods you can eat. One serving of this salad includes 206% of your daily value of Vitamin A. Kale is just a festival of nutrients.
Here are your holiday gifts from this salad:
Kale is CHEAP and in season right now. I bought over 2 pounds for $1.33.
Because kale is a winter green it is tougher than lettuce and will keep in your fridge for longer.
This salad can be prepared in 5 minutes!
My summer garden is still growing kale and we are in full winter mode. Why can't tomatoes do the same thing? :)
The key to eating raw kale is chopping it into little bits. Obviously, trying to eat a leaf of kale (like a leaf of lettuce) with be next to impossible so you have to pre-chew it with your kitchen knife.
After you wash the kale, and strip it from its stem, you just chop it into small pieces and toss it into your salad bowl. Then the fun part starts! What we DON'T want to do is turn it into yesterday's taco salad and ruin the goodness that is kale.
What we do have to do is make it taste good so you will love it. I used olive oil, Dijon mustard, lemon, salt, and some cherry tomatoes and it was brilliant. Bitter, sour, sweet, salty, crunchy - WOW!
It is amazing to me how good this tastes and I would have never tried it unless my husband made it for me when he forgot to buy lettuce. He just ran out the door, picked some kale, and created this salad that I couldn't stop eating.
Thin slices of parmesan (made with a vegetable peeler) would be great with this.
Do you have any suggestions for preparing fresh kale salad?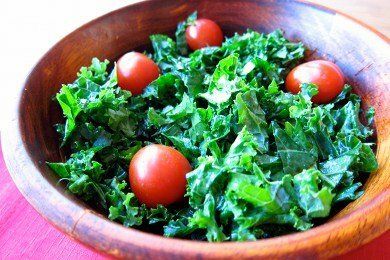 Christmas Kale Salad Recipe
(serves 4)
one bunch of kale
2 tablespoons extra virgin olive oil
1 teaspoon Dijon mustard
1/4 fresh lemon
salt to taste
cherry tomatoes (optional)
Wash kale and strip it from its stem. Chop with a kitchen knife into small bits and make approximately 4 cups - add to large bowl. Mix olive oil and Dijon mustard in small cup and pour over kale. Squeeze lemon and toss. Now, taste it! What does it need? Salt, more lemon? Keep tasting until you get to desired flavor. Add cherry tomatoes and serve.
For one serving: 94 calories, 7.3 g fat, 6.8 g carbohydrates, 2.3 g protein, 1.4 g fiber, 100 mg sodium, 3 Points+
Points values are calculated by Snack Girl and are provided for information only. See all Snack Girl Recipes
Other posts you might like:
---

Snack Girl has had MANY readers tell her to try "green" smoothies. Well, before last Tuesday, I had one word for them - YUCK!...
---

Kale is getting a lot of press and finding its way on all the top blogs. I had to ask this kale to stop on the red carpet to photograph it....
---
---
Get Free Email Updates! Yes please!
---