Special K Nourish Review
I love the whole ideal of "nourish". I decided to buy a box of Special K Nourish this after I saw a commercial.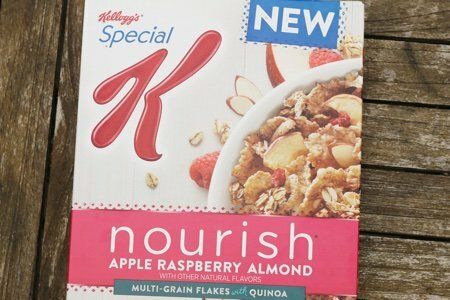 My motivation was that many food companies are starting to add healthier whole food ingredients (such as almonds) to make food more nutritious. Could Special K Nourish be the cereal of my dreams?
First, there is the price – which was $4.59 for a 14 ounce box. Ouch! But, if has better ingredients – it might be worth it.
Special K Nourish Raspberry Almond Cereal Ingredients:
Whole grain wheat, rice, whole grain oats, sugar, apples, almonds, corn syrup, oat bran, quinoa flour, contains 2% or less of whole wheat flour, freeze dried raspberries, soluble wheat fiber, rice flour, salt, wheat bran, brown sugar syrup, whole oat flour, degerminated yellow corn flour, malt flavor, modified corn starch, natural flavors, cornstarch, honey, defatted soy grits, molasses, tricalcium phosphate, acacia gum, soy protein isolate, apple puree concentrate*, strawberries, blueberries, oat fiber, dried cane syrup, calcium carbonate, guar gum, sodium sulfite to protect color, citric acid, BHT for freshness. Vitamins and Minerals: Vitamin C (ascorbic acid), niacinamide, reduced iron, vitamin B6 (pyridoxine hydrochloride), vitamin B1 (thiamin hydrochloride), vitamin B2 (riboflavin), vitamin A palmitate, folic acid, vitamin D3, vitamin B12.
Seven different forms of sugar listed here! That has to be some kind of record for a box of cereal. Sadly sugar is listed before apples and almonds so that means there is more sugar added than apples and almonds.
Don't even mention the raspberries that are in the actual name of the cereal - they are after the line that says "contains 2% or less"- oh my!
What is going on?
I was hoping for something more NOURISHING.
Take a look at the box: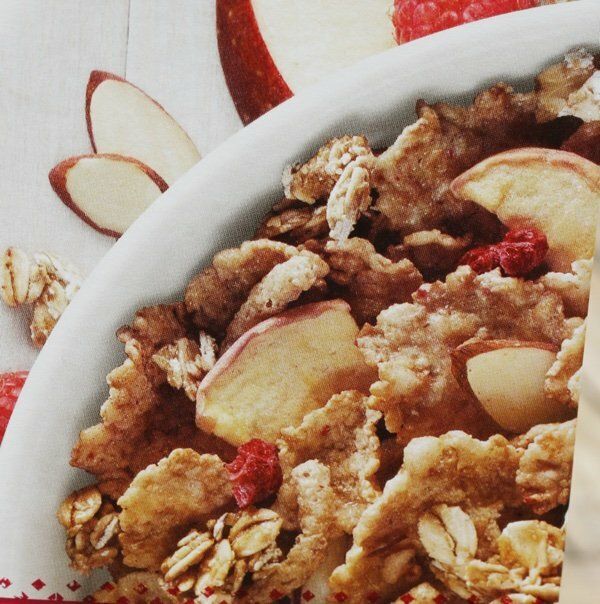 Here is the bowl that I poured: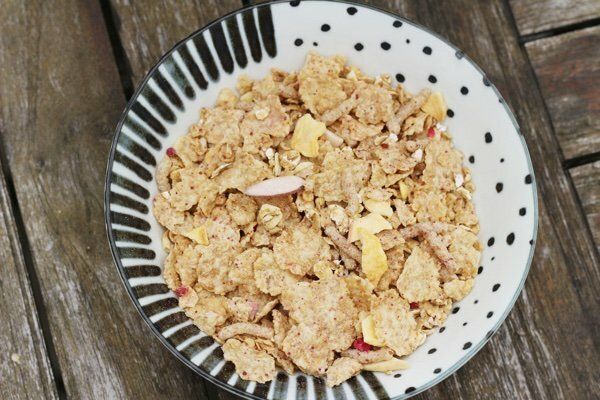 Do you see many apples or almonds? Here are the nutritional facts for one cup of Special K Nourish Apple Raspberry Almonds:
190 calories, 2.5 g fat, 0.0 g saturated fat, 41.0 g carbohydrates, 10 g sugar, 5 g protein, 5 g fiber, 170 mg sodium, 6 SmartPts
This has about twice my recommendation (4-5grams) of sugar per serving and it tasted like it. It reminded me of Captain Crunch (no joke) but I didn't enjoy it as much because I kept thinking about the sad people were going to eat this because of the quinoa.
Quinoa, that high in protein power grain, is everywhere. When I say everywhere, I mean you can find it at Wendy's and in my couch cushions. You can't get away from the stuff.
Kellogg's is trying to do better but only gets part of way. Cut the sugar, increase the almonds, and make sure it doesn't taste like a crappy cereal.
I give this cereal a two thumbs down (which is my lowest rating as of today).
---
Other posts you might like:
---

Those black containers up there with the NFL logo don't exactly look like they are being marketed to women....
---

Here we go again! Another breakfast bar for the "grab-and-go" crowd.....
---